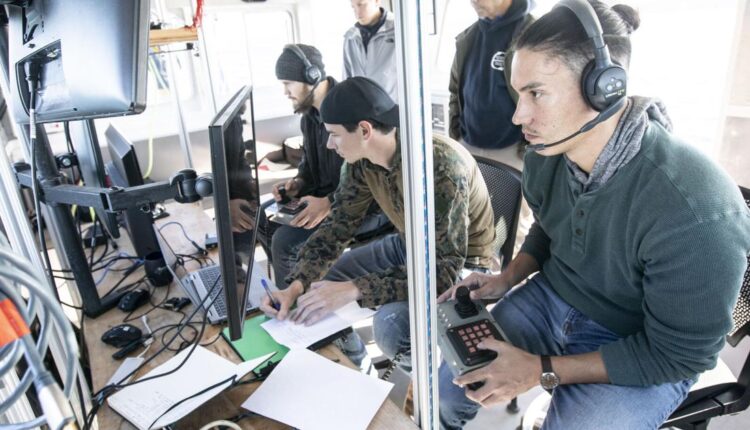 Mapping the Great Lakes | Local News
TRAVERSE CITY — Tyler Smith spent June mapping the Bering Sea floor off the coast of Alaska as part of an internship.
"I like it because you're revealing the mystery of what's on the ocean floor," Smith said. "Ships have to know the charts they are looking at are accurate."
Sarah Sergent spent most of her summer measuring Axial Seamount, an active submarine volcano about 300 miles off the coast of Oregon.
Smith and Sergent, both of Traverse City, are students in the Marine Technology bachelor of science program at Northwestern Michigan College.
The information they gather using sonar, remotely operated vehicles and other state-of-the-art equipment will be used to track climate change, predict when volcanoes will erupt and provide maps for the shipping industry.
Information gathered by maritime technology students off the Traverse City shoreline will also be used to map the bottom of the Great Lakes as part of the Lakebed 2030 project.
Lakebed 2030 is a group of researchers, policymakers and governmental and industry partners with the shared goal of mapping the 244,160 square kilometers of the Great Lakes in high resolution by 2030, a project estimated to cost nearly $200 million.
The Great Lakes is the world's largest available freshwater body and only about 15 percent of its lakebed has been mapped to date, with some maps using low density images and decades-old data.
"The Lakebed 2030 initiative is about collecting baseline data to inform policy, resource management, economic development, fisheries, navigation and weather prediction," said Hans Van Sumeren, director of the NMC program.
"We're trying to manage this critical freshwater resource and we know nothing about it."
NMC will host the Lakebed 2030 conference Sept. 28-30 at the Hagerty Center, where most — if not all — students in the marine program will walk away with high-paying jobs in careers that will take them around the globe or let them stay in the Grand Traverse region.
The average starting salary for marine technology is between $75,000 and $85,000, Van Sumeren said.
Sergent grew up in Tawas, a small resort town on the shore of Lake Huron. She excelled in math and science at school, but also loved the water. She wanted a career that would combine those things but would also support her financially.
"I just never knew what the exact career was," she said.
The 38-year-old learned about the marine program after exploring a change from her job as a health and recovery coach. She took a tour and spoke to the instructors.
"I was just absolutely blown away," Sergent said. "I was intrigued and wanted to know more."
Her goal is a job operating and maintaining remote operating vehicle (ROV) systems for research, similar to what she did in her internship.
NMC's marine program graduates about 10 students per year, but some companies are looking for 10 to 20 employees, Van Sumeren said.
Students do summer internships, most of which are paid, working all over the United States and the world. Nearly all are offered jobs.
One of the goals in the college's strategic plan is to ramp up the program.
"We need to triple that — we should quadruple that," Van Sumeren said.
The exploding field of marine technology offers a multitude of careers, including field engineers, hydrographers and marine scientists, Van Sumeren said.
Smith, who has a degree in journalism and has worked in several different fields, is now doing an internship in science communication. His goal is to work in hydrography mapping the sea floor or to work with a research organization on an offshore vessel using an ROV to collect data.
He will not graduate for at least a year and has already been offered a job. He said it is surprising how everything he has learned at his other jobs is just coalescing into the ideal career.
"The good thing about our program is you get prepared for just about every job in the field," said Smith, 38. "You don't even have to work on a ship with the skills we've learned."
There are jobs for marine technologists in all sectors of the economy, such as coastal redesign development of bridges, harbors and marinas, Van Sumeren said.
They work in transportation, aiding in safe navigation for ships. About half of NMC's graduate work in industries supporting wind technology. They even do surveillance for the government.
"We can catalog the sounds our ships make so that when we hear something different we know it's not one of ours," Van Sumeren said.