Wine runs generations deep in this family
If wines with names like Simply White, Red Heron and Blue Heron ring a bell, then you're probably well aware of St. Julian Winery, whose wines are readily available on grocery store shelves and at its tasting rooms throughout Michigan.
What you might not know is that St. Julian Winery is the oldest winery in Michigan, with roots planted about the time of Prohibition. Today, the winery, still in the hands of the same family, is one of the largest of the more than 170 wineries in the Great Lakes State, producing somewhere around 300,000 cases of wine each year.
The prolific winery reached another milestone this month: The fourth generation of the family has taken the helm of its expansive operations, headquartered in Paw Paw, a village of about 3,500 people in the heart of southwestern Michigan's fruit-growing region.
"We are excited to continue our family's passion and legacy," says Apollo Braganini II, who succeeds his father, John Braganini. "It's a blessing to be able to work with my family every day and hopefully — one day — my children will stand beside me at this truly amazing company."
What happened: John Braganini, the grandson of the founder, Mariano Meconi, is stepping down after leading the company since 2016. He took the helm after his brother David Braganini passed away unexpectedly. John Braganini will remain as board chairman and corporate advisor. Apollo Braganini, named after his paternal grandfather, is the sixth family member to head the company. His brother, Dario, will help pilot the company.
How did the company get started: St. Julian's story began in another country — Canada. Meconi, an Italian immigrant, founded Border City Wine Cellars in Windsor in 1921, using native grapes from along the Ontario shoreline to make wine for churches on both sides of the border. After Prohibition's repeal in 1933, Meconi relocated to Detroit, renamed his company the Meconi Wine Company. He bought native American grapes, like Concord and Niagara, from southwest Michigan to make wine.
A few years later, Meconi moved his operations to Paw Paw to be closer to southwestern Michigan's vineyards. He changed the name again, to the Italian Wine Company. Concerned about anti-Italian fascist sentiment during World War II, Meconi came up with a new name — St. Julian Wine Company. The name pays respect to San Giuliano, patron saint of Faleria, Italy, Meconi's native village.
What are some of the company's innovations: St. Julian opened his Paw Paw tasting room in 1959, the first in Michigan. Its innovations include the addition of Charmat tanks for sparkling wine production, the planting of hybrid grapes as consumer tastes changed, and the creation of a three-tier system to mature St. Julian's award-winning Solera Cream Sherry. In the early 1980s, the late David Braganini became instrumental in the establishment of the Lake Michigan Shore American Viticultural Area, an official wine grape-growing region, and the planting of European grapes in southwest Michigan, helping elevate the still-small industry.
St. Julian launched a $20 million expansion soon after John Braganini's arrival. That plan included renovating tasting rooms as well as opening two new locations, investing in new winemaking equipment, adding more than a half million gallons of tank capacity, and upgrading its commercial operations at the 280,000-square-foot facility in Paw Paw.
The wines: Whites, reds, roses, sparkling, dessert and fruit wines and more are part of St. Julian's vast portfolio. Helping St Julian to expand and solidify its wine portfolio is Nancie Oxley, vice president of winemaking. Oxley and her team, which includes Kyle Totzke, assistant winemaker, oversee the production of well-over 150 products, including wines, sparkling juices, spirits and ciders. St. Julian is also the oldest craft distiller in Michigan, stretching back to 1998.
Commitment to Michigan: St. Julian's commitment to using Michigan-grown grapes is a huge feat for a winery its size. Producing over 300,000 cases a year, St. Julian works with some 20 grower partners who cultivate more than 50 wine grape varieties. Most of the fruit is grown in the Lake Michigan Shore appellation, but the winery also has partnered with growers on the Leelanau and Old Mission peninsulas near Traverse City. St. Julian has 1,000 acres of grapes under contract with local growers and access to others as well.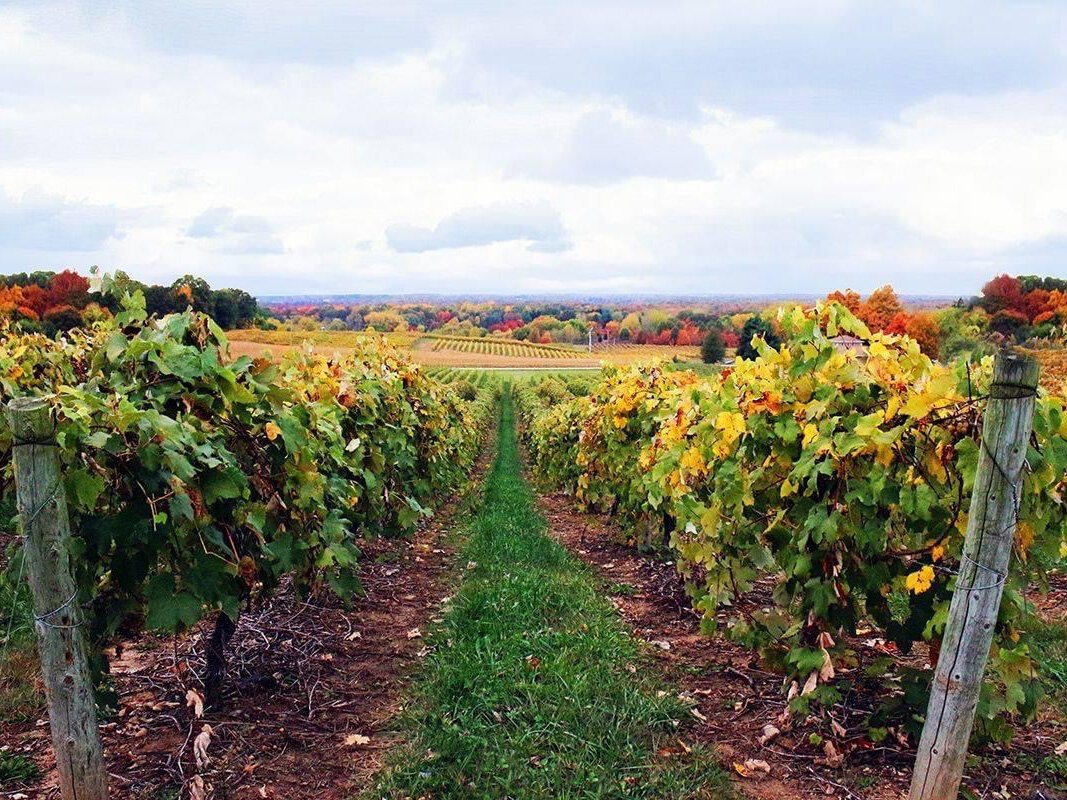 That commitment extends beyond just grapes to include Michigan-grown cherries, blueberries, peaches, raspberries and more. If the product can be grown in Michigan, St. Julian has either fermented it to wine or used for its spirits program. That portfolio includes vodka from cherries, flavored vodkas from potatoes, and bourbon.
What's ahead: During the past five years, Apollo Braganini and his brother, Dario, have focused their energies on developing St. Julian's wholesale business, reaping a significant increase in sales throughout the Midwest. Under Apollo Braganini's direction, St. Julian will continue to focus on bringing high quality products — wine, cider and spirits — to consumers while remaining focused on the company's commitment to Michigan agriculture and advancements in technology and production innovation.
"I was always fascinated with the winery, even as a child," Apollo Braganini says. "I was presented the opportunity to join the family business and was tasked with revitalizing the wholesale and distribution channels. Since then, I have had the pleasure of learning this very complex business while also enjoying tremendous growth across all sales avenues."