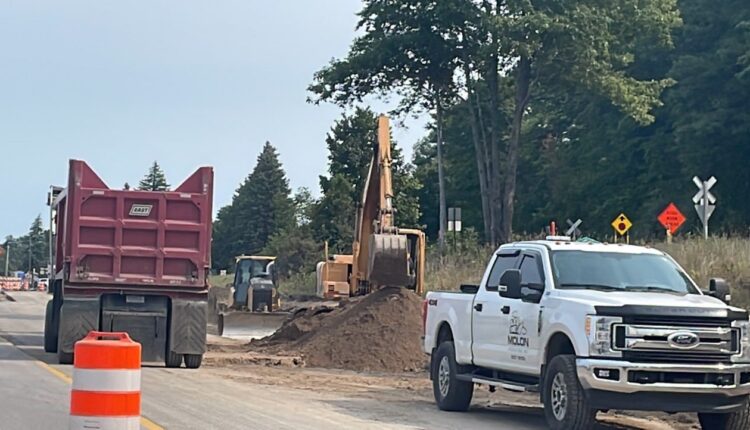 NMC to Offer Free Training Classes in the Highway Construction Trade
You can go from building roads to building a career, thanks to a brand new program coming to Traverse City. A new class offered by Northwestern Michigan College will help people learn the skills to fill the need for an in-demand career in Heavy Highway Construction.
NMC is launching the new training program. Jason Slade is the NMC Vice President for Strategic Initiatives. He says, "Workforce development is one of our strategic initiatives at the college."
No matter which road you travel in your career path, it's no surprise that local companies may have to dig deep for workers. Especially ones that already have some training. That's true in road construction, Slade says. "They had a need around heavy equipment construction. We didn't have a program that met that need."
Until now. NMC is partnering with Michigan Works and Team Elmer's to launch the new class. Tonya Wildfong with Team Elmer's says, "We wanted to help bring a heavy highway component to it. (NMC is) a great partner to help bring that to reality."
Team Elmer's says it's an inroad – a class where students can explore the industry, and use what they learn to launch themselves forward, hitting the road in a new career. "It's a free class so they're able to explore. and then use that as a launching pad for a career," Wildfong says. "This class helps fill that gap for those that maybe don't have the skills, want to learn about it."
It's also a good way to get exposure to this line of work. "It's that stopgap. A lot of time people want to know before they go… this helps that new student learn that, anyone who wants to do that as a career. It's that steppingstone to be able to know what you're doing and what you're getting into before you get there…. to be able to feel more comfortable and more confident when they step on to a job site," Wildfong says.
This kind of training is hard to come by in northern Michigan, according to Wildfong. "In our industry, heavy highway construction, there isn't a heavy highway construction (training) where you can get exposure to the industry or learn safety or best practices. Kind of that starting ramp to be able to get into the industry. Most of those schools are downstate in Lansing or Detroit. NMC was integral to bringing something to our region to serve our community." Slade agrees, adding that many students who get training downstate stay in that area for work.
"Demand is high, anyone in the construction industry will tell you. The state of Michigan has openings for construction trade, which is a great career. You're talking long-term career to be able to feed a family and get that piece of the American dream for yourself," Wildfong says. "We currently have 40 open positions. That's across northern Michigan, across our entire footprint." Elmer's has locations from Ludington to Traverse City and Alpena—and several points in between.
Addressing the demand will get more workers on the roads and highways, getting to projects much more quickly. That's true for road projects and emergency repairs, Wildfong says. "Trying to keep those lines maintained and improved versus emergency breaks, (is) more cost-effective for the taxpayer. But we need people to be able to do those repairs, and that's where this class comes in."
NMC will be holding an open house in October and then the 12 week course will start in January. Slade says the timing is intentional. "We have it running during the downtimes of the construction industry. So it starts in January," he says. "It is 12 weeks long, it's seven hours a day, five days a week. It's an accelerated program. So after those 12 weeks they'll come out with a credential from NMC, a nationally recognized credential, along with their OSHA safety."
The information session in October will give an overview of the course and the enrollment process. It will be held October 6 at the NMC Construction Trades Building from 5:30-6:30 pm, at 2525 Aero Park Drive, off of Parsons Road in Traverse City. The link to sign up can be found by Clicking Here.
To be eligible for the program students need to be 18 or older, have a high school diploma or GED, and be authorized to work in the United States. Once eligibility has been determined funding will be provided and the course will be offered free of charge. Funding is provided by a Michigan Learning and Education Advancement Program (MiLEAP) grant that Northwest Michigan Works! received from the Michigan Department of Labor and Economic Opportunity (LEO).