Lions remain 'optimistic' Jameson Williams will play this season – Detroit Lions Blog
7:00 PM ET
ALLEN PARK, Mich. — Returning from their bye week, after a 1-4 start, the Detroit Lions continue to remain "optimistic" that rookie wide receiver Jameson Williams will make his NFL debut this season, according to head coach Dan Campbell.
Although it's unlikely to happen Sunday at the Dallas Cowboys (1 pm ET, CBS), Campbell says the No. 12 overall pick is progressing through the rehabilitation process but continues to remain on the reserve/non-football injury list for a torn left ACL until further notice.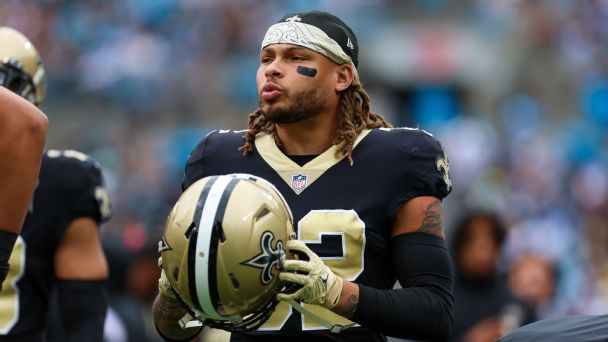 • Honey Badger comes full circle
• Hopkins' return sparks hope
• Inside Lombardi's season in Washington
• Titans' attempt out for Colt's revenge?
• 49ers try to end post-East Coast issues
"I would say this: We really felt like he's really turned the corner over the last month," Campbell said of Williams. "We feel like he's really coming on, so I would say we're pretty optimistic that he's gonna play this year. Now, with that being said, the [Lions' other] injuries are not gonna have any bearing on when he plays.
"We're not gonna let that affect us," he said. "When he's ready, we'll get him up and ready to go, but we don't want to press that just because we have a number of injuries in the receiver room."
Since the offseason, the Alabama product has been spotted frequently around the Lions' practice facility while recovering from the ACL injury suffered in Bama's national championship game loss to Georgia in January.
Detroit has recently endured a string of injuries, which includes receivers Josh Reynolds (knee) and DJ Chark (ankle), who both missed Wednesday's practice.
Receiver Amon-Ra St. Brown also missed the Week 4 matchup versus the Seattle Seahawks with a high ankle sprain while receiver Quintez Cephus (foot) remains on the injured reserve list.
Get your lineups set for your Week 7 fantasy football matchups starting with Thursday Night Football analysis and our take on the biggest stories of the week and season so far.
•

TNF Playbook: Saints vs Cardinals
Mike Clay breaks down the game from all angles, with projections and advice for key players.
•

Fantasy Field Pass
Field Yates on how Dak, Tua, Hopkins will fare in return to action.
•

Movie Room
Matt Bowen lists players to upgrade, downgrade in Week 7.
Also see: Week 7 rankings | Daily Notes
With all of the injuries, Lions quarterback Jared Goff said he isn't hoping to rush the recovery process for Williams but has inquired about his status "quite a bit." Goff, along with the rest of the organization, continues to count down the days until he suits up after witnessing all of the hype surrounding Williams entering the league.
"He's been doing a good job as far as I know with his rehab and staying engaged on the field. He's asking good questions, and he's as talented as I've seen he is on YouTube and whatnot," Goff said. "I know that's about as much of experience as I have with him. But he's a very smart guy, very inquisitive, very interested in what we're doing at all times and has done a good job."
If Goff were to have his way, he says he'd take Williams as soon as "tomorrow."
"But I don't make those calls," Goff clarified.
Goff still hasn't had a chance to throw to Williams in practice yet, other than playing catch every once in a while. Williams is on his own individualized program to return at full strength.
Williams has left a strong impression on his teammates so far. His calm demeanor and early engagement with the team, despite being out of physical action, are two of the things that have stuck out to Chark thus far.
Whenever he returns, he is expected to contribute immediately.
"His speed is huge. So, whether it's opening up or taking the top off, I think he can do both," Chark told ESPN. "So, it'll definitely help with me and it'll change the dynamic of maybe me running the post and he's running the post, I'm coming underneath and then you've got St. Brown and you've got [Josh Reynolds], [Kalif Raymond] and adding that speed is gonna be big for us."