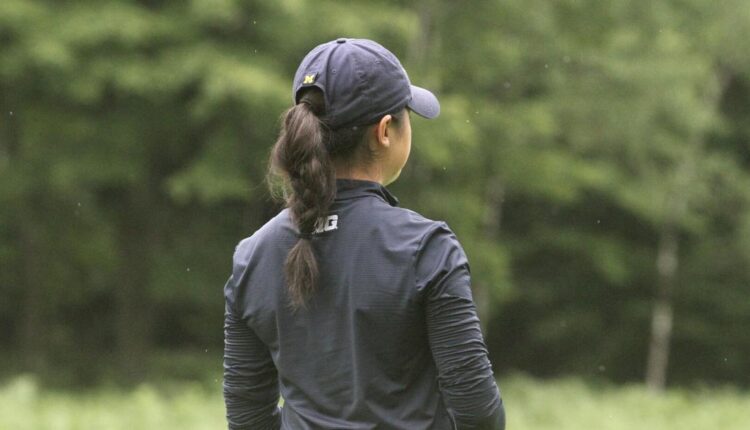 Dy sisters among Michigan Women's Open headliners | Sports
THOMPSONVILLE — Anika Dy hopes for something similar a week ago.
Similar, but not exactly the same.
That's when her younger sister, Anci Dy, beat her in a head-to-head matchup for the Michigan Women's Amateur Championship at Great Oaks Country Club, making headlines all across the state. The match went three extra holes between the pair of Traverse City West graduates and collegiate golfers.
Both Traverse City West alums play in the upcoming Michigan Women's Open at Crystal Mountain, which starts Monday.
"That was pretty fun," Anika said of playing against her sister for a championship. "Definitely a unique situation, but overall fun."
Anika said the final round featured an unusually large gallery for that tournament, as club members showed up to watch sisters play for the championship for the first time.
The two played in the same tournament's quarterfinals in 2017, with Anika winning that time.
Now Anika looks to fend off her sister — and everyone else — as she aims for her second Michigan Women's Open title. She won in 2019 as a 17-year-old, the youngest to win the event. Anika tied for seventh last year and 13th in 2020 and started playing in the Women's Open at age 11.
Anci has played in the Open less, only a handful of times, but both sisters are signed up for this year's field of 74. The field's professionals compete for a share of the estimated $40,000 purse.
Anika Dy, a junior kinesiology major who in April helped the University of Michigan win its first Big Ten championship in program history, said the Women's Open was always a tournament she loved — long before winning it three years ago.
"I like to say it's my favorite tournament of the year," she said. "It's my old home course, and I'm very familiar with it. I'm really looking forward to Monday."
The Dy sisters highlight a small cadre of local entrants in this year's Open, the 20th consecutive year the event has been held at Crystal Mountain.
Other area players registered for the Monday-Wednesday tournament include Taylor Kehoe (Traverse City West), Emlin Munch (Traverse City Central), plus amateur Rachael Krieger, representing Crystal Mountain.
One of Anika Dy's teammates at Michigan, Mikaela Schulz, is also in the field along with two Michigan State golfers she faced regularly in Big Ten play in Shannon Kennedy and Haylin Harris (plus MSU coach Stacy Slobodnik-Stoll and assistant coach Caroline Ellis). Anci Dy, who just finished her freshman year at Division 2 powerhouse University of Indianapolis, beat Schulz in the Michigan Women's Amateur semifinals to earn a spot in the championship match.
Last year's champ, Tristyn Nowlin, is not back to defend her title. But 2020 winner Sarah Burnham, a Temperance resident with partial LPGA status this year, returns. Burnham set the tournament record in 2020 with an 18-under performance, topping Anika Dy's record set a year earlier.
Michigan Golf Hall of Fame member and three-time champion Suzy Green-Roebuck — who claimed the first Michigan Women's Open in 1994, won again in 1999, played on the LPGA Tour for several years and then won the Michigan Women's Open again in 2016 — is also in the field.
Crystal Mountain's Mountain Ridge course will be played at par 72 and set up at about 6,115 yards for the championship. Spectators can watch the tournament free of charge.
Follow @Jamescook14 on Twitter.