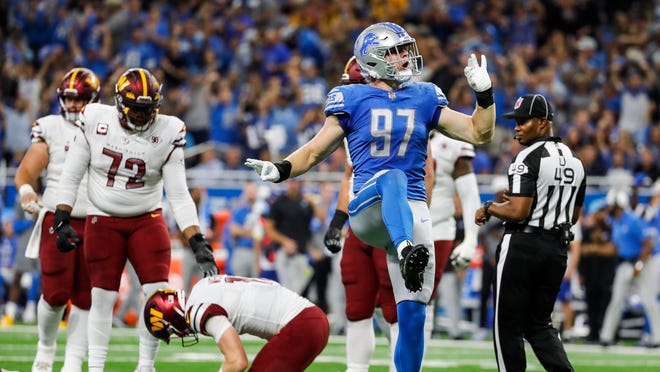 Detroit Lions' Campbell, Hutchinson show growth in win vs. Washington
Aidan Hutchinson came dancing into Ford Field. Emerging through a wave of smoke.
Scooting between the cheerleaders. Pumping his arms. The familiar eye black smeared across his face.
The crowd at Ford Field went crazy. It was during pregame introductions, as the defense was announced; and from that point, I swear Hutchinson never stopped moving. Hey was all effort. All power. "Mr. Never Give Up," recording three sacks in the first half alone during a 36-27 victory over the Washington Commanders.
Hutchinson, the Lions' first-round pick out of Michigan, didn't win this game by himself. Not even close.
But he symbolized everything for the Lions.
This was a win of aggression and effort and learning from mistakes.
This was a game the Lions had to have, as close to a must-win game as you can get in the second game of the season. And they showed progress, growth and improvement.
Hutchinson was largely ineffective in the Lions' season-opening loss against the Philadelphia Eagles.
Just as the Lions were largely ineffective through large swathes of that game.
"He's going to learn from this, and he will be better," Lions coach Dan Campbell promised.
OK, I didn't realize how fast he'd learn.
Consider this: The Jaguars selected Georgia's Travon Walker with the first overall pick, and they going to be compared for the rest of their careers. In Week 1 against Washington, Walker had four tackles, a sack and one interception.
So, against the same competition, Hutchinson outperformed Walker — in the first half alone.
He was the first Lions rookie to record three sacks in a game. Again, he didn't win this game by himself but that kind of effort is what was behind this win.
The Lions still left points on the field. They still made some mistakes and let a massive lead slip away. But they won. And that's all that matters.
MORE SOILS:How teenage Ukrainian war survivors found peace playing sports in Michigan
They didn't roll over
The Lions came into this game with all kinds of built-in excuses.
Yes, the Lions were favored but it started to look bleak at kickoff.
D'Andre Swift was playing on a bad ankle that kept him out of practice last week. The Lions offensive line was missing three starters.
But the Lions overcame it. Mostly, because Swift made his touches count, ripping off 56 yards in the first half on three carries.
The Lions were playing without corner Amani Oruwariye.
But the Lions overcame it, covering up Oruwaiye's absence by dialing up the pressure. At one point in the first quarter, I think they sent everything that wasn't nailed down.
Here came Alex Anzalone. Here came Malcolm Rodriguez. And they swarmed Washington quarterback Carson Wentz.
Other times, they got pressure just from a simple four-man rush, forcing a safety.
The more that defense did, the more the crowd became energized.
They were explosive on special teams; Caliph Raymond ripping off a 52-yard return on a free kick following the safety.
And the Lions built a 22-0 halftime lead, a truly dominating, impressive performance.
For a bit there, it felt like the Lions could do anything they wanted.
Is Dan Campbell's honeymoon ending? Why Sunday feels like a must-win for Lions | opinion
BREAK
So after that dominating first half, what happened in the second?
Washington made adjustments.
Suddenly, Hutchinson wasn't getting to the quarterback (yes, there is more to learn).
And the Commanders cut the deficit to seven points in the third quarter.
It was that moment you went gasp and go "no way."
No freakin' way.
They can't lose this game.
But then, here came Amon-Ra St. Brown, who broke free on an end around, and Goff dumped a pass to Swift, who fell down catching it. He popped up and weaved into the end zone.
Sometimes you fall down before you break free.
Every time Washington scored, the Lions answered. The Lions were aggressive and fearless.
This was progress people needed to see. This was growth.
And this, by goodness, what one they had to have.
Learning right before our eyes.
It was some breathing room.
Maybe that was the big theme for all of them — Hutchinson, Campbell, all of them.
From week 1 to week 2.
Contact Jeff Seidel: [email protected]. Follow him on Twitter @seideljeff. To read his recent columns, go to www.freep.com/sports/jeff-seidel.