Looking back at 25 years of Ann Arbor's Edgefest
Former Edgefest festival director Dave Lynch.It started as an improvisation. Three touring groups, all working on the fringe of whatever you want to call it — free jazz, new music, the avant garde — all needed a Midwest gig on the same autumn Saturday back in 1997.
Thanks to the work of a few rabid fans of unconventional sounds and an open-minded venue director, Ann Arbor was quickly becoming a stopping point for "out" players making the loop between major cities in the mid-'90s. One-off shows at places like the Heidelberg Restaurant, Performance Network Theater and, eventually, Kerrytown Concert House's (KCH) Jazz at the Edge series put Ann Arbor on the map for groups that once ignored it, says former concert promoter Dave Lynch.
So when three headlining-caliber acts from that loose scene — Rova Saxophone Quartet, Dave Douglas Tiny Bell Trio, and the Charlie Kohlhase Quintet — all asked about the same date, Lynch and his friends got an idea.
"We looked at each other and said, 'Hey, that looks like a festival,'" he recalls.
After filling out the bill with some of Ann Arbor's most exciting young players and rounding up a few more venues, the first Edgefest was born as a one-day indulgence in adventurous music on three stages.
As its 25th anniversary festival kicks off this Thursday, Edgefest continues to attract the biggest names in new and freely improvised music to Ann Arbor to perform alongside hometown heroes, undergrad firebrands, and, for one raucous afternoon, a parade of enthusiastic middle schoolers and townies, all gathering to push boundaries, broaden horizons, and reinvent music's possibilities.
A blurring, uncategorizable mass
Lynch's own interest in the avant garde started with '60s and '70s jazz fusion and niche subgenres of progressive rock – music played by groups like Miles Davis' electric bands, Britain's Soft Machine, and Belgium's Univers Zero.
"It was a blurring of all that kind of stuff together into one uncategorizable mass of music," he says.
Friends and coworkers didn't always share his enthusiasm for eccentric finds. Working at the Ecology Center in Ann Arbor in the late '70s, Lynch recalls bringing in cassette tapes to play and getting asked, "What is this weird music?"
Eventually he made some like-minded friends in WEMU 89.1 FM radio host Jules Ryan and record store clerk Damon Stanek. The three kept tabs on underground music scenes in other cities and made road trips to New York's original downtown Knitting Factory and Quebec's Festival International Musique Actuelle in Victoriaville. Soon they were brainstorming ways to get more cutting-edge acts to swing closer to home as they toured, asking themselves, "Why not Ann Arbor?"
"For all the wonderful history behind major events that put Ann Arbor on the map, like the Ann Arbor Blues and Jazz Festival, which are classic, amazing events in Ann Arbor's history, we kind of thought things were a little bit traditional," Lynch says.
In the same DIY spirit of the organizers for those original, storied events of the '60s and '70s, Lynch and his friends started tracking down artists with a more contemporary take on improvisational music — and venues to host them — in the '90s. After getting turned down by traditional jazz clubs and promoters around town, they found a sympathetic ear in KCH founder and director Deanna Relyea.
"That's what's so refreshing about Deanna," Lynch says. "[She was] more like an open door, as opposed to having the door shut in your face all the time."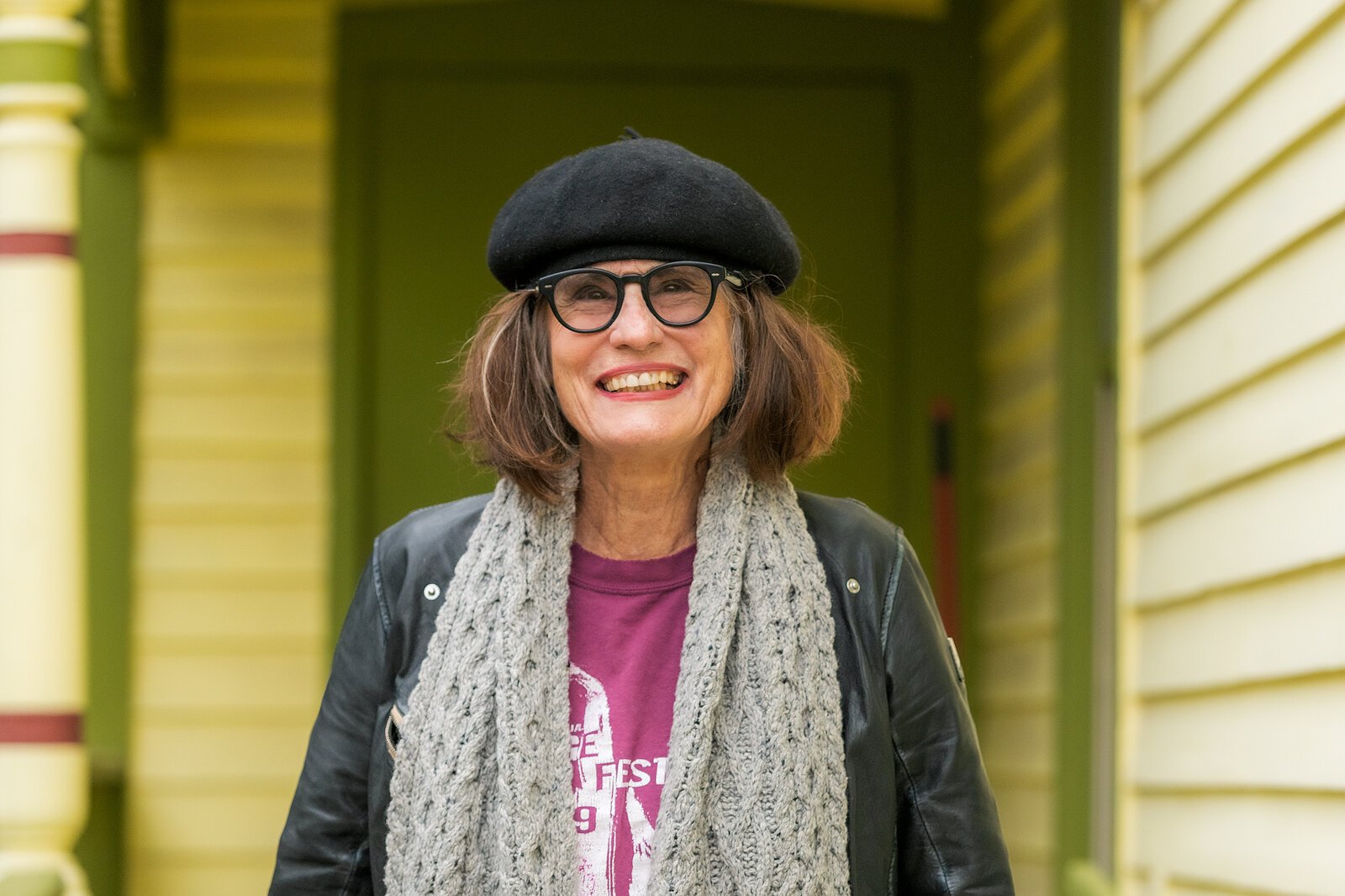 Kerrytown Concert House founder and director Deanna Relyea.
The concert house's Jazz at the Edge series was launched soon after, with Relyea booking saxophone and free jazz icon Roscoe Mitchell, co-founder of the Art Ensemble of Chicago and the Association for the Advancement of Creative Musicians (AACM) during the late '60s.
As word spread, requests from touring groups came, leading to that first fateful Edgefest. Held at KCH, The Heidelberg, and the late Gypsey Cafe, the inaugural festival also featured local support from Transmission Trio, an early project by now-renowned saxophonist, film composer, and Grammy winner Colin Stetson; Detroit composer Bill Brovold's experimental rock troupe, Larval; and saxophonist Andrew Bishop's Hank Williams Project, a free-jazz homage to the country music legend.
"It was really quite successful," Lynch says. "People were really into it."
After a less successful follow-up in 1998, Lynch says organizers "went for broke" for the festival's third installment, bringing in the Willem Breuker Kollektief to play Kerrytown's Workbench Furniture shop. The audience filled the store's chairs and couches, all turned to face the Dutch big band, which played against the outer wall.
"That one kind of pushed the event into a larger scope," Lynch says. "From then into the aughts, we were able to bring in international groups and have a variety of different sorts of music all centered around the idea of jazz and creative improvisation."
Not a commercial effort
Over time, Edgefest grew from one day to two days to as many as four, spread across venues large and small, including The Firefly Club, Sweetwaters Coffee, Encore Records, and Bethlehem United Church of Christ. KCH has always served as the anchor, with its small staff handling administration, logistics, and marketing. Thanks to Relyea's connections and KCH's nonprofit status, the festival was able to write grants, attract sponsors, and raise additional donor support to offset expenses and pay artists.
When Lynch stepped back after 10 years, Relyea took the reins as festival director, a role she's kept even as she scaled back her own involvement in the concert house and eventually retired. A University of Michigan (U-M) music school alum with a background in classical piano and voice, Relyea first launched the concert house in 1984 to host chamber music and special performances. She calls the first 10 years of Edgefest her "graduate education" in business and music. 
"It's not a commercial effort," she says. "People come to this music from various backgrounds. It could be rock or classical or just somebody who has another kind of listening mechanism."
Relyea's own listening mechanism grew and changed as she got to know the artists and admire their improvisational spirit. 
"I don't think there's any particular kind of avant garde jazz, so to speak, that we haven't presented," she says. "We don't play favorites. We want to make sure everybody gets a voice."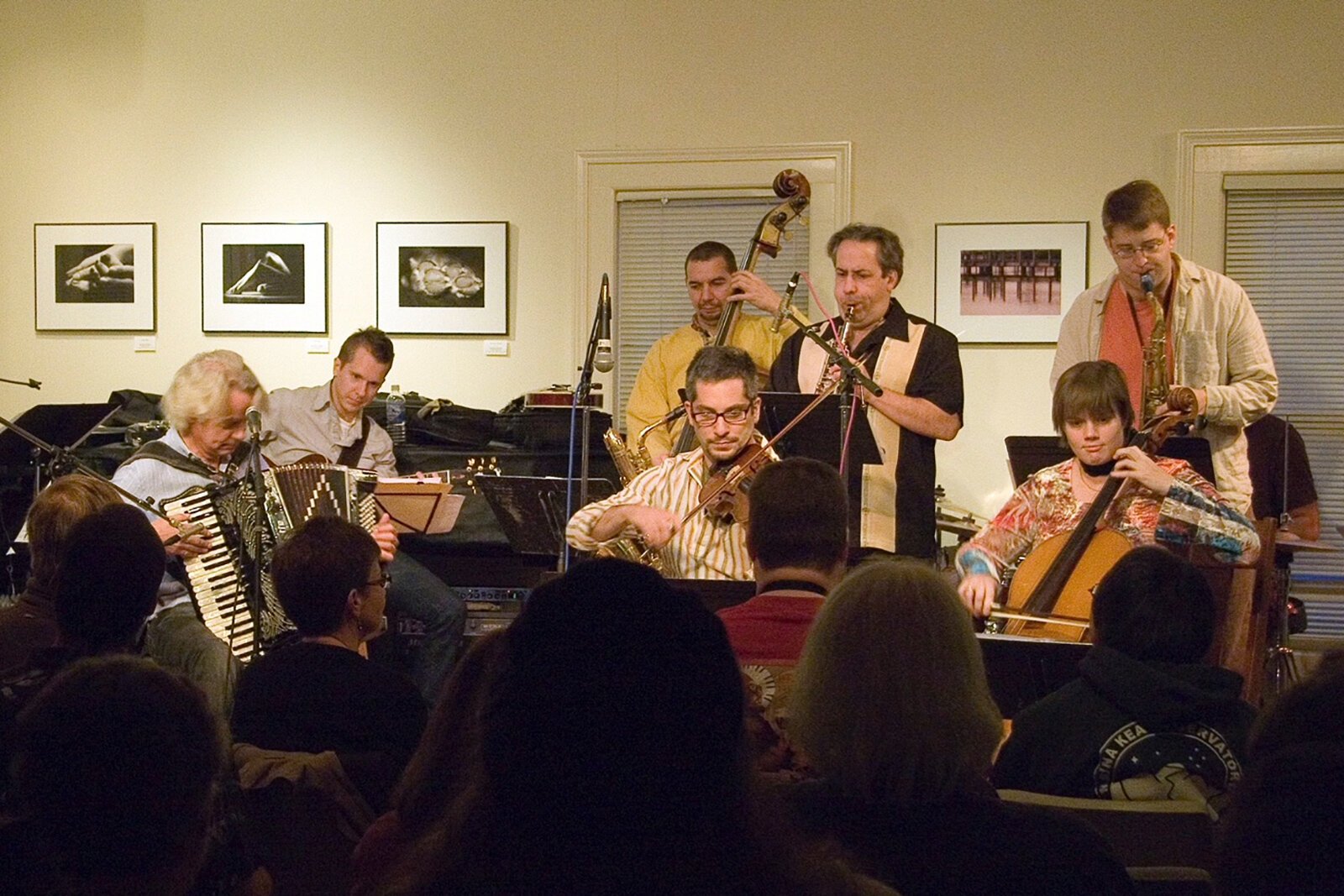 Lars Hollmers Ann Arbor Global Home Project at Kerrytown Concert House.
That includes local musicians who don't always get invited to jazz clubs. Over the years, Relyea has also watched several young artists, many with connections to U-M's music school, come up through the festival. This Thursday, pianist and U-M alum Michael Malis will open the festival with a solo performance.
"It's a service to the music and to the artists and to the community, who need to hear this," Relyea says. "We need to move the music forward. We like to hear the standards, but there's new music out there." 
With new music comes original perspectives from diverse performers. Relyea says the festival has organically developed as an inclusive event featuring many Black, Asian and Asian-American, and women artists. 
Several years ago, Relyea started organizing each new festival around a theme, usually highlighting a particular instrument, location, or music scene. As with the sets at Edgefest, the prompts serve as an entry point and a way to spotlight particular musicians and sounds. They also serve as a reminder that, especially in freely improvised music, any instrument or player can lead a band. From there, anything still goes. 
For 2018's "Chicago: OUT Kind of Town" theme, Mitchell returned to Ann Arbor with a group of Windy City musicians paying tribute to the 50th anniversary of the AACM, all under the direction of U-M professor of music and Edgefest regular Stephen Rush. The show was recorded and released in 2019 to critical acclaim. It also marked Mitchell's second live release recorded in Ann Arbor.
While that performance filled Bethlehem United Church of Christ with a few hundred people, other concerts are typically more intimate affairs. A full house at KCH is around 150. Edgefest often draws a dedicated audience of returning fans, several of whom seem well acquainted with each other and the performers. Some travel from as far as Texas, England, and even Japan.
"There is a definite group of really hardcore followers of this music," Relyea says. "They're knowledgeable and very supportive."
For "Edgefest 2021: Celebrating 25 Years at the Edge," KCH will welcome back several visiting mainstays in the improvised music scene, including saxophonist Joe McPhee, pianist Matthew Shipp, bassist William Parker, trombonist Steve Swell, saxophonist Ingrid Laubrock, and violinist Jason Kao Hwang. Saturday evening's finale at Bethlehem United Church of Christ features two special performances: a collective improvisation played on instruments from the U-M Stearns Collection, and a performance of Swell's "If Trains Could Speak," a piece inspired by the 90-minute train ride from Krakow to Auschwitz, Poland, and featuring Relyea on vocals, Rush on piano, and Relyea's husband, Piotr Michalowski, on reed instruments.
It also marks the event's return to in-person concerts after going virtual for the COVID-19 pandemic in 2020. Audience members are required to wear masks and show proof of full vaccination.
The world of improvisers
The return to an in-person festival also means the return of another annual highlight: the community parade. Held at noon on Saturday, the parade is led by Scarlett Middle School band director Caroline Fitzgerald and her middle school students marching through Kerrytown and the Ann Arbor Farmers Market alongside Edgefest musicians and community members.
Since it started about 10 years ago, the event has grown from a handful of students to nearly 100 at its most popular. The parade — and pizza party that follows — is the highlight in a month dedicated to improvisation, Fitzgerald says. Building up to the parade, she uses October to teach it all, from collective efforts to soloing over a big band.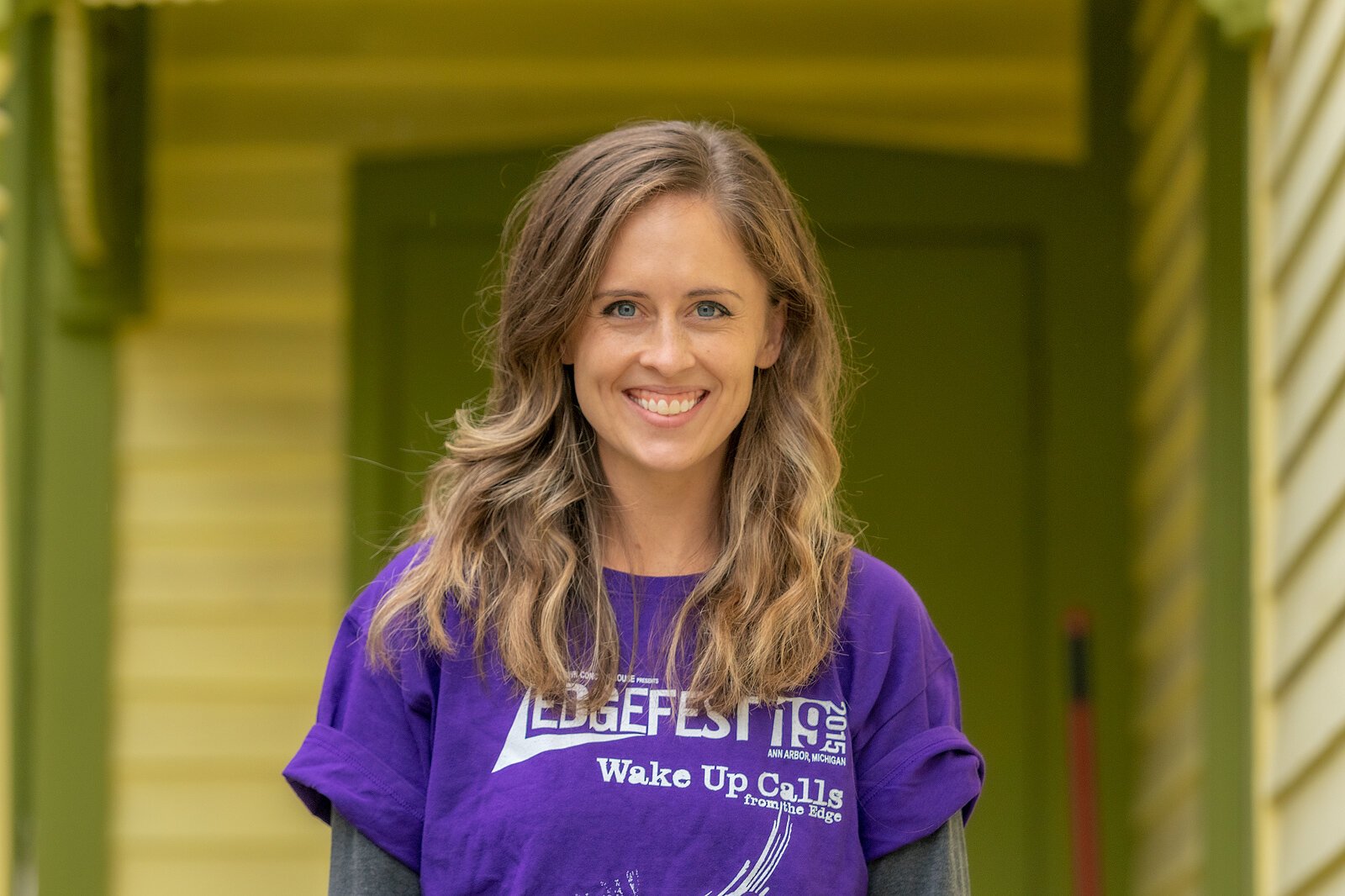 Scarlett Middle School band director Caroline Fitzgerald.
"The thing I really focus on is introducing them to free improv, because that just blows their mind," she says.
In freely improvised music, traditional melodies, harmonies, and rhythms can be present at times, but they aren't necessarily the end goal. Musicians often collaborate to explore tones, textures, and impromptu interactions. As students study sound in more abstract ways, Fitzgerald encourages them to think of playing in the band as not just playing music together, but also working as a team and learning to lead and follow.
"It's about learning how to communicate," she says. "It's about learning how to be a part of the community. It's about expressing yourself and your feelings."
It's a time-consuming, and disruptive, curriculum that Fitzgerald understands isn't for everyone. But it pays off with students learning new notes, discovering new techniques, and becoming more fluid on their instruments.
Guest musicians from Edgefest drop in during the first part of the festival for demonstrations and workshops in improvising, from drumming on buckets — and themselves — to playing strange wind instruments students wouldn't normally encounter. Then, on Saturday, they show up to jam with students at the parade.
One frequent classroom guest is Edgefest veteran Andrew Bishop, who Fitzgerald met while taking one of his graduate school courses at U-M. With a couple of exceptions, Bishop has performed at every Edgefest, starting when he was a U-M graduate student in 1997. Over the years, he's led his own projects, played in different ensembles, and backed his musician friends visiting from New York.
When he started teaching in U-M's Department of Jazz and Contemporary Improvisation in 2008, Bishop continued professor Ed Sarath's tradition of bringing in Edgefest guests to work with the university's own improvisation ensemble. Partnering with the festival has led to opportunities like bringing in Mitchell for a masterclass when he was in town to perform and record. For Bishop's students, Edgefest presents a "fall rite of passage" where they get to not only see some of the best in the world perform, but also ask them questions about how to make performing part of their own life post-graduation.
Thinking back on 25 years of Edgefest as a teacher, performer, and fan, Bishop says it's the community of listeners that makes it special.
"Sometimes you play a festival or a venue and it has a great vibe, but it's not always a listening room, and that's the thing I love about Edgefest," he says. "Everybody who's there is there to listen, and you get that sense as an audience member and you get that sense as a performer too."
The excitement of the first festival – and feeling that it was the start of something special that might last – is high on Bishop's list of Edgefest memories, as well as standout performances by saxophonist Tim Berne and pianist Myra Melford.
Another moment that sticks with him is from a jam session held several years ago now on a cold October night at the farmers market, where musicians from Ann Arbor, the Netherlands, Los Angeles, and New York gathered to play together.
"We were kind of under this tent, but everybody was freezing, and it was one of those magical, chilly Ann Arbor evenings, and you literally have the world of improvisers all together in this one place," he says. "That was a really magical moment."
Eric Gallippo is an Ypsilanti-based freelance writer.
All photos by Doug Coombe.