Three Metro Detroit veterans share their perspectives
Since the U.S. military withdrawal from Afghanistan in late August, which ended a two-decade war, veterans across the country have been coming to terms with their service there, from lives lost to wounds both mental and physical, to responses from their own communities, and questions about their mission. 
We reached out to Detroit area veterans to get their reactions. Many are not ready to share outside their own veteran communities. Some, however, are willing to talk about what they are feeling and experiencing, what supports they use, and what they would like to see from their communities. 
Samuel Nuxoll poses at Camp Nathan Smith in Kandahar City, Afghanistan, to thank his wife for a Christmas care package she sent.
Samuel Nuxoll, Ann Arbor: Army veteran
At one point during the military withdrawal, Army veteran Sam Nuxoll's wife asked him how he felt about it. "I think it might have even been more of a mental health check-in," he says. "Like: 'Are you good?' Because it has been such a hard issue for many veterans and some do have personal feelings about it."
For Nuxoll, a self-proclaimed "army brat" who served nine years and was a company commander and intelligence officer in Kandahar City between 2011 and 2012, it hasn't been as difficult as it has for many veterans.
"I don't have a personal strong reaction to it one way or the other any more than any other citizen," he says, describing his mission there as "catching bad guys" but more behind the scenes. "I was working with intelligence assets. I didn't have a daily working relationship with any Afghan […] so I didn't feel personally connected to rebuilding the nation or getting their governance going."
What has been hard, says the father of three, is how this has become a divisive issue among veterans. Normally, he says, it's a "pretty close-knit community."
Nuxoll describes the rifts he sees as much like those in the non-military community, in that some veterans have strong political feelings about it: "That the withdrawal itself should never have happened, that it was bungled, that we never should have been there." 
He says others feel it diminished the service of people who were there and lost a limb, or life, or lost a family member. "That's hard for them, like, 'why did we do this if we weren't invested in it for the long haul?'," he says. "I don't think anybody feels the opposite of somebody who lost a loved one, but there's a camp of 'we never should have been around that long to begin with' and 'there was no good time to leave so just ripping off the Bandaid is not a terrible thing.'" 
As for veterans who had personal connections with Afghans, whether interpreters or someone within the government, Nuxoll says he can "absolutely understand why it's so hard for them." 
Although Nuxoll, who now works as a trusts and estates attorney, never bonded with a local community in Afghanistan, he did lose friends during his year there: two Army captains, Drew Russell and Joshua Lawrence, who were killed in a sneak grenade attack inside their command post.
"[The withdrawal] doesn't diminish their sacrifice, or the nobility of it, or the value of it in any way whatsoever to me," says Nuxoll. "For me, we weren't there for the Afghans. Yes, that was our mission. But on the personal level, where for me the sacrifice is important, it was for each other. And that's not diminished in any way by what happens to that country or what the Afghans choose to do with it."
One positive Nuxoll says he sees, is the renewed national interest after Afghanistan had largely dropped out of the national consciousness. 
"Obviously it's a part of my identity and my work colleagues know I'm a veteran," says Nuxoll, who is still active in the Army Reserves. "But it's not really something anyone's asked me about overtly [before]. When this [military withdrawal] came up, one of the other lawyers reached out to me and said, 'Hey, I'm watching this and I just want you to know I'm thinking about you.'"
It brings up something Nuxoll feels the U.S. is missing: A shared national identity, or experience. "There's so few veterans who are elected leaders […] I wish there were more who could talk about their personal experience."
Nuxoll calls it getting on his "soapbox" but believes the country would benefit from some form of mandatory national service, whether it's in the military or the Peace Corps or working for a time in underserved communities.
"Everybody should have a stake in that," he says. "It's too easy to be dismissive or to take advantage of what it means to be a citizen when you don't have any stake in it."
At the moment, thinking of his fellow veterans, Nuxoll shares one of the earliest and loudest messages from the Army during the pull-out: "To check in with your buddies. Make sure they're doing okay," he says. "The epidemic of veteran suicide is still very much a real thing. And there was definitely concern that this was going to cause a spike in this."
He thinks back to his wife. "She's tied into many military spouse communities on social media and other things. So I think she reached out and checked in on me," he says. "Which was great."
Jasun Ward reflects on his time in the Marine Corps. Photo: David Lewinski
Jasun Ward, Saint Clair Shores: Marine Corps veteran
Jasun Ward keeps a card with the Veterans Crisis Line nearby on a dry erase board in his Saint Clair Shores home. "It's right at the bottom in case I need it," he says. "I've only called it once, recently since this all fired up."
It's proved to be a tough time for the Marine veteran of Somalia, who was a civilian security contractor in Iraq, Kuwait, and Afghanistan, where he worked for a defense contractor. "I'm glad we're out of there. It's not something that we could have done for much longer." 
But the chaos of the withdrawal deeply troubles Ward. He recalls his first Facebook post about it: "I spent four years in Afghanistan, it was all wasted."
Based in Kandahar from 2010 to 2014 doing convoy escorts and vehicle searches, often with an M9 semiautomatic pistol on his hip, Ward says mortar attacks were constant. "You could be sitting in the chow hall and have a rocket go right through the roof and explode right as you're having lunch."
Ward, 46, admits he's had some struggles since leaving the Marines where he served four years in active duty and four in the Reserves. He signed up at age 17, in part inspired by a grandfather who served in Korea and an uncle in Vietnam, both Purple Heart recipients. Also, he adds, like many who enlist, college wasn't financially feasible. 
In recent years, he worked as a project manager for an environmental company until 2019, when he had a mental crisis and pulled two people out of a car at gunpoint in his native Westland. 
"I thought I was back overseas," says Ward of the incident that nearly earned him a 12-year prison sentence. Instead, he says, he learned he was suffering from Post Traumatic Stress Disorder (PTSD) and got a second chance through Veterans Treatment Court, which mandated a two-year rehabilitation program. 
Ward, still in his first year of probation, is now on Social Security disability benefits. He's been fulfilling requirements like drug testing and classes in anger management, doing therapy and community service. He's also been mending his relationship with two daughters from an ex-wife.
That was before the Afghanistan withdrawal happened. 
"It's been triggering," he says. "More so for maybe the Marine Corps, because I was outraged that 12 Marines and a Navy Corpsman were killed in an IED blast when it shouldn't have been like that," he says referring to the ISIS-K attack that killed 13 U.S. troops outside the Kabul airport Aug. 26.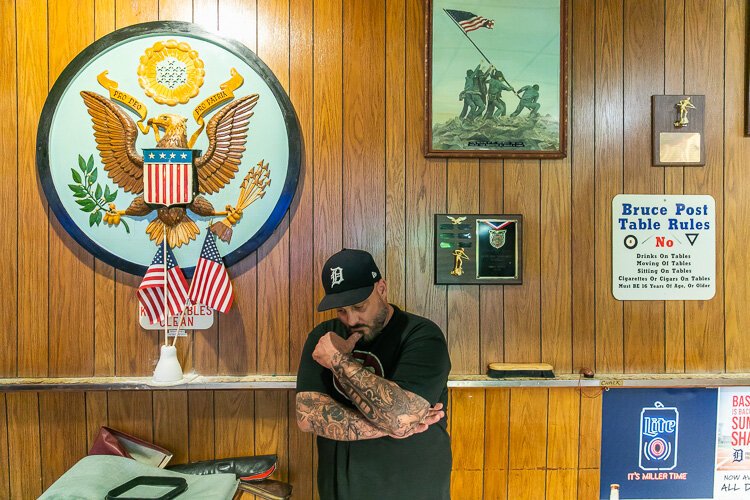 "I'm embarrassed to be an American," he says. "My stress levels are better now but I had to call and talk to mental health specialists at the [Detroit] VA to get through this. It's helping."
Ward, who has "22″ tattooed on his left knuckles for the 22 veterans who die by suicide each day (according to the VA's 2012 Data Report), says he's worried about others.
"There's veterans feeling like they failed, like their battle buddies have died in vain," he says. "These amputees are who I feel most bad for. My scars are mental scars." 
Ward also fears for the Afghan people. "I met a lot of good people that I thought we were helping, I thought that was part of the mission," he says. "I don't think we had a good solid picture of why we were even there." 
Now grateful for the services he gets through the VA, Ward is most thankful for the camaraderie and support he finds being among veterans of different eras at his local VFW Bruce Post in Saint Clair Shores.
"They've done the same thing you've done, walk the walk, talk the same talk. There's a level of ease when you walk in," says Ward, who says he hopes to get into mental health advocacy for veterans.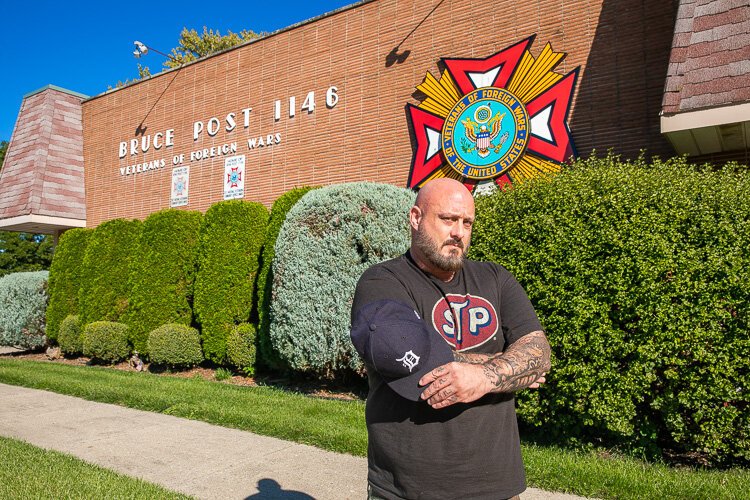 Photo: David Lewinski
Usually, he's at Bruce Post a couple of days a week, including Taco Thursdays, to watch the news and laugh and catch up and shake some hands, he says. "It's like a home," he says. "You care about these people. Like: Hey, I know so-and-so has a bad hip. Does he need anyone to cut his grass?"
He also knows that many veterans, like him, were taught not to talk about their war experiences, to "suck it up," he says. "You're almost looked upon as weak if you talk about it." Ward doesn't have time for that attitude, these days especially. When he meets a veteran who was in a combat zone, he says: "I ask very upfront: 'How's your mental health?'"
He plans to keep on reaching out. "I'm learning to just say: Do you mind if I asked you x, y or zed? Two, three years ago I would not have said that. Realizing you're not the only one is very helpful and healing."
Shane Campos encourages others to connect with the veteran organizations around them. Photo: David Lewinski
Shane Campos, Washington Township, Army veteran
Shane Campos knows the value of self-care, having been diagnosed with PTSD just months before he retired from the Army in 2017 after 21 years of service. It's one reason the retired Chief Warrant Officer 4 has been extra watchful of veterans since the pull-out.
"They're disappointed and frustrated and upset, and rightfully so," says Campos, who spent one year in Jalalabad from 2010 to 2011 doing maintenance and logistics for outposts, ensuring that weapons, vehicles, and night vision devices were battle-ready.
"This is such a culture shock. No one thought in 11 days everything would change, all that work and sacrifice was for nothing," he says. "Through all this you have your brothers and sisters dying for their country, literally, and you're doing this because there is a higher purpose, bigger than yourself. And at the end, with the Taliban in the seat again, it's like: What just happened?"
Campos, a Houston native who lives in Washington Township with his young family, admits he has mixed feelings. "Can I say I have a better answer? Keep them there another 20 years? I don't know." 
He recently told his wife, whom he met while stationed in Detroit from 2012 to 2015, that these past weeks feel reminiscent of Vietnam, where his father served. "They went over there and their friends died and all that sacrifice and it's like: Ah, wasn't worth it guys.' Like none of that counts."
Now a logistics manager for a government contractor, Campos says they did a recent check-in with veterans, sharing personal cell phone numbers and inviting them to talk if needed. "I haven't received a phone call but part of that is just making yourself available and letting them at least know that they're not alone."
That's one of the biggest lessons Campos has learned from his own experience. When he was first told he had PTSD on a routine visit with a psychologist, he didn't believe it. "It just didn't make sense to me," he says. 
It took a number of sessions to sink in and understand what contributed to his trauma, not just his time in the service but early life. He says this is a common theme for veterans, many of whom grow up in poverty or challenging life situations and see the military as a way to move forward.
But no one can expect to come out of a combat environment unscathed, he says, whether they are a support person or on the front line. "Your people are dying around you, you're doing memorial services [in the field]. I think: That could be my son, my daughter, it could be me. Then you have survivor's guilt: 'Why did I make it?' The only people that can maybe relate is another veteran."
What's helped Campos the most, he says, is being validated and listened to by fellow veterans. "To get that weight off and say, 'do you hear me, see me, am I going crazy?' And I can hear them out and say 'I got you, I can relate, you're not alone'."
One place he gets that is Team RWB, a national organization with local chapters in Detroit, Ann Arbor, and Grand Rapids, which supports veterans through physical and social gatherings that include non-veterans.
Campos was the "chapter captain" in Detroit for three years until he took his job in 2020. He still attends the weekly "rucks" — runs and other activities every Sunday on Detroit's Riverfront.
"It just gives us time to connect. When you leave the military there's this huge gap for a lot of people. For me, it was a great transition into civilian life."
It's also a way to reach veterans at a deeper level if they need it, he says, mentioning events like hosting speakers to talk about vulnerability and other issues, which can seem "too touchy-feely and off-putting" to some.
"To even get there you've got to have a safe space," he acknowledges. "You have to build a relationship and build trust. That doesn't happen overnight. It's done through continuous relationship building through these meet-ups."
Even just the exercise is therapeutic, he says. "You get your endorphins going, you're off the couch, you're feeling motivated. You're like, 'I'm making progress, at least today.' Then we'll grab a bite afterwards and just talk: 'What's going on with you? Anything I can help with?'"
Campos, who's also volunteered with Mission Continues and Team Rubicon, which help veterans continue their service in the community, says for anyone struggling out there especially now, use the veteran organizations around you. "Become part of those organizations. Just getting out and moving and talking, helps you get past that hump to the next day."
And for those who know or love veterans who are struggling or don't seem quite themselves during this time, Campos says, "My ask would be: Patience and grace for the veteran in your space."
Photo: David Lewinski
Resources for veterans and those who want to support them:
VA Detroit: https://www.detroit.va.gov/ – 313-576-1000 
Veterans Crisis Line 800-273-8255, press 1
VFW: The Veterans of Foreign Wars of the US — the support veterans through advocacy, mental health and financial assistance and more: https://www.vfw.org/
IAVA: mission is to connect, unite, and empower post-9/11 veterans.
www.iava.org
Michigan IAVA: https://www.facebook.com/IAVAVetTogether11PlymouthMI/
IAVA's QRF: https://iava.org/quick-reaction-force/
Quick Reaction Force is a concierge veteran empowerment program helping veterans navigate an often complex road map to quality free services.
Team RWB national https://www.teamrwb.org/
Detroit Team RWB: https://www.facebook.com/groups/teamrwbdetroit/
AA Team RWB: https://www.facebook.com/groups/TeamRWBAnnArbor/
Fallen and Wounded Soldiers Fund (FWSF) —  https://www.fwsf.org 
supports Michigan-based soldiers by helping injured soldiers pay their living expenses, and provide assistance to the families of the fallen.
Michigan Veterans Foundation: http://www.michiganveteransfoundation.org
Helping veterans meet their medical, psychological, and educational needs including services such as transitional housing, employment training, PTSD counseling, and legal assistance.
Volunteer opportunities for veterans:
Team Rubicon — teamrubiconusa.org: Serving communities by mobilizing veterans to continue their service by helping others.
Mission Continues — missioncontinues.org: Empowering veterans to continue their service and connect their talents and skills to their communities.