National police shortage felt in Grand Traverse County | News
TRAVERSE CITY — A request for a fifth community policing officer in Garfield Township was met with some resistance by Grand Traverse County Sheriff Tom Bensley, whose department currently has nine unfilled deputy positions.
From April 2021 to April 2022 the department lost 13 deputies — three to the Michigan State Police who all left at the same time in March, and 10 to jobs in the private sector, Bensley said.
"Officers are leaving the Grand Traverse Sheriff's Department for one reason — salary and benefits," Bensley said.
Alger
But pay and benefits the sheriff's department receives is comparable to those in a wage study commissioned by the county and done by Management Advisory Group, said county Administrator Nate Alger. They were still given raises above and beyond what the market analysis suggested for them, Alger said.
"The situation the sheriff is in is not unique to him, it's not unique to any other department or office within this county, it's not unique to anyone within this country," Alger said.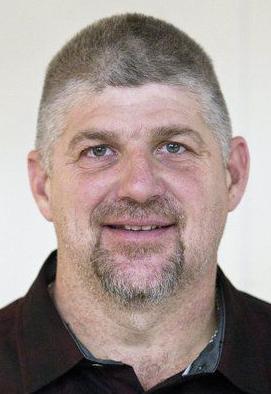 Jewett
The proposal for an additional deputy in Garfield Township was brought forward by Commissioner Brad Jewett at Wednesday's regular board meeting. Jewett said the township is growing, with most of the growth in the county taking place there.
The measure was approved by township board members, as it could be supported financially.
"They do see a big need for it in Garfield Township," Jewett said.
GTC has an agreement with the townships in which the salary and benefits of community policing officers, who are hired as employees of the sheriff's department, are paid by the township, while a vehicle, gun and other equipment is supplied by the county. The county gets reimbursed $89,397 for each township deputy, Alger said.
The townships are funded for 22 CPOs with one opening in Fife Lake. The county is funded for 26 road patrol deputies and is down to 17 — a 35 percent reduction in staffing, Bensley said. A couple of new deputies have been hired, but won't complete their on-the-job training until September, he said.
"We're coming into the busiest time of year and we're short," he said.
Bensley said CPO's work from 9 am to 5 pm, or about 20 percent of the time. The rest of the time the townships are covered by county officers, he said.
He said another issue for deputies is that they no longer receive a pension, but can invest in an employee-matched 401k. Most employers including the state of Michigan have moved away from defined benefits plans, but Leelanau County still has them. Bensley said he lost two deputies more than a year ago to the Leelanau sheriff's department. Another three were lost about five years ago to the Traverse City Police Department, which also still has pension plans.
"Everyone is looking for cops and whoever has the best deal, they're going to get the officers," he said.
Deputies are members of the Police Officers Association of Michigan. In a three-year contract that expires at the end of 2023, the deputies were given 3 percent pay increases for each year of the contract. The increase on Jan. 1 included a 1.5 percent cost of living increase.
A wage scale at the county website shows that deputies hired this year will begin at $46,963 per year and will earn $61,222 at the end of four years.
All non-union employees were given 1.5 cost of living raises Jan. 1 with an additional 3 percent raise to reflect recommendations from the wage study. On April 1 all employees got an additional 5 percent raise based on the wage study, including all sheriff's department employees.
"We are appreciative of those increases, but inflation is taking a big chunk of those," Bensley said.
NMC Police Academy ramps up program
The officer shortage is not just being felt by northern Michigan or even the state. According to a national survey by the Police Executive Research Forum, an independent research organization focusing on critical policing issues, on average there is a 5 percent reduction in hiring, coupled with an 18 percent increase in resignations and a 45 percent increase in the retirement rate .
The survey, done in May 2021, garnered 194 responses from a mix of departments of all sizes from around the country.
"There is a police shortage and there's a growing need to get people into police academies," said Gail Kurowski, director of the Northwestern Michigan College Police Academy.
Kurowski has redesigned the program, changing it from offering one academy per year, completed in two part-time semesters, to two academies, each completed in one full-time semester. The new schedule starts in fall 2023.
A candidate must complete their general education requirements before applying to the academy. After completion a student will graduate with an associate's degree.
The current NMC program has the capacity for 30 students and graduates on average of 10 to 15 per year. Kowalski said that in the three years she has been running the academy, 100 percent of graduates passed their state license exams and were hired.
But Kowalski said many potential students have opted to go elsewhere because the program takes nine months to complete, compared to more condensed programs that can be completed in 16 to 20 weeks.
Shortening the NMC program will hopefully attract more students, she said.
The MSP and the Detroit Police Department have their own academies, but some policing agencies have gone to what they call 'employed recruits,' where the agency hires an employee and then pays for them to attend an academy.
"By switching to this type of schedule we will probably be accepting for the first time employed recruits," Kowalski said.
Kowalski said she doesn't know what is causing the police shortage, only that there was also a mass exodus of people from fire and EMT departments and the workforce in general that has not yet returned to pre-pandemic levels.
There is also a lot of negative press about police officers, she said, which could play a role.
"Who wants to put their life on the line when they can go out and earn a bigger income doing something much safer," she said.