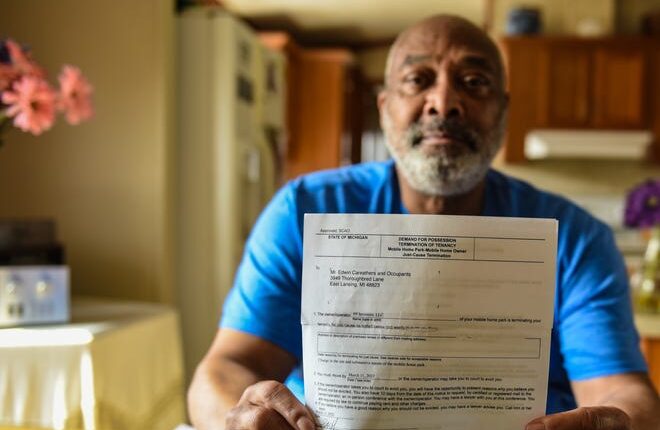 East Lansing seniors can stay in manufactured home community
EAST LANSING — Four months ago, 77-year-old Lois Hagy thought she might have to leave her home after 20 years.
Last March she and more than a dozen residents who live in manufactured homes in The Reserve at Falcon Pointe received a letter stating they had to move because the property owner, FP Investors, LLC, was changing the land use to a single-family condominium site .
So the residents, who own their homes but not the property they sit on, were told they had to move by March 11, 2023, or the company would evict them.
"We were supposed to be out of here," Hagy said.
The company has since had a change of heart.
It communicated its new intentions in a letter sent to residents late last year, which stated FP Investors was withdrawing the tenancy termination notice, the March 11, 2023 deadline, and allowing everyone the opportunity to continue discussing alternative arrangements in "a relaxed fashion."
So the Falcon Pointe residents, many of them seniors in their 70s, 80s, and 90s, will not have to move by March and may not have to move at all, depending on what FP Investors does with the property moving forward.
The Reserve at Falcon Pointe is a retirement community off East State Road near Chandler Road in northern East Lansing. According to documents obtained through a Freedom of Information Act request, the original application to rezone Chandler Farms Housing Community, which would later become Falcon Pointe, was approved in 2002.
There have been different iterations of plans for the property, including a condominium development with 120 two-bedroom units, with developments to the east and west of the manufactured home neighborhood springing up over the years.
And through it all, for more than two decades, the manufactured homes have been at the center.
The Reserve at Falcon Pointe Manager Brad Friedman said after the initial letter was sent to residents there was a lot of back and forth between the company and homeowners, trying to figure out what made sense for both.
He said once FP Investors realized the age of some of the tenants and homeowners, they didn't want to put them through having to move. They tried to come to a resolution with the company buying the homes, but it didn't work for either the homeowners or the company economically, he added.
"So having found out each and every one's individual story it only made sense for us to let them stay, have them remain in place," Friedman said.
FP Investors is moving forward with a plan that won't make anyone move: Developing four buildings with three two-bedroom units each on vacant property on Halter and Thoroughbred lanes.
The development plans to serve the active adult "empty nester" demographic and FP Investors anticipates offering 12-month leases at $1,750 per month, according to the project's site plan application submitted to city officials earlier this month.
Construction is planned to start in April with a nine-month timeframe if city officials approve the project, according to the application.
The site plan application will be considered at East Lansing Planning Commission's scheduled meeting Feb. 8.
East Lansing Planning and Zoning Administrator Peter Menser said city officials approved what appears to be the same project back in March 2021, but FP Investors didn't move forward with the project and approval expired.
Friedman said FP Investors wasn't ready to start the development at that time due to the COVID-19 pandemic and other projects. But they are ready now, which is why they resubmitted the plan.
He thinks it will be a nice addition, balancing the area with newer homes and finishing off "the overall aesthetic of the neighborhood."
"We would hope that the city obviously sees what they originally had already approved, though we didn't act on it in time, that it still stands as a great project for the surrounding residents as well as the city," he said.
Hagy, Edwin "Ken" Careathers and other Falcon Pointe residents are planning on attending the planning commission meeting Feb. 8.
Hagy said she thinks everyone is OK with the development because it's on vacant land and it's not moving any manufactured homes out.
But everybody wants to show they're still very concerned about where their homes are, and "it's really stressing everybody out" if FP Investors still wants them to move, she said.
Careathers, who rents his home on Thoroughbred Lane, said there are legal processes landowners have to follow. FP Investors would have to get permission from the East Lansing Planning Commission to force any of the homeowners to move for changed land use, he added.
"I don't see the East Lansing Planning Commission giving them the ability to change the rights of this area, to kick these people out of their homes here," he said.
Contact Bryce Airgood at 517-267-0448 or [email protected] Follow her on Twitter @bairgood123.