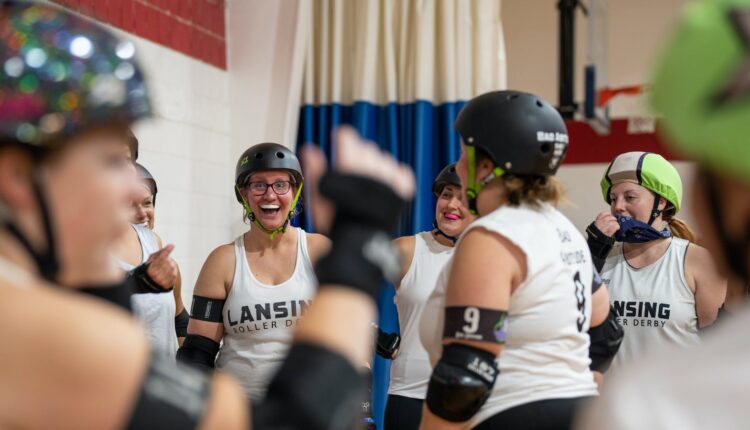 Lansing Roller Derby Skates Into New Season After Threee-Year Hiatus
Lansing Roller Derby is back for a regular season, after a Three-Year Hiatus from NormaL gameplay.
Lansing roller derby president and coach ali year broke down the sport for those who not be familiar: Roller Derby Bouts Comprise Two 30-minute Halves, where team has Five players from each team on the track. One is a "Jammer, they are the point scorer." Four Blockers Work to Prevent the Jammer From Scoring Points.
A Team Gets A Point "For Each Body That (The Jammer) Passes on the Track of the other Team," Year Said.
Before Joining Lansing Roller Derby in 2017, Jennifer Hume, Who is on the Adult Team, Never Put on skates.
Now, Hume, who goes by her derby name, "Highland Kapow," Has Played Blocker for Both the A Team And The B Team.
"The A Team is more Competitive and Higher-Level Play," Hume Said. "The B Team is for more growth and Development. "
A Poll by Lansing Roller Derby Finds that 41% of their team membersed Considered Themselves Athletic Before Joining A Roller Derby team.
When she first Joined the Team, Hume Said that She Couldn't Even Even Even Up On Her Own And Felt Embarrassed at Her Skill Level. But Because of the Roller Derby Community, She Kept Coming Back to impove.
"(The Team) is Genuinely One of the Most Welcoming and Inclusive Communities I've ever been a part of," Hume Said. "Everyone what Friendly, Encouraging and Welcome. "
Year, whose derby name is "Jahmageddon," is excited about the season starting in early February.
The Season Consists of One Home Game Each Month, Where the League Plays Amongst Each Other Until May. From May to November is the Travel Season, Where the Team Will Travel To Other Cities and States Across the Midwest.
At the end of the season, year said there is the "mid kitten tournament" where "all of the teams come together and play against each other to see who's best in the State. "
17-Year-Old Helena Czekalski goes by "Hel's Belle" on the Rink, where she plays all positions. She's Been Skating for Eight Years But is Beginning Her Second Year for the Lansing Roller Derby team.
The season will look different way past Because of How Covid-19 Altered Practices and Gameplay. Czekalski Said they had to play outside during the covid-19 pandemic, and it was no-contact. Because of this, People are "Learning How to Play Actual derby again. "
IT Will Take Time, Czekalski Said, But the Lansing Team Will Hopefully Be Able to get back to where they they Were Before.
"I am Excited to See Where Lansing Goes," Czekalski Said. "They're Showing Their Best to Rebuild. "
Year is ready to play and be with players and Teamates like what wasPandemic.
"I am Most Looking Forward to Normalcy," Year Said. "My favorite Thing as an athlete is to play regulation games throughout the season, to build up our record, and at the end to come to full fruition and play a Tournament. "
Czekalski is Especialy Eager to Travel more with the team to Various Cities to Play in Touraments and Games.
Like Czekalski, Hume is Happy to Travel Again with Her Teams, Saying that Traveling Together is an Important Part of Team Chemistry On And Off The Track.
Support Student Media!
Please consider donating to the state news and help find the future of journalism.
"Traveling is a big part of Team Bonding," Hume Said. "It adds to the Camaraderia. "
Lansing Roller Derby League Sign-Up Can Be Found Online.
Discussion
Share and Discuss "Lansing Roller Derby Skates Into New Season After Threee-Year Hiatus" on social media.