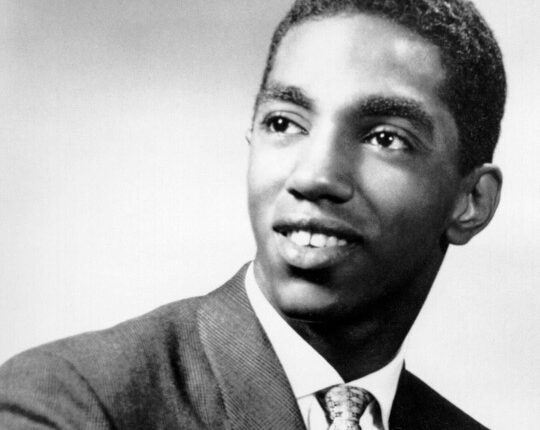 Famed Motown songwriter Barrett Strong was prolific artist, father figure
For as long he can remember, Chel Strong wanted to be like his father.
As a kid growing up on Detroit's west side, he dressed like his dad and would sneak into his expansive cologne collection to smell like him. 
And, as he got older, Chel developed a passion for music like his father, Barrett Strong, the famed songwriter behind some of Motown's biggest hits in the 1960s and early 70s.
The 37-year-old, who now lives in California, said Barrett was a big supporter of his rap career, even making a surprise appearance at his son's album release party in 2020. 
"At the time, Dad was sick. It was really hard for him to go out … and he surprised me and he showed up to my party," he said. 
"When I got off the stage, he said I did good and I thought he was just saying that. But then, he started actually quoting one of my songs and saying, 'I like that you did this song,'" Chel recalled in an interview with BridgeDetroit. "It just meant the world to me that not only was he there, but he was able to see me do my thing." 
Barrett Strong died Sunday at the age of 81. He was one of the first artists to sign to Motown Records when the company formed in 1959. The following year, his song, "Money (That's What I Want)," became the first big hit for Motown, selling a million copies, according to the Associated Press. 
The prolific songwriter was known for several Motown hits throughout the 1960s like "I Heard It Through the Grapevine," "War," and "Papa Was a Rollin' Stone." But Barrett didn't let his success go to his head, Chel said. 
"He wasn't the type that always wanted to hear his own music," he said. "He was a very modest guy. His songs would come on, and we'll hype him up. 'Hey, Dad, that's you.' And he'll just play it down." 
From achieving a hit record to writing hits for others
Barrett was born Feb. 5, 1941, in West Point, Mississippi. A few years later, his family moved to Detroit. The son of a Uniroyal Tire plant worker and a housewife, he grew up on the city's west side, according to Billboard Magazine. Barrett taught himself how to play piano and joined a gospel group with his four sisters. While touring, the family met fellow artists Sam Cooke and Jackie Wilson. 
Wilson introduced the Strongs to Motown founder Berry Gordy in 1957, with Barrett often visiting Gordy's House to exchange song ideas. A couple years later, Barrett, only 18, was signed to Motown and he and Gordy collaborated on his first single, "Let's Rock"/"Do the Very Best You Can." While the song got some local airplay, it failed to make an impact nationally, Billboard noted. 
Soon after, "Money" was released and hit No. 2 on the R&B charts and No. 23 on the Billboard Hot 100. The song went on to be covered by artists such as The Beatles, The Rolling Stones and John Lennon. 
After releasing a few follow-up singles, Barrett left Motown in 1961 and signed to Vee-Jay Records in Chicago. By the late 1960s, he was back in Detroit, this time as a songwriter. 
Barrett teamed up with Motown writer Norman Whitfield on "I Heard It Through the Grapevine," which first became a hit for Gladys Knight and the Pips in 1967 before going to No.1 on the pop and R&B charts the following year when Marvin Gaye released his own version of the song. 
Barrett and Whitfield also wrote songs for The Temptations like "Papa Was a Rollin' Stone," "Just My Imagination (Running Away with Me)," and "Psychedelic Shack" which, Chel said, was about the basement in Barrett's home on Monte Vista Street and Seven Mile.
"In the basement, he had all of this crazy neon paint, like painted images all over the wall," Chel said. "He had the whole basement set up in this funky, psychedelic, hippie kind of thing and we would have parties. They would call his house the psychedelic shack because it was so trippy to be down there." 
Chel Strong (left), Barrett Strong (middle) and Diona Strong pose for a photo when Barrett was inducted into the Songwriters Hall of Fame in 2004. (Courtesy photo)
Barrett left Motown for good in the early 70s and recorded some albums for Capitol Records and Epic Records. 
In 2004, Barrett's contributions to Motown were honored when he was inducted into the Songwriters Hall of Fame. 
In a statement released on social media Sunday, Gordy wrote that he was saddened to hear of Barrett's death. 
"Barrett was not only a great singer and piano player, but he, along with his writing partner Norman Whitfield, created an incredible body of work, primarily with The Temptations," Gordy wrote. 
 Father, friend and mentor 
Chel said his childhood at the family's west side home was filled with a lot of music and fun. Along with Barrett, he lived with his mother Sandy Strong and six older siblings and they did everything together as a family, he said. 
Chel described Barrett as a protective father who wanted to be involved in his children's lives. He served as a father figure to kids in the neighborhood as well.
"He was just so much of a role model to everyone," Chel said. "Although he was who he was as far as what he did with his music, people that were blessed to know him on a personal level never even look at that because he was such a father figure to everyone." 
Strong family photo. Top (left to right) Toya, Diona, Cyndi and Mignon Strong. Bottom (left to right) granddaughter Asia, Barrett Strong, Chel Strong, Sandy Strong and grandson, Elliot. (Courtesy photo)
Drake Phifer, a Southfield DJ and founder of the promotions company Urban Organic Lifestyle Marketing, was one of the kids who looked up to Barrett during the 1980s. As a friend of Barrett's daughters Mignon, Cydni and Toya, Phifer would often interact with the musician.
Along with his own father, Phifer thought Barrett was one of the coolest dads in the neighborhood. Barrett would talk to Phifer about things like healthy eating and becoming a pescatarian, which impacted how the DJ took care of his health. 
Phifer said despite the gold plaques on his walls, Barrett was just a father and guy in the neighborhood. 
"He was a strong, cool, debonair father in the neighborhood who just represented himself in a very dignified manner that made everyone proud," he said. 
Barrett moved his family to Southfield in the 1990s and stayed in metro Detroit until about 10 years ago, Chel said. Barrett suffered a stroke that made it difficult to walk and Chel said that he wanted his father to move to California to be closer to him and a few of his siblings there. 
About five years ago, Barrett was back in Michigan, re-recording some of the songs he made for Motown at a music studio in Troy, said musician Gabe Gonzalez. He and the rest of Barrett's band worked together for two weeks, playing songs like "Money," "War," and "Smiling Faces Sometimes." 
Gonzalez said Barrett offered wisdom during their sessions, talking about techniques he used during his heyday and offering other insights about the music industry. 
"I'll miss those things and his insight and the knowledge he gave," he said. 
Meanwhile, Chel said he will miss the phone calls he had with his father. 
"Every day…by the time I've opened my eyes, I got 10 missed calls with the same voicemail saying, 'Hey boy, call me back.' I'll miss that like crazy." 
Barrett is survived by his seven children: Cydni Strong, Mignon Strong, Toya Strong, Diona Strong, Windra Strong and Rodney Moy as well as 10 grandchildren. He was preceded in death by wife, Sandy Strong. 
Related


authored by
First published at https%3A%2F%2Fwww.bridgedetroit.com%2Fmotown-songwriter-barrett-strong%2F