Ann Arbor service workers see a "revolution," not a labor shortage
A June article in Business Insider described the ongoing pandemic-induced labor shortage in the service industry as a "tough battle" for employers, but Emily Christensen of Ann Arbor says they face much more.
"There's a revolution going on right now," says Christensen, a former server and longtime member of the Service industry workers in the Ann Arbor area Facebook group. "We're pushing the start of a very, very long discussion about minimum wages and the treatment of workers in the service industry in the United States."
As service employees continue to give up their jobs en masse and cite adverse conditions such as unsustainable wages, lack of social benefits, abuse by customers and burnout, they continue to face increasing public criticism. Inconvenient and annoyed by long waiting times, it is a narrative about the situation of workers who refuse to return to their jobs as being lazy. Some ask, why can't they just stop complaining and go back to work?
"We are not lazy and want to work, but we have to be treated fairly and paid," says Christensen. "We endured way too long because we feared that if we quit it would go nowhere and like everyone else, we value job security."
Christensen, now the manager of a local pizzeria, was a waiter and bartender when the pandemic broke out. When her job closed, she was emotionally and financially devastated. It took Christensen over three solid months of intense efforts to secure unemployment. Landing at her current job makes her happier than it has been in a long time – even though she has to work 50-60 hours a week as her employer is working to raise the wages for junior employees.
Christensen says she and many other young service workers had to "learn very quickly to grow up, to live very frugally and to live on very little". She explains that those who have been able to set aside some of their unemployment benefits are using the funds to create personal pivot points in their own lives. For some workers, this meant a lifeline to quit the industry for nine to five jobs altogether. Many now work in real estate or banking who pay just as much and offer guaranteed wages and free weekends.
"Believe me, there is a good reason I'm not going to be a waiter and bartender anymore. Women in the industry face disgusting harassment," says Christensen. "When the bars and restaurants reopened, all of the men locked in their homes returned to their pastime of molesting women behind the bar, and they really came back at full speed."
Unfortunately, appeals to their superiors are often painful and uncomfortable for many employees and end without a solution. Having already suffered financial losses from COVID-19, many business owners refuse to get rid of or reject inappropriate customers and revenue. And since other industries are now offering more than the minimum wage, more and more employees in the service industry say "no more".
"Our voices speak volumes with those in charge who are learning hard lessons," says Christensen. "Before the pandemic, they could just threaten to replace us, and now it's them who are paying the price."
Getting by without a safety net
Eric Farrell, owner from The Bar at 327 Braun Court, likes to refer to a meme he saw recently.
"It was said that before the pandemic, the world was telling service workers to find someone else if they didn't like their jobs not paying enough," he says. "Now that there is a labor shortage, the world wonders where all the workers have gone."
The bar at 327 Braun Court owner Eric Farrell.
He adds that the bubbling dissatisfaction and tough conversations that develop are no surprise. In fact, long before the pandemic, he had numerous discussions about this with workers and other small business owners. He has found that even the most conscientious and well-meaning owners face complex challenges.
"There are a lot of people trying to do good for their workers in a tough industry that is basically a penny for many small business owners. They give a lot and there isn't enough social support," says Farrell. "It's complicated with a lot of political ties and that can make it difficult to advocate for things like health care and childcare."
At the beginning of the pandemic, Farrell launched a GoFundMe campaign to help offset the financial pressures on his employees. In the face of huge loss of income and taking out a number of loans, he cites the flexibility of his landlord as one reason he has been able to keep his employees (one full-time and three part-time) happy.
"I don't know a single small business owner in Ann Arbor who doesn't want to pay their employees more and give them paid time off, health insurance, retirement benefits, or childcare benefits," he says. "I've given my employees a small raise, but that can only help them hobble on instead of dealing with the things that they really need to keep going that I can't afford."
Jack Goforth, the cook at Braun Court who has worked in the service industry for over 10 years, supports Farrell's findings. He adds that mass brain drain may seem unreasonable and premature to people outside the industry. But he wants the community to consider mobilizing to improve the social safety net that workers deserve and need. He cites affordable housing and means of transport as examples.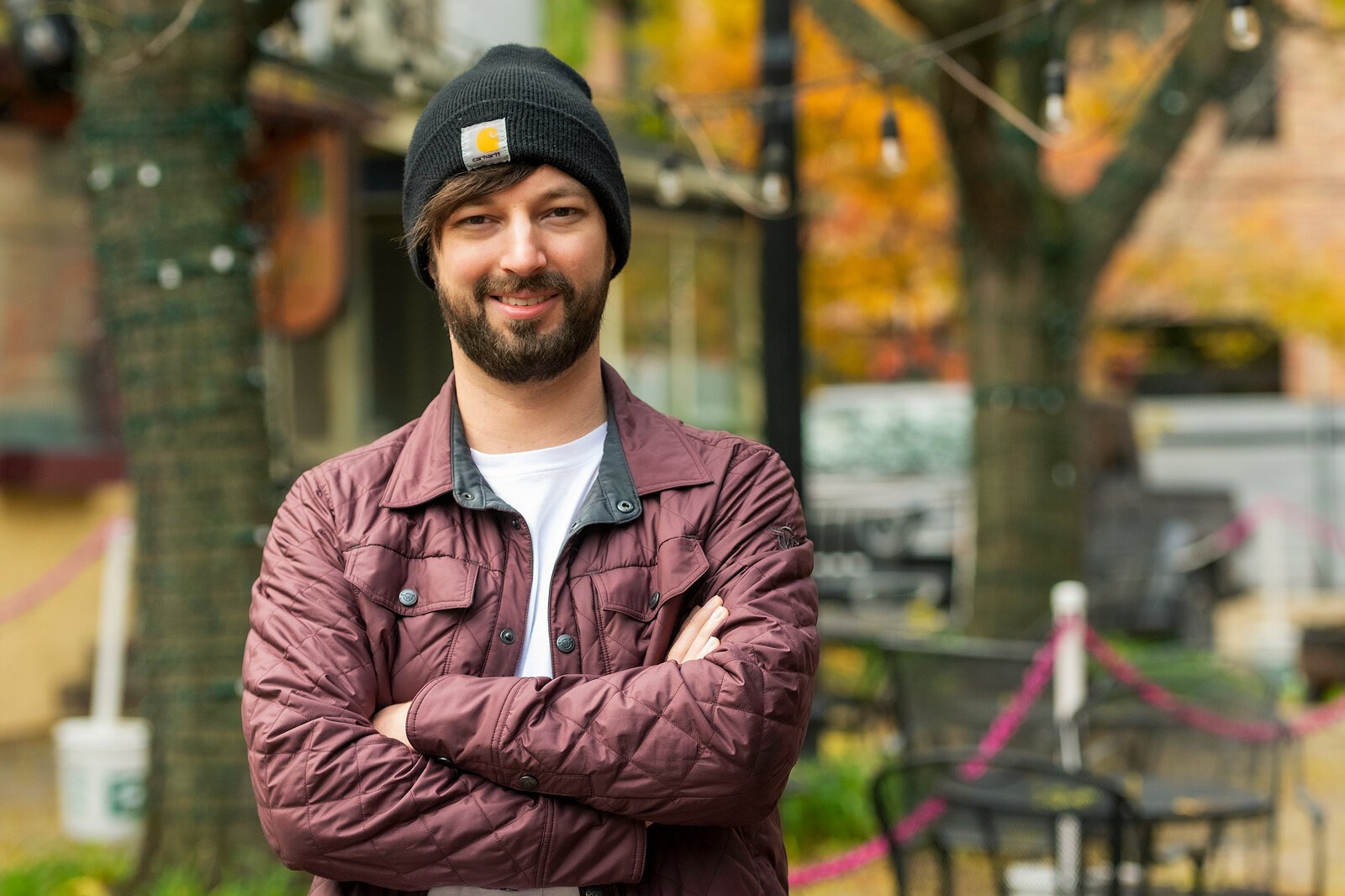 The bar at 327 Braun Court is head chef Jack Goforth.
"Many service workers don't have enough money to pay their rent in Ann Arbor and have to live out of town. "I had to drive some other workers home because there was no real public bus service."
Goforth is fortunate to be in an environment that has supported him during the pandemic, improving his game in the service industry, and redesigning the bar's menu. He took advantage of the pandemic break to perfect a pizza recipe that was instrumental in keeping the business flourishing. But he says that is not the case with many workers who simply demand basic respect.
"People's attitudes towards service workers can be appalling and tiresome when faced with long, ungrateful shifts," he says. "Many bosses say that the customer is always right. But they are not always right and this attitude is no longer tenable."
He adds that many service reps are entering the industry during a transition period in their lives. As a result, according to Goforth, in view of the changes that are taking place in the world, more and more people are asking, "We are only human.
Asking the right questions
Christensen says there are a lot of questions to ask – and the right ones too. She says a major hurdle right now is that the demands of workers in the service industry are viewed as a wage war against other professions.
"This fight would have been much better if people stopped, 'What about me?' accept. and started fighting with us, "she says." Just because we're fighting for higher wages doesn't mean we think we deserve the same salary as teachers with Masters degrees. "
Christensen adds that people need to start wondering why non-graduate service workers can potentially make as much as teachers or paramedics who also deserve better pay for their jobs.
Both Goforth and Farrell want more people to start asking questions of the government instead of complaining lightheartedly and going against industrial workers' morale.
"Everyone is trying to do what they have to do to survive. Everyone is just trying to get food on the table, and everyone has to pay rent or mortgage or see a doctor, "Farrell says. "We need to keep talking because our city's restaurants and bars make us unique from other cities in Michigan, and when the dust settles, we want them there."
Jaishree Drepaul's brother is a freelance writer and editor and currently resides in Ann Arbor. She can be reached at [email protected].
Photos from Doug Coombe.