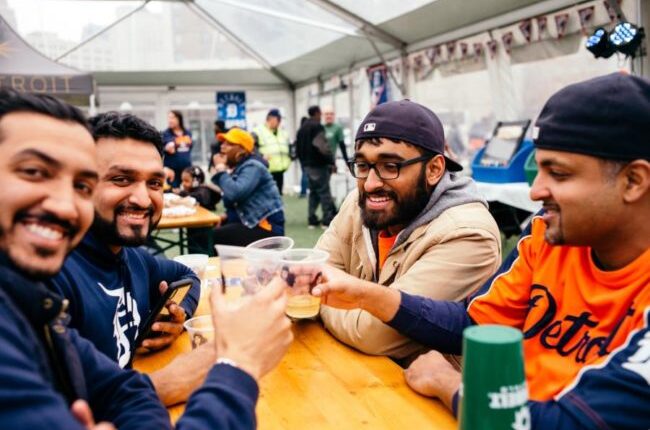 10 Things To Do in Detroit This Weekend
It's time to plan your perfect weekend in the motor city! Check out these 10 can't-miss events and things to do happening in Detroit and the metro area this weekend, June 17-19!
Here in Detroit, Juneteenth will continue to be celebrated through various expressions and spaces making room for everyone to learn, experience, and get involved in community engagements. From festivals to movie screenings, retail specials, art exhibits, and more, there's something for everyone to dive into.
Whether your dad prefers sports, beer, cars, or music, look no further than these six metro Detroit Father's Day events happening this Father's Day weekend.
Shop, dance, drink and eat all in one place. On Saturday evenings, Beacon Park is transformed into a marketplace where visitors can shop local and support a rotating list of Detroit-based makers and entrepreneurs offering everything from fine art to delicious desserts while taking in live music and enjoying dinner and drinks at Lumen Detroit or from several food trucks. On June 18, Saxappeal and the Cru as well as Bruce Bailey will be performing.
The Warren Lions City Fair is back! This year's fair is June 15-19 at Halmich Park on 13 Mile between Ryan and Dequindre in Warren. Come out and enjoy midway rides, food, a petting zoo, live entertainment, and much more! Parking is free. This year's fair promises something for everyone. Hope to see you there!
On this one-of-a-kind tour, you'll walk through downtown hearing about Mike and Glen's experiences with some people and places that are well-known like Black Bottom, Hudson's, and Coleman Young, but you'll also hear about Black businesses and inspirational people that many people have forgotten, or perhaps never knew about at all!
The fun doesn't end with Motor City Pride! Get your tickets to this pride-themed bar crawl and enjoy drink specials, local food, a professional photographer, afterparties, and more! A portion of the proceeds will benefit The Trevor Project. Buy your tickets here.
Kick off your weekend at The Beach at Campus Martius Park, a hot spot for summer fun and infamous Beach Parties featuring live music from a rotating lineup of the best local and regional bands and DJs performing beachside every Friday night. The June 17 Beach Party will feature performances from Brett Lucas and DJ Joe G.
Come one, come all! The Detroit Brew Trail is here and ready to help you experience Detroit brew culture, the metro area's craft beer scene, and everything in between. The Detroit brew trail is the perfect opportunity for visitors, locals, and beer savants alike, to explore the city, support local businesses, and immerse themselves into all things Detroit-centric. Designed to guide you to some of the best craft breweries all over – Oakland County, Macomb County, Wayne County, and even downtown!
Check out headliners like Tears for Fear, Carmen Lynch, Jodeci, Josh Groban, Wanda Sykes, Flogging Molly, and more this weekend live in Detroit and the metro area. There are always new tours being added and tickets going on sale. Keep an eye out on our events page and never miss a show!
There is no shortage of shopping in metro Detroit, and that includes some of the malls that are spread out throughout the metro area. In the three main counties alone, you can find nearly a dozen malls with a variety of stores. Whether you're looking for something small and local, or something luxurious and elegant from the biggest stores, you can find it at a mall in metro Detroit.
Discover More Events