Truck noise in Southwest Detroit adds to public health concerns
By: Nardy Baeza Bickel
Source: Michigan News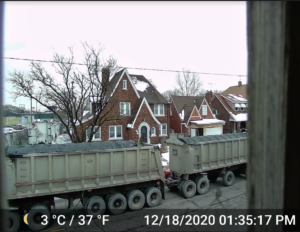 The sounds of a truck racing to the end of the block are soon replaced by the screeching of brakes, causing the four-axle semi to come to a standstill.
The scene is a common one in the Southwest Detroit neighborhood, where the giggles of kids playing in backyards are drowned out by the noise of trucks rolling down the street, making outdoor conversations impossible and fumes, cracked foundations and leaving fewer home values ​​behind.
"It's just ridiculous. You can't sleep at night, there is this constant vibration and these big trucks come through all day and all night, "said Thomasenia Weston, who has lived in the neighborhood for more than 20 years.
Weston raised her two children and is now raising two grandchildren in southwest Detroit. While her kids were happy to play in the backyard, she didn't let her grandchildren play outside the house between the ages of 5 and 9.
"There is too much pollution, too much soot and all that noise. … I can't even open my windows. I feel like a prisoner in my own home, "she said. "I'm sleep deprived now with those four- or six-axle trucks that aren't even supposed to come down this street anyway."
University of Michigan researchers have partnered with members of the community and the Southwest Detroit Community Benefits Coalition to assess noise pollution from trucks in the neighborhood. Many of these were diverted as part of the new Gordie Howe International Bridge under construction. Your analysisA Southwest Detroit Community Noise Survey and the Value of Additional Metrics for Truck Noise, "Published in the journal Environmental Research.
"Southwest Detroit has many fulfillment centers and freight operations, manufacturing and assembly plants that require near-constant deliveries via traffic from Canada to the rest of the United States, and intermodal facilities where trucks, trains and ships reload goods," said the executive Researcher Stuart Batterman, Professor of Environmental Health Sciences at UM's School of Public Health.
"This is already an impacted environmental justice area, where minorities and low-income groups are much more likely to have environmental diseases such as asthma."
UM researchers worked with the Southwest Detroit Community Benefits Coalition to attract community members to participate in the study, Batterman said. The study looked for new metrics that measure the effects of noise on annoyance, sleep interruption, and increasing stress in the community. Traditional measurements focus on hearing loss.
"There is a need for better metrics that show or measure the impact of intermittent noise in communities that can affect sleep, the ability to have a conversation on your porch, and affect the quality of life in your neighborhood," Batterman said.
Researchers say noise can affect sleep, cardiovascular and psychosocial health, and cognitive performance. Sleep deprivation increases stress and increases blood pressure, which can lead to heart disease and heart attacks.
For their work, researchers and their community partners divided the houses into two groups, some of which were used for short-term monitoring and traffic counting, while others were used for long-term monitoring (five days in two seasons). In six homes, 14 volunteer students and seven adult supervisors measured noise data and carried out vehicle counts. Sound pressure level meters were used in all houses of both groups and accessed by professional technicians.
The researchers calculated conventional and complementary noise metrics in the 21 homes, including day and night averages and the impact of distance to the freeway, traffic volume, time of day and other factors.
Using Google Maps, photos, truck counts, and other sources, the researchers assessed the neighborhood features, nearby sources of noise such as highways and industry, and vegetative surveys and other protective measures, and then created a dataset to assess the impact of various factors on noise levels.
Simone Sagovac, of the Southwest Detroit Community Benefits Coalition, hopes the study will shed light on the effects of trucking and the unintended consequences of truck routing and that their findings will help redesign truck routes in the city and develop alternative routes as such Gordie will be considered The Howe International Bridge is being built.
"There are hundreds of articulated trucks driving alongside houses in southwest Detroit, and we need more protection vehicles overall. One problem with the development of the bridge is that noise barriers built to reduce I-75 noise can inadvertently increase the noise from service drive traffic in the direction of the houses, "she said.
Sydni Warner, a student in the Department of Environmental Health Sciences at the UM School of Public Health, analyzed the data and said their results confirm what the neighbors told them.
"The World Health Organization and the Environmental Protection Agency both have recommendations for what noise levels can cause different health outcomes, namely 55 and 53 decibels," she said. "In the southwest of Detroit, these two recommended values ​​are constantly and considerably exceeded, even at night. The way that noise works is increasing exponentially, so a 5 decibel difference is way louder than we would normally think. "
Batterman said the results of the study showed that "the noise levels on the verandahs of houses on the residential streets currently used as truck routes were unacceptable – they exceeded the 70 decibel guideline and peak levels used by the federal highway agency were far higher. "
According to the report, weekday noise readings ranged from 55.3 to 73.8 decibels, with an average of 62.1 decibels. The highest noise levels were between 7 and 10 a.m. and between 2 and 5 p.m. Daytime noise at most locations was consistent with traffic on local highways. The noise levels were closely related to the proximity to truck routes.
The report contributes to a growing body of work addressing environmental and health impacts in southwest Detroit. Detroit City Council is currently considering a new truck routing study to set noise ordinances and truck restrictions in the near future.
For Weston, research provides scientific evidence of what it's up to. The sleepless nights and the constant noise wear her out, she said, and talking to the neighbors can be difficult. She has developed asthma, as have her grandchildren, and she is sure the cracked porch is due to the constant vibration of trucks.
If she could, she would like to move her house elsewhere. Or sell. But nobody buys the houses in this area.
"It's not just that you live in town and it's noisy," Weston said. "It's like living on a freeway."
Back to News + Stories