Traverse City-based program sends hospital patients home with healthy meals
This article is part of health status, a series on how Michigan communities are rising to address health challenges. This is made possible by funding from the Michigan Health Endowment Fund.
A new program is to send home healthy meals to patients discharged from Munson Medical Center in Traverse City – and to associate them with healthier lifestyles over the long term.
Dr. Jean Kerver created the program and an accompanying research study in 2019 following discussions with Munson's clinical dietitians. Kerver trains medical students at the Traverse City campus of Michigan State University College of Medicine at Munson, and her role includes responding to community needs. The program is a collaboration between Munson's food service division, the Northwest Food Coalition, and the Northwest Michigan Community Action Agency (NMCAA) meals on wheels Program.
"We haven't just implemented a food program. Instead, we're trying to really evaluate a group of intensive food deliveries to reduce readmission to hospitals and increase patient satisfaction," says Kerver. "Nutritional coordination is one of our great strengths, but we've also tried to find ways the hospital can help patients more seamlessly interact with the community services available."
Dr. Jean Kerver.
The grocery program reflects Munson's general commitment to providing healthy foods to patients, employees and visitors in the grocery store.
"Our team of dietitians helps people heal through food," said Mary Shanahan, Munson's director of nutrition. "The dietitians see patients, not just to set them up [with healthy foods] here in the hospital, which can be difficult if you are not feeling well but then set you up at home to be successful. "
Before leaving the hospital, patients participating in the program select their meals from a menu that supports their individual health needs. Upon discharge, they are given meals and a generous pack of non-perishable and fresh food provided by the hospital. After the first few days at home, the NMCAA Meals On Wheels program works with Munson to provide patients with healthy meals for a total of 10 days.

A Meals on Wheels volunteer chats with customer Mary.
"You go home with three days' worth of fresh groceries – breakfast, lunch, and dinner – a lot of food," says Kerver. "We are also sending all patients participating in the program a package of resources available in the community. We are building such a community structure that can support and provide information to patients after they leave the hospital."
While nutritionists educate patients in the hospital and, in some cases, go home with healthy foods after discharge, this is a concrete example of what meals and snacks should be like.
"We also refer them to community services like outpatient referrals from nutritionists and working with their doctor in their offices," Shanahan says. "We're definitely working on a continuum of diligence to try and keep our readmission rates down."
In a post-program patient survey, a patient's spouse said, "God bless you humans for this … They said he had to cut out sugar and change his eating habits, and I didn't know what to do with him today … now I do got all this food! "
Kerver recalls the "exuberant" feedback from another patient's wife.
"She said, 'Bless you, bless you! I had no idea what to feed him when he got out,'" says Kerver.
Kerver notes that 100% of people who responded to a telephone survey about the program said they would recommend the program to others.
"So many studies over time have documented the effects of [people receiving meals from] Meals on Wheels to reduce readmission rates in hospitals, "said Lisa Robitshek, manager of Meals on Wheels at NMCAA." This particular program with Munson is unique. We have been very interested in doing something like this for years. Other Meals on Wheels programs run such programs across the country and work with hospitals to reduce readmission rates. The core is very similar. "
Healthy food, helpful company
Meals on Wheels supplies under the program not only provide patients with good nutrition, but also good company. Meals on Wheels volunteer drivers stop to chat with patients and do a valuable wellness check-up as per COVID-19 safety guidelines. Additionally, this introduction to the Meals on Wheels program may develop into eligible patients signing up for ongoing Meals on Wheels services. Patients living outside the NMCAA Meals on Wheels program receive their meals from another similar organization. Mom's meals.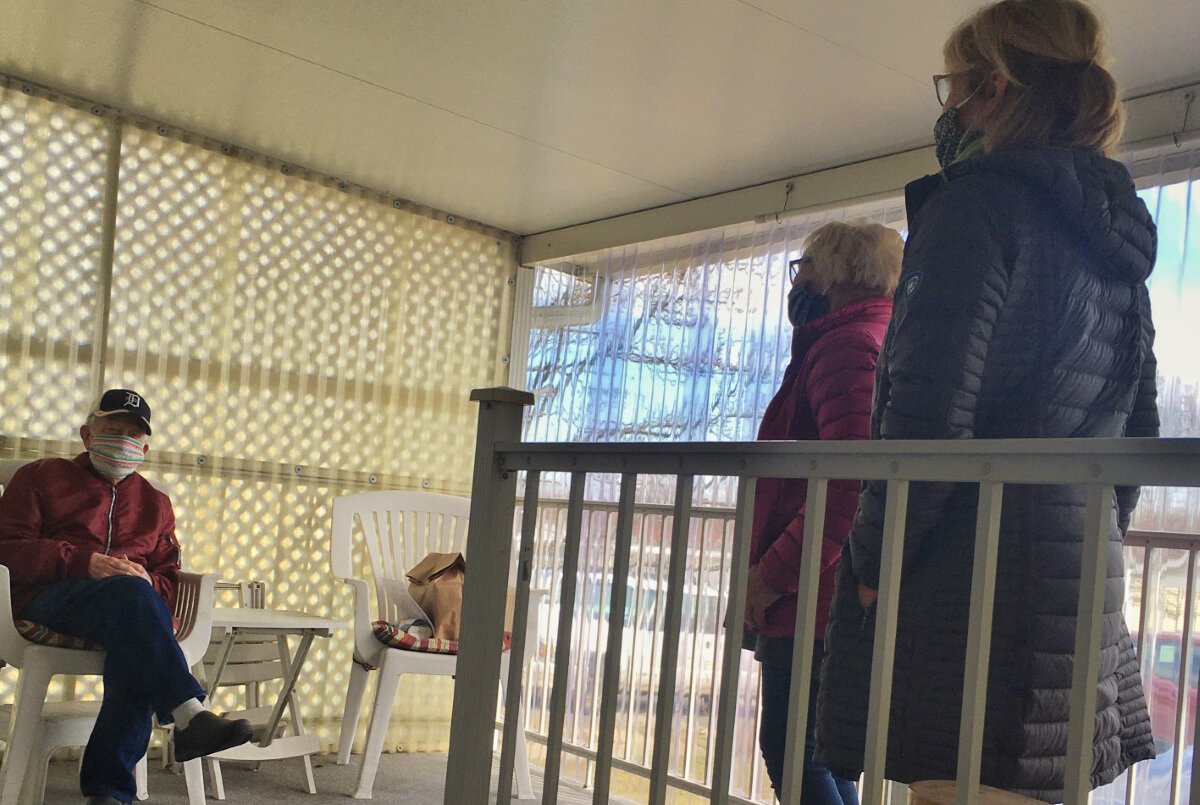 Meals on Wheels volunteers Annie and Linda talk to customer Quint from a safe distance.
"Nutrition is so important to the health of customers. Food is of course medicine. But many customers say that the interaction with the driver is just as important or more important than the food," says Robitshek. "Some people have no family, no friends, or their family is far away. Meals On Wheels volunteers are the only people they see for that day or for days. We have become like family to them."
With state and federal dollars funding only 30% of the NMCAA Meals on Wheels program budget, opportunities to partner or contract with other companies like Munson are always welcome.
"This program continues to stretch the dollars we have," says Kerver. "We received referrals from Munson prior to this grant, but we had to pay for all of these customers with our existing cash pot."
Pantry partnerships
In addition to sending home meals and introducing patients to meals on wheels, the program also connects discharged patients to local pantries. To ensure discharged patients have additional access to fresh local food, funding has been provided to the Northwest Food Coalition's Farm2Neighbor program as part of the meal plan. With these funds, the program can purchase fresh fruits and vegetables from local farms, as well as freezers to store frozen fresh foods, which are of higher nutritional value than packaged and canned products. The Northwest Food Coalition distributes to pantries and food places in Antrim, Benzie, Grand Traverse, Kalkaska, and Leelanau counties.
"We are providing each enrolled patient with a package of resources, with information on how to connect to the programs offered by the food coalition," says Kerver.
Robitshek hopes Munson's homemade meal program – and Meals on Wheels involvement – will not only continue but also expand in the future.
"We hope the study will show its effectiveness and that the hospital will pay us, in their best interests, to keep customers from being readmitted," she says. "We hope Munson sees the value and wants to continue working with us."
Kerver hopes for the same.
"Our program has been well received overall, with excellent participation from the final component, the 45-day post-discharge telephone survey," she says. "This strengthens our belief that dietary intervention can improve patient satisfaction and potentially improve loneliness outcomes."
Even if a hospital promotes the role of healthy eating in the healing process, eating habits that have developed over the course of a lifetime are difficult to change in the short course of a hospital stay.
"When you have someone who has been eating fried foods and vegetables for years and is now facing bypass surgery, you cannot change their mindset overnight. It is a challenge … making healthy foods a normal way of life, in order to do this." Prevent all of these terrible disease processes, "says Shanahan." It's important because many people have conditions that would have been prevented if only they had eaten well. "
As a freelance writer and editor, Estelle Slootmaker is happiest to write about social justice, wellness, and the arts. She is development news editor for Rapidly growing media and chairs The Tree Amigos, Wyoming City Tree Commissioner. Her greatest achievement is her five amazing adult children. You can contact Estelle at [email protected] or www.constellations.biz.
Jean Kerver photos by John Russell. All other photos courtesy of NMCAA.