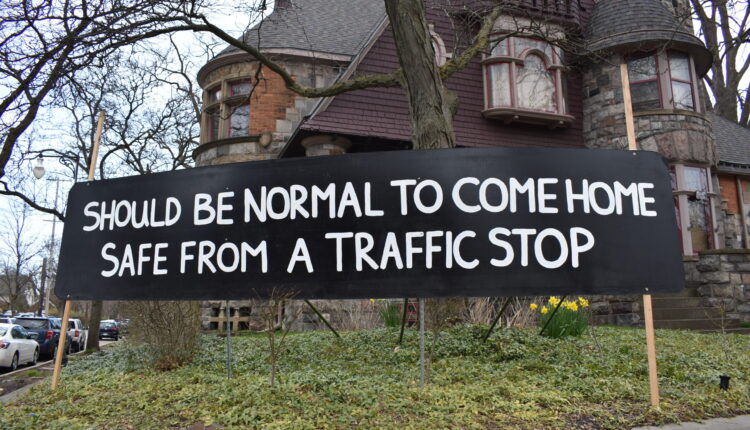 Patrick Lyoya's family files $100 million lawsuit against city of Grand Rapids, former officer ⋆
Civil rights attorneys Ben Crump and Ven Johnson, representatives for the family of Patrick Lyoya, the Black motorist who was killed by a Grand Rapids police officer in April, announced in Detroit on Wednesday that they have filed a $100 million civil lawsuit in federal court against the city of Grand Rapids and former police officer Christopher Schurr. 
The excessive force suit was filed in U.S. District Court in Western Michigan. It comes after Lyoya, a 26-year-old immigrant from the Democratic Republic of the Congo, was shot in the back of his head on April 4 during a traffic stop that involved a foot chase and physical struggle. Schurr, who had been a Grand Rapids police officer since 2015, pinned down Lyoya and fired the bullet.
Funeral for Patrick Lyoya on April 22, 2022 | Allison R. Donahue
"It's clear Schurr unnecessarily escalated a situation involving an unarmed Black man, said Johnson, a Detroit attorney. "At no point did Patrick try to hit, punch, kick or slap Schurr, nor did Patrick ever verbally threaten him. Any claim by Schurr that he was in imminent fear for his is absolutely unreasonable and untrue." 
When asked for comment, a Grand Rapids city spokesman wrote in an email that "we have not received the lawsuit and are unable to address the specifics. Upon receipt, we will review the lawsuit and respond appropriately in court."
Schurr's attorney did not immediately respond to a request for comment.
Kent County Prosecutor Christopher Becker charged Schurr with second-degree murder in June. The officer was fired in June. Over the last five years, Grand Rapids received nearly 90 citizen complaints of excessive force for city police, according to the attorneys. 
"Law enforcement officers in this country cannot continue to be absolved of accountability for shooting first and asking questions later," said Crump, who described the incident as a "classic case of 'Driving While Black 101.'" 
Peter Lyoya | Ken Coleman
Lyoya's father, Peter Lyoya, sat stone-faced and arms folded during most of the 90-minute news conference but cried when the attorney aired video footage of his son's fatal shooting. 
"We need to get justice for my son…I need justice for my son," said Peter Lyoya. 
Robert Womack, an African American member of the Kent County Commissioner, said the Lyoya incident is yet another case of Black individuals in the Grand Rapids area being harassed and assaulted by city police. He praised Crump and Johnson for taking on the Lyoya case.
"Our community has had thousands of unheard voices," said Womack. 
Gov. Gretchen Whitmer issued a statement at the time of Lyoya's death. 
"Our hearts are with them and the Grand Rapids community who are dealing with unimaginable pain and loss," Whitmer said. "Patrick was 26. He arrived in the United States as a refugee with his family fleeing violence. He had his whole life ahead of him. Patrick was a son, a dad of two young daughters, and an older brother to his five siblings."


authored by Ken Coleman
First published at https%3A%2F%2Fmichiganadvance.com%2F2022%2F12%2F07%2Fpatrick-lyoyas-family-file-100-million-lawsuit-against-city-of-grand-rapids-former-officer%2F