Ann Arbor's new podcast aims to make civic engagement accessible to AF
Jess Letaw, co-host of a new podcast called "Ann Arbor AF", says she and her staff chose this name because" we wanted something that showed the community that it can be fun and accessible to talk about politics. "
With a laugh, co-host Molly Kleinman adds, "And we are often obscenely motivated when we think about Ann Arbor politics."
The podcast, which launched in December, co-hosts Letaw, Kleinman, and Michelle Hughes cover a variety of topics related to Ann Arbor's civil affairs. They originally planned to run a podcast about every two weeks to discuss an upcoming agenda for city council meetings, but Kleinman said staff felt that they "couldn't effectively talk about the agenda without helping the people who are." Backstory on the subject and how to understand some of them. " Stuff works. "
In addition to the episodes devoted to city council agendas, the co-hosts also record what they call "Deeper Dives" on topics such as boards and commissions, budgets, and even how to read and understand a city council agenda. The podcast also had special guests to share about their more specific interests, such as an episode where local activist Trische 'Duckworth discussed policing. The co-hosts hope to have more special guests in the future.
Jess Letaw, Molly Kleinman, Michelle Hughes and Jarod Malestein from the Ann Arbor AF Podcast at Larcom Town Hall.
However, the discussion on the Council agendas seems to be particularly resonating with the audience. An episode about reading an agenda is one of the most popular episodes. According to Letaw, the co-moderators discussed the reasons for previewing a council agenda rather than reviewing it after it ended.
"We don't want to get caught up in personality dynamics. It's not about individuals, it's about the issues," says Letaw.
Hughes says she has held live tweet council meetings in the past and notes that "sometimes you miss the forest for the trees when you do it that way".
"You get caught in the circus, in the spectacle, just like the councilors," says Hughes. "With this podcast we say, 'Let's take a step back and look at the issues and discuss them more soberly.'"
Ann Arbor AF grew out of Letaw's plans to start a podcast project related to her in 2020 Building Matters Nonprofitwho wanted to be an architecture community resource and offer tours of Ann Arbor's historic buildings.
"I was ready to go, and it all shut down the weekend I was supposed to go to the podcast studio to start [due to COVID-19]", she says." I had all that podcast energy idle and Molly commented a few months later and asked, "When are you going to do this podcast?"
Letaw said she would if Kleinman agreed to attend. The co-host line-up was completed when their friend Hughes, who hosted a radio segment called "Civics Party" for the University of Michigan radio station WCBN, came on board. To complete the picture, Letaw's friend Jarod Malestein offered to help on the technical side and edit and upload the three co-hosts' weekly conversations about Zoom.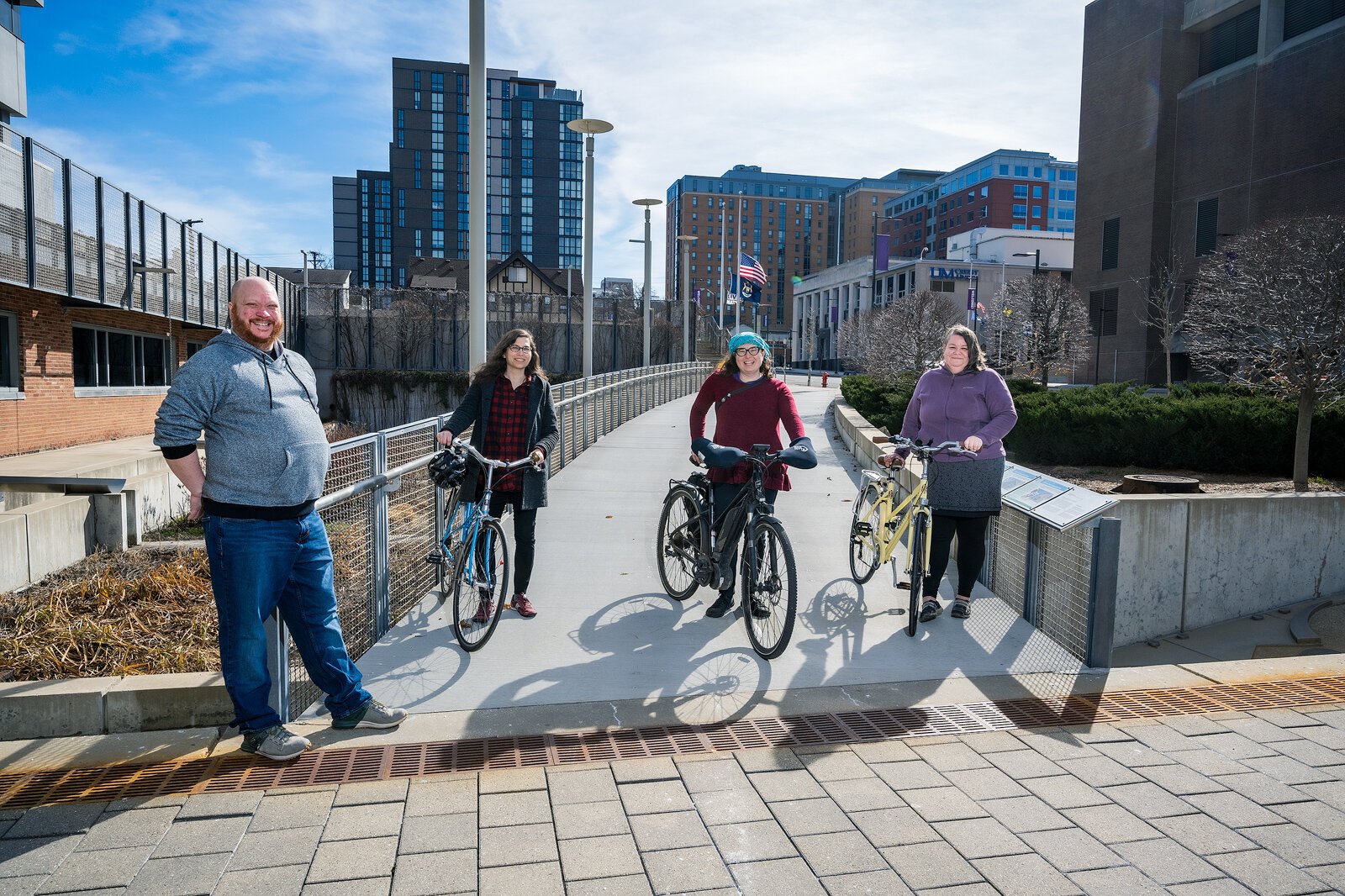 Jarod Malestein, Molly Kleinman, Michelle Hughes and Jess Letaw from the Ann Arbor AF Podcast at Larcom City Hall.
"It's important because more people should be involved in local politics," says Malestein, noting that many people only vote in national elections and skip the local races on the ballot.
The staff's original intent was to educate their Ann Arbor roommates about city politics, but they learned a few things on their own along the way.
No matter how mundane a city council agenda might look, Letaw says "there is always something to learn," a sentiment that is endorsed by her co-hosts.
"One thing I've learned from these Council episodes is the progression of a problem. Something is going to come back to the Council three or four times, and I'm not even talking about postponing it," says Kleinman. "I've found these topics to be part of a longer conversation and we hope to help listeners get into the same rhythms and progressions."
According to Hughes, the creators of Ann Arbor AF have received a lot of positive feedback from the community. They are steadily gaining new followers in Ann Arbor and beyond.
"Ann Arbor is such a powerful force and has such a huge impact on the entire county as our housing choices," says Hughes. "I hope the podcast will reach people elsewhere and inspire people across the region to get involved."
The co-hosts hope the podcast will inspire people in Washtenaw County and beyond to bring to the local level the civic engagement that America has seen nationally in 2020.
"There has been this great surge of energy and interest in civic engagement and a lot of people are used to following nationally. Some of them are turning to local politics for the first time, and local politics can really change feel opaque. " Kleinman says. "Part of our motivation is to help these people get used to local issues and get used to them. We'd love to see local podcasts like this popping up everywhere."
Sarah Rigg is a freelance writer and editor in Ypsilanti Township and the project manager of Ypsilanti on the floor. She has joined Focus as a news writer in early 2017 and occasionally writes articles for others Output media group Publications. You can reach them at [email protected].
All photos by Doug Coombe.