This nonprofit coalition is leveling up public understanding of Detroit's water infrastructure
A little over four years ago, local conservationist Lisa Rodriguez was deeply intrigued when she heard this City of the Future Detroit (DFC), a non-profit think-and-do tank, had partnered with nine other local non-profit organizations (The Alliance for the Great Lakes, Eastside Community Network, Ökowerk, The greenery of Detroit, Friends of the blush, Keep growing in Detroit, Michigan Interfaith Power and Light, Southwest Detroit Environmental Vision, and The Sierra Club) as the backbone of a new initiative called Land + Water WORKS Coalition (L + WW Coalition).
At the time, Rodriguez was curator of parks and green spaces for Urban Neighborhood Initiatives (UNI) in the Springwells community of southwest Detroit. Rodriguez, who is currently UNI's Community Co-ordinator, said she loved the coalition's mission to change the public's understanding of the city's water infrastructure in order to create a fairer, more sustainable and resilient Detroit for future generations .
"I love the Detroit River very much and I was very concerned about how it's polluted and whether it will be safe enough for this community to go on for the next hundred years," says Rodriguez. "When I heard DFC join the conversation about our city's water and help outline best practices, I needed to know more."
Creating change and changemaker
From the outset, the coalition has used a three-pronged approach of research, education and public relations, as well as technical support and advocacy. Her main efforts included educating Detroiters about the Detroit Water and Sewerage Department (DWSD) drainage fee, green stormwater infrastructure (GSI), and the local mixed water overflow crisis (CSO). The organization was recently published Land + Water WORKS Impact Report 2017-2021 has a considerable range.
Some key facts from the 35-page report: From November 2018 to December 2020, the L + WW Coalition hired 41,583 Detroit residents and property owners, they were instrumental in planting 11 rain gardens in the seven boroughs of Detroit, and you planted projects who manage over 558,772 gallons of drain annually.
"It's been a tremendous journey," said Nicole Brown, senior program manager for DFC's Land Use and Sustainability division and chair of the coalition. "All of our coalition partners and community partners came to work with a variety of different perspectives and strengths, and without them we would not have been able to achieve everything we have achieved so far."
The coalition worked tirelessly to first gain insights into how the Detroiters – many of whom were then dealing with mass closures of DWSD water, attempted to address the Flint water crisis and its generational impact on mainly low-income black and brown communities understand – their connection to the land, water and water infrastructure. An innovative curriculum (for adults and youth) was then developed through a series of community forums and talks to educate the public about why the coalition's work is important.
Creating both change and changemaker was a primary goal.
"We realized that our sweet spot had to be to educate people and make them understand what was going on and what the options were," says Brown. "Detroiters were very busy and we wanted to demystify the whole language of our water health and break down information about things like the sewer fee in a really understandable way."
For Rodriguez, she knew here that she could contribute to the vision of the L + WW Coalition. She has signed up as part of her ambassador program, which educates local residents and nonprofits about the social, environmental, and economic benefits of GSI practices, as well as land and water management. Rodriguez is one of 77 ambassadors who completed a 52-hour soft skills and technical training program over nine months and then shared their new skills and knowledge with their communities. To date, coalition ambassadors have influenced over 34,000 residents, nonprofits, small businesses, and religious organizations. Often connections have been carefully forged from one person or one organization to the other.
"I went door to door after months of flooding," says Rodriguez. "The timing was right because a lot of people were really open to receiving information on how to mitigate flooding from their property."
Whether she was talking to people about how to read their water bills, understanding the DWSD fee and how to reduce it, water butt usage, CSO reduction, or how to cut off their downspouts, Rodriguez was always confident that she would make a difference. She estimates that she has had personal ties to over 700 households in the Springwells community since becoming part of the L + WW Coalition Family.
Brown emphasizes that ambassadors like Rodriguez are an absolute cornerstone of the coalition's work.
"What we found is that on-site, peer-to-peer conversations that Ambassadors can have with friends, neighbors, and nonprofits with whom they interact regularly in their daily lives are really crucial to a strong and resilient Detroit create."
Building a better city through collaboration
Resident ambassadors have gone way beyond just talking. Many have been active in outdoor community outreach events such as bird house building sessions, rain garden workshops, and demonstration plantings. Some were involved in the L + WW Coalition's Connected to our Roots series of events, all four of which are presented in the L + WW Impact Report. Each event was designed to share the land and water management message with stakeholders and was a collaborative effort between coalition ambassadors, multiple community partners, and either Chapter of the Sierra Club Michigan, Keep growing in Detroit or The greenery of Detroit.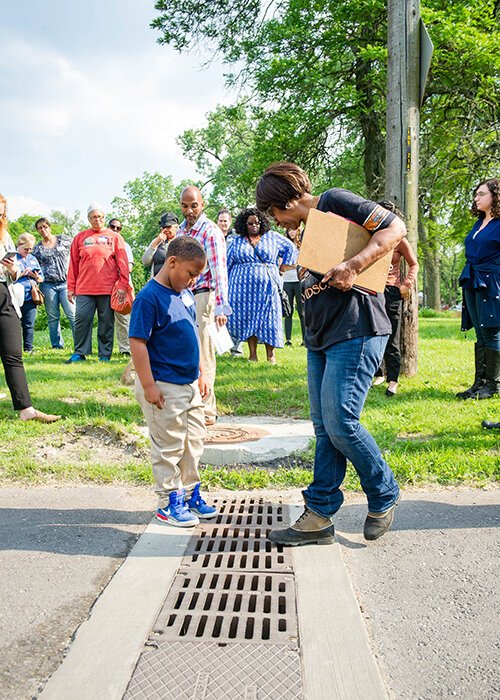 "The whole experience was a wonderful achievement," said Fai Foen, director of green infrastructure for The Greening of Detroit. "It is always important for like-minded and non-like-minded organizations to work together because that is where you can find the greatest ingenuity in dealing with the problems affecting our city."
In collaboration with Rodriguez and the Center for Urban Responses to Environmental Stressors at Wayne State University, Foen's organization was the partner lead for a Connected to Our Roots event in 2019 entitled What's in Our Water. Held at Eliza Howell Park in District 1 with support from coalition partners, the Sierra Club Michigan Chapter, and Friends of the blush, 30 people attended the event, which was attended by Tracie Baker, Assistant Professor at the Institute of Environmental Health Sciences and the Department of Pharmacology at Wayne State University (WSU). Following their talk on the evolving chemical and microplastic crisis in Detroit's waterways, attendees attended a resource fair that showed the percentage of chemicals found in the Rouge River. The event was rounded off with a visit to a unique art installation.
"We put lighted paper lanterns in the water and each lantern represented a different pollutant found in the Rouge River," says Foen. "There was live music, people brought their lunch and everyone was really paying attention."
She adds that such experiences are important for a sustainable and equitable city.
"Personally, I didn't have a science background until later in life, and it's important to be able to talk about these important things that affect our lives," she says. "A big part of the work of the Coalition and the work of The Greening of Detroit is to simplify information that may seem very complicated so that more people can become aware of it and then motivate them to take action."
The time is now
In the future, mobilizing more Detroiters, property owners, advocates and practitioners alongside the public and private sectors will remain a focus of the L + WW coalition. Brown shares that there is already a shift.
"We're seeing the effects," says Brown. "More and more people are attending events and planning meetings. More and more people are asking questions about what has become very real for them now."
There is more to be done and more people to be reached and a new L + WW website has been launched for this purpose. Designed as a one-stop shop for everything to do with land and water in Detroit, visitors can conveniently learn more about GSI, CSOs, how to become a land and water steward, watch simple how-to videos, book an ambassador, to speak to an event or sign up for affiliate programs.
"Anyone can learn and anyone can play a role in the future," says Brown. "All hands have to be on deck to move the needle further."