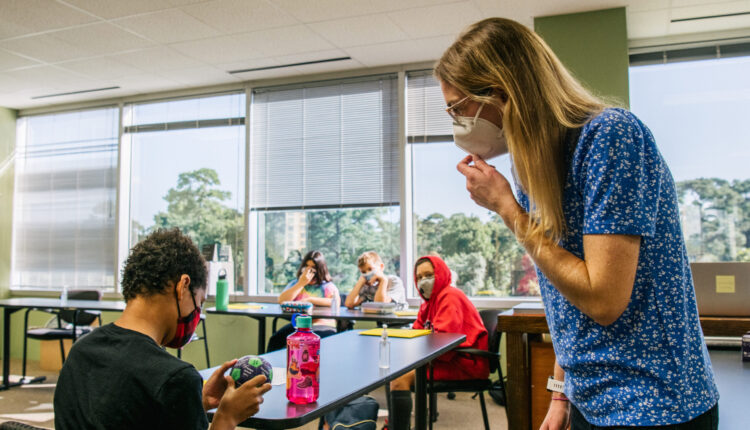 David Hecker: We need to work together to protect the health of kids and workers this winter ⋆
Cold and flu season is here — and this year, respiratory viruses are running rampant among children in Michigan and across the country. With COVID still a factor and RSV and influenza on the rise, we're seeing alarming rates of these illnesses in our kids, resulting in overcrowded hospitals and difficulty getting treatment.
Naturally, schools involve large groups of children congregating indoors, so this news  is particularly concerning for educators and school communities, in terms of both health risks and the complicated task of keeping schools running in difficult times. In theory, solving a problem like this is simple; people who are sick should stay home until they feel better. In practice, the issue is a lot more complicated.
School communities across the state are already struggling with lingering effects of chronic underfunding, as well as a teacher shortage — and the COVID pandemic only made these problems worse. Students, families, and educators all struggled to cope with necessary safety precautions like online learning and canceled extracurriculars. These have been a difficult few years, and it's understandable that people are tired of worrying and hesitant to reinstate the safety precautions of 2020.
But respiratory illnesses remain a threat to Michigan kids — not to mention the school and daycare staff who work near them, as well as the health care workers who treat them—and there are plenty of tactics we can use to protect our communities that don't involve closing schools. 
Of course, the most straightforward actions we can take are staying up to date on both COVID and flu vaccines and making sure our families do the same, masking up in public places, thoroughly washing our hands and staying home when sick if at all possible.
While COVID has dominated conversations about transmissible illness for the past few years — and for good reason — RSV and influenza are also a critical part of the current problem. The COVID pandemic is the most devastating wave of illness we've seen in our lifetime, but the seriousness of COVID does not make other illnesses less dangerous. It is still very important to take precautions when you're experiencing respiratory symptoms, even if you haven't tested positive for COVID specifically.
But I also want to address the elephant in the room: There are several reasons why these precautions may be easier said than done. One critical factor that makes controlling the spread of illness difficult is the pressure many working people face to show up even when they're not feeling well. 
Mothering Justice and Restaurant Opportunities Centers United demonstrators on April 22 in Detroit. They called for a minimum wage increase and paid sick leave. | Ken Coleman
Thanks to a court decision that came down this summer, Michigan workers have a legal right to earned paid sick time under bills the Republican majority gutted in 2018. But of course, not all employers treat their workers ethically, and not all workers feel secure enough to call out of work to recover or care for a sick child.
And, of course, the COVID pandemic brought with it a rise in medical disinformation that sought to demonize mitigation tactics. As a result, a sizeable number of people refuse to get themselves or their children vaccinated, wear masks, or practice social distancing when they're feeling unwell. But the knowledge that some members of our communities are determined to do the wrong thing shouldn't deter us from doing what we can to navigate these issues safely and effectively. 
It's also important to note that, like most crises that arise, the current wave of illnesses is most dangerous to people who are already marginalized. For many wealthy families, things like taking unplanned time off work and paying for emergency medical care are difficult. For low-income families, these things can be devastating. 
Beyond the safety protocols we as individuals can follow right now, we also need to continue to work on the systemic problems that make it harder to keep people safe. We must ensure working people everywhere are able to take time off when they or their children are sick, and that health care is affordable and accessible to all. 
In public education specifically, we need to ensure schools are fully and equitably funded and can afford PPE and other resources educators need, as well as continuing our work to address teacher and staff shortages so schools can manage more easily when staff are out sick.
None of this is easy; if it were, we'd already have perfect solutions in place. That doesn't mean we shouldn't try. The health of our communities is on the line, and it's on each and every one of us to use the information we have and make the best, safest decisions possible for ourselves and the people in our care.


authored by David Hecker
First published at https%3A%2F%2Fmichiganadvance.com%2F2022%2F12%2F20%2Fdavid-hecker-we-need-to-work-together-to-protect-the-health-of-kids-and-workers-this-winter%2F