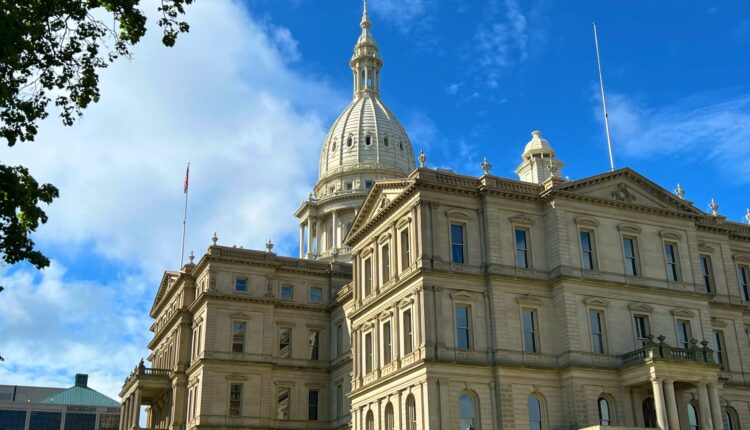 'We're sending a message to the state that we respect science' ⋆
Michigan Capitol | Susan J. Demas
From an emphasis on reproductive rights, maternal care and mental health to millions of dollars aimed at tackling racial disparities, funding public health and increasing wages for health care workers, the $82 billion budget passed by lawmakers last month is slated to reshape Michigan's health landscape and significantly increase access to care for residents across the state, legislators and advocates say.
"This budget is more inclusive; we're trying to uplift those who need it most while still giving supports for the middle class," said state Rep. Julie Rogers (D-Kalamazoo), chair of the House Health Policy Committee and a practicing physical therapist.
Gov. Gretchen Whitmer is expected to sign budget legislation soon.
In terms of reproductive rights, Rogers said, the Fiscal Year 2024 budget is "completely the opposite" from previous plans approved by Republican-led Legislatures that pushed anti-abortion language and spending – which in recent years was ultimately vetoed or deemed unenforceable by Democratic Gov. Gretchen Whitmer.
"The last couple of budgets had language restricting abortion access, and it always gave me heartburn voting for a budget with that in there," Rogers said. 
The budget, which the Democratic-led Legislature passed on June 28 and which now awaits Whitmer's signature, cut boilerplate language that prevents the state Department of Health and Human Services (DHHS) from contracting with organizations that provide elective abortions or counseling for abortions. 
Access to mental health care is something every community across the state is grappling with. We're seeing a huge need among our adolescent population. We prioritized this in our budget.
– Sen. Kevin Hertel (D-St. Clair Shores), chair of the Michigan Senate Health Policy Committee
That cut follows Michiganders voting in the November 2022 election to enshrine the right to abortion and other reproductive care in the state constitution with Proposal 3, as well as a push by Democratic lawmakers to protect and expand access to abortion after the right-wing U.S. Supreme Court overturned Roe v. Wade in June 2022.
Crafted by Michigan's first Democratic-led Legislature in about 40 years, the Fiscal Year 2024 budget includes language that "prohibits appropriations from being used to restrict or interfere with actions related to diversity, equity, and inclusion, to restrict or impede community access to government programs, or restrict an individual's ability to exercise the right to reproductive freedom; requires local governments to report on actions that attempt to restrict duties of local health officers." 
In addition to the language protecting reproductive rights, it addresses what state Sen. Kevin Hertel (D-St. Clair Shores), chair of the Michigan Senate Health Policy Committee, said is the "politicization of health care" experienced during the COVID-19 pandemic. Republican lawmakers in 2021, for example, included language in the budget that specified local health departments would lose funding if they enacted local mask mandates without the support of local county board of commissioners. Whitmer told lawmakers at the time that this mandate was unconstitutional and unenforceable, but the GOP language still led to confusion among local health departments that dropped their mask mandates over concerns their funding would be pulled.
This budget, Hertel said, aims to protect local health departments.
"That language is designed to make sure we take some of the politicization out of the health care space and let professionals – folks who have dedicated their lives to ensuring the health of our communities – are able to do their jobs," Hertel said of the language included in the FY 2024 budget.
"Frankly, we saw doctors during the pandemic who were receiving death threats for just doing their job," Hertel continued. "We want to make sure we're sending a message to the state that we respect science."
The U.S. Food and Drug Administration approved mifepristone, a key abortion drug, 23 years ago. | Getty Images
Support for pregnant people
Alongside the language around reproductive rights, the budget also includes tens of millions of dollars for programming focused on the health of pregnant people and parents. 
That includes $56.4 million to fund Healthy Moms, Healthy Babies, a DHHS-led program that provides 12 months of continuous postpartum Medicaid coverage in an effort to reduce postpartum deaths in Michigan. The budget too provides $10 million to create a new program to provide relief to foster parents. Those funds would be used for daily rate payments to licensed and closed foster homes.
About $6.2 million is slated to reinstate the Medicaid Plan First! program, which the DHHS said in its March budget presentation would fill a "coverage gap for people who exceed the income limit for the Healthy Michigan plan but lack insurance for family planning through their employer or other means." Healthy Michigan is a Medicaid program provided through the DHHS and authorized under the Affordable Care Act. The Medicaid Plan First! initiative would expand access to family planning services and cancer screening.
Another Medicaid-related initiative in the budget would eliminate the requirement that non-citizens with documentation must live in the country for five years before being able to access Medicaid. 
While federal law requires documented immigrants to live in the country for five years before they can enroll in some public programs, the 2009 Children's Health Insurance Program (CHIP) Reauthorization Act gave states the option to waive the five-year waiting period for children up to 21 years old and pregnant people. The Michigan budget includes $32.1 million to assist with implementing this change.
Getty Images
Public health
If there's any word that Norm Hess, executive director of the Michigan Association of Local Public Health, thinks of when it comes to the Fiscal Year 2024 budget, it's "finally."
For the first time in 30 years, the state will cover its mandated share for what's known as essential local public health services. According to Michigan's public health code, the state is required to fund 50% of the basic public health services that all local health departments in Michigan are legally mandated to provide, including infectious disease control, sexually transmitted disease control, immunizations, protecting the public health water supply, sewage treatment, hearing and vision services, and food protection.
That, however, has not happened for three decades. 
"Over the years, the state's amount has stayed so flat that to continue to support these programs the local counties and governments have had to increase their portion to keep the programs going," Hess said.
The budget includes a $25 million increase to fund these public health services – bringing the total to about $51.4 million.
"This is very good news for local public health," Hess said.
Local health departments likely won't know the specific amount they may receive until September, but the funding is expected to translate to additional staff for some departments, according to Hess.
That $25 million boost "sends a strong message we support the departments and staff," Rogers said. 
That message, she, Hertel and Hess emphasized, provides a crucial morale boost for public health workers who faced threats of violence for performing their job during the COVID-19 pandemic. Following right-wing attacks on masking and vaccines, public health officials found themselves facing harassment at levels they'd never experienced before – which researchers found has led to burnout and workers leaving the public health field nationwide.
"I hope that we can resume some stability for our local public health," Rogers said.
The funding, Hess said, is an acknowledgement from lawmakers that they believe public health is worth an investment.
"To have the Legislature take the time to understand the services that public health provides and to make this increase in the budget is a morale boost for local public health," Hess said.
Adam Carlson, the senior vice president of advocacy at the Michigan Health and Hospital Association (MHA), noted that his organization hopes lawmakers will also take a look at future funding to address an increase in violence against hospital workers – who, like public health officials, have been targeted by people irate over health requirements, like masking, at hospitals during COVID. In March, the MHA asked the state to provide $85 million to increase funding for the "security and safety of the health care workforce," Carlson said.
"We're hopeful the Legislature will recognize the importance of that," he said, noting that hospitals have added armed personnel, violence prevention training, metal detectors and other measures to address the soaring rates of violence against health care workers.
Getty Images
Increasing access to mental health care
Faced with soaring rates of mental health issues among youth nationwide and too few psychiatric hospital beds in the state, according to the Michigan Health and Hospital Association, state lawmakers said they wanted the budget to address a wide range of mental health concerns.
Included in the education budget is $328 million for mental health and school safety; the general omnibus budget provides close to $280 million for certified community behavioral health clinics, $40 million for a new intake center at Macomb County Jail that would address mental health needs, $33 million for inpatient psychiatric services, and $1.5 million for the cities of Ann Arbor, Kalamazoo and Dearborn to embed mental health specialists alongside law enforcement during 911 calls for mental health crises. 
"Access to mental health care is something every community across the state is grappling with," Hertel said. "We're seeing a huge need among our adolescent population. We prioritized this in our budget."
School districts will be able to use the $328 million to provide mental health-related services – something Michigan Association of School Administrators (MASA) Executive Director Tina Kerr lauded. 
"These dollars are critical to helping our districts address student and staff mental health, increase school safety measures, and provide specialized learning opportunities," Kerr said in a prepared statement.
The $279.7 million for the state's 10 certified community behavioral health clinic provider organizations would be used to expand the facilities that provide 24-hour crisis services, screenings, treatment planning, outpatient behavioral health services, outpatient primary care and psychiatric rehabilitation, among other resources. The funding would add 19 new providers.
The proposed intake center at Macomb County Jail – a project that's slated to cost approximately $228 million altogether – will focus on assessing people's mental health needs and connecting them with resources instead of immediately locking them up, Hertel said. 
"Our jails unfortunately are becoming some of the largest mental health providers," Hertel said. "Someone struggling with a mental health issue frequently interacts with the criminal justice system."
The new intake center would take a more holistic approach to a person's needs with the goal of reducing the likelihood that they return to jail, Hertel explained.
To have the Legislature take the time to understand the services that public health provides and to make this increase in the budget is a morale boost for local public health.
– Norm Hess, executive director of the Michigan Association of Local Public Health
"Instead of locking someone in a cell, there will be floors in the jail dedicated to providing the care that individuals need," Hertel said. "If they're going through a mental health crisis, they'll get the help they need through therapy. If they're going through substance abuse, they'll get treatment for that as well. I believe it's truly transformational."
Carlson, of the MHA, praised the budget's $33 million aimed at increasing Medicaid rates for inpatient psychiatric facilities.
"We're in the middle of a behavioral health crisis," Carlson said. "… Given the size of the problem, it's not going to solve it. We'll still have a shortage of beds, but ideally it will lead to better patient outcomes."
Currently, every psychiatric facility receives the same per diem rate for inpatient services, regardless of the intensity of the services needed for that patient – such as round-the-clock supervision. With this funding, hospitals providing higher-level services for patients that need greater care could be reimbursed at a greater rate for those individuals, Carlson explained. 
The budget includes a total of $156.8 million for Medicaid reimbursement for a variety of health services throughout the state. Rogers said she's hoping those rate increases will lead to more private practices accepting Medicaid patients, many of whom are now turning to hospitals "as the option of last resort because they don't turn people away."
The three communities – Kalamazoo, Dearborn and Ann Arbor – that will receive $500,000 each to embed mental health specialists with law enforcement on 911 calls for mental health crises follows what Rogers said has been a successful pilot program in Kalamazoo over the past year.
"There was a shovel-ready project that had started seeing some of the benefits of having mental health providers go alongside law enforcement," Rogers said. "We're already seeing some good numbers from diversion to jails and prisons." 
During the 911 calls, mental health providers would work to assess what an individual needed, including accessing medication, Rogers said. 
"They may be having a psychotic episode; they may have gone off of medication because of affordability or [a lack of] transportation to get the medicine," Rogers said. "Sometimes they just need a 24-hour stabilization where they get back on medication."
Members of a U.S. Senate committee on Thursday detailed a complicated patchwork of issues that contribute to youth mental health challenges, including violence and trauma within schools and communities, the damaging effects of social media, worry about what a changing climate will look like when they're adults and hate speech against LGBTQ people. (Getty Images).
Gun violence prevention 
Less than half-year after three students – Arielle Anderson, Brian Fraser and Alexandria Verner – were shot and killed in a mass shooting at Michigan State University on Feb. 13, lawmakers included $800,000 in the DHHS budget to create the Office of Community Violence Services. 
The budget also includes about $6 million for that office to provide in annual grants to community violence prevention organizations working to reduce firearm-related injuries and fatalities across the state.
Michigan has seen an increase in firearm-related deaths in recent years. According to the most recent data available from DHHS, there were 1,431 gun-related deaths in Michigan in 2020, including 748 suicides and 647 homicides. That number has risen over the past decade; in 2014, there were 1,098 firearm-related deaths in the state.
Nationwide, gun violence and mass shootings are also on the rise. In addition to the mass shooting at MSU, four students died in a mass shooting at Oxford High School in November 2021: Hana St. Juliana, Tate Myre, Madisyn Baldwin, and Justin Shilling. The MSU shooting was the country's 67th mass shooting of the year; as of Friday, the U.S. has experienced 361 mass shootings in 2023, according to the Gun Violence Archive.
Rep. Felicia Brabec (D-Pittsfield Twp.), chair of the state's bicameral Firearm Safety and Violence Prevention Caucus, called the creation of the Office of Community Violence Services "really important."
"The new office is housed in the Department of Health and Human Services; seeing that work through public health is vital to us being grounded in community," she said.
"I think the gun violence epidemic is a public health crisis; I say that unequivocally," Brabec continued. "To me, that means we need to have a public health response. When I think about public health, I feel they're much more comprehensive and holistic. They take a broader, global perspective. They look at everything from what needs to be responded to right now to what we need to do with prevention."
Another $2.9 million would create five full-time positions to establish five National Integrated Ballistic Information Network testing locations, which aims to decrease gun violence by providing law enforcement agencies with an automated resource for sharing, researching and identifying firearms ballistic data. There would be a "fixed unit" in Lansing and mobile units in Benton Harbor, Flint, Grand Rapids and Saginaw. 
To further address suicides, including by firearm, the budget includes $1.2 million for veteran suicide prevention efforts and other well-being initiatives for Michigan's approximately 550,000 military veterans and their families.
Hundreds of Michigan State University students gather on the lawn of the Michigan Capitol for a rally demanding gun control legislation on Feb. 20, 2023, one week after a mass shooting on the campus of MSU. (Andrew Roth/)
Domestic violence
The budget includes $486,400 for two full-time positions to establish the Address Confidentiality Program, which was created in 2021 but has not had staff since its inception. The program is designed to conceal the addresses of victims of stalking, domestic violence, sexual assault, and human trafficking by providing a substitute address and free mail forwarding. 
Another $420,000 in funding from the U.S. Department of Human Services' Office of Child Support Enforcement would be used to increase safe access to child support services for domestic violence victims and survivors who are not currently receiving services.
The budget includes a $30 million increase for the Crime Victims' Rights program, including for survivors of domestic violence. With that increase, the Crime Victims' Rights program would have a $121.6 million budget.
Increased wages
About $140 million is slated to go towards increasing wages for direct care workers and other staff assisting people with disabilities and seniors who require home-based and nursing home services and supports. The funding would translate to an increase of an additional 85 cents an hour.
"We have a long way to go on this, but this is a step in the right direction," Hertel said of the wage increase.
Lawmakers said the increase is vital in a field that's long been underpaid – and which was devastated by the pandemic.
"They deserve this," Hertel said of the wage increase. "They're doing very difficult work. We're seeing less and less people in the field, which is creating a shortage of workers to provide the care to people who need it."
Future budgets are going to need to address additional pay rate increases, Hertel said. 
"It's critically important," he said. "Over the pandemic, these people were asked to do difficult work at a difficult time, and they aren't getting paid a rate that aligns with that kind of work."
I think the gun violence epidemic is a public health crisis; I say that unequivocally. To me, that means we need to have a public health response.
– Rep. Felicia Brabec (D-Pittsfield Twp.), chair of the state's bicameral Firearm Safety and Violence Prevention Caucus
Tackling exposure to lead
Close to a decade after systemic racism and governmental failures left the Black-majority city of Flint to drink lead-contaminated water beginning in 2014 – and following lead crises in other Michigan communities like Benton Harbor and Hamtramck – the budget includes nearly $600 million for water infrastructure in Michigan. 
That includes $233 million in federal American Rescue Plan Act (ARPA) funds for lead service line replacements and other water infrastructure projects;  $61 million to replace lead-reducing filters, lead-containing fauces and other plumbing in about one million households at risk of lead exposure from drinking water; and $22.5 million to create 45 full-time positions to support lead investigations and abatement, community-based lead testing, and water distribution needs. 
"A lot of historically older and marginalized communities like Flint and Benton Harbor, and even my own district of Kalamazoo, are struggling with replacing those lead service lines," Rogers said.
Lead is a highly toxic metal once commonly used in paint, plumbing pipes and gasoline, and exposure to lead can lead to a wide array of health problems, including behavioral issues, learning disabilities, seizures, anemia, and brain damage, according to the U.S. Centers for Disease Control and Prevention (CDC). 
The budget also includes funding to address what are known as toxic "forever chemicals" in Michigan's water and soil. Per- and polyfluoroalkyl substances (PFAS) are man-made substances, often byproducts of manufacturing, that are linked to cancer and other health problems. 
A new study found that nearly half of the United States' drinking water could be contaminated by PFAS. The budget includes $37.3 million from the federal Infrastructure Investment and Jobs Act Fund for remediating "emerging contaminants in disadvantaged or small communities." Those contaminants include PFAS.
Getty Images
Racial disparities
After Black Michiganders were disproportionately affected by COVID-19 in the early days of the pandemic, Whitmer formed the Racial Disparities Task Force to improve health equity in the state. That task force – led by Lt. Gov. Garlin Gilchrist – in March released its recommendations for improving racial equity in the state's health care landscape, and the budget includes $49.5 million to implement those suggestions.
Those dollars would fund neighborhood health grants, mobile health units, sickle cell support, staff for training on diversity, equity and inclusion, and more.
Carlson, of the Michigan Health and Hospital Association, said his group is "excited about the emphasis on health equity and reducing disparities for maternal health care."
Phyllis Meadows, a senior fellow at the Kresge Foundation and a member of the Racial Disparities Task Force Centering Equity Workgroup, said she's "delighted to see a budget that allows for greater engagement at the neighborhood and community level."
"This degree of proximity to the people and the systems impacting health is needed now more than ever to ensure that we have a greater chance of identifying and addressing health inequities," Meadows said in a prepared statement.
Further details will soon become available regarding specifics of this funding, including how groups can apply for neighborhood grants, lawmakers said. 
Our stories may be republished online or in print under Creative Commons license CC BY-NC-ND 4.0. We ask that you edit only for style or to shorten, provide proper attribution and link to our web site.


authored by Anna Gustafson
First published at https%3A%2F%2Fmichiganadvance.com%2F2023%2F07%2F09%2Fwere-sending-a-message-to-the-state-that-we-respect-science%2F