Visit Meadow Brook Corridor! Tour this National Historic Landmark -Detroit
Visit Meadow Brook Hall! Tour this National Historic Landmark, 4th Largest Historic Home in the United States! FUN Famous History of Matilda Dodge + Things to Do and See | Rochester Michigan Near Detroit
By: Sherry Trautman | Travel-Mi.com | Last updated: December 7, 2022
Did you know Meadow Brook Hall is the 4th largest historic home in America? Chris and I are blown away by the incredible craftsmanship, eye for detail, breathtaking architectural details and sheer scale of this vast Michigan mansion. Keep reading to learn the fascinating history of Matilda Dodge, the widow of automobile pioneer John Dodge.
If you are looking for Michigan historic home tours and FUN things to do in Michigan, this is it!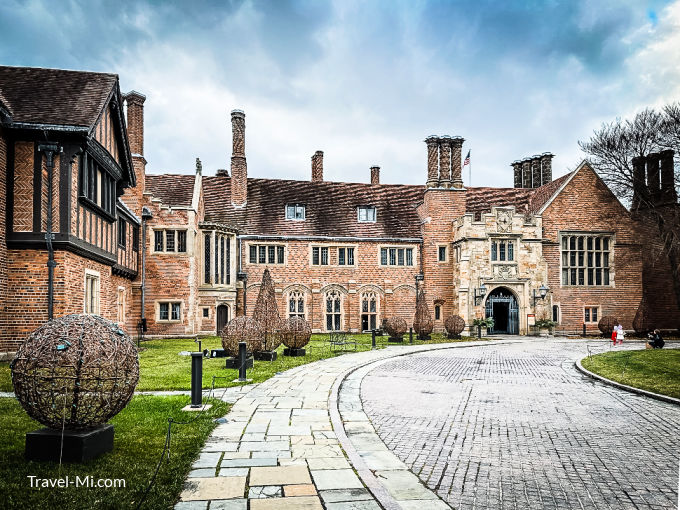 What is Meadow Brook Hall?
Chris and I are fascinated with the opulence, beauty and history of Meadowbrook Hall. We bet you will be too!
This 110 room residence is the largest and most impressive example of Tudor revival architecture in the United States.
There are also 37 secondary buildings, gardens and pasture land.
88,000 square feet to see during tours!
This incredible Rochester Michigan mansion is now a museum, cultural center and the fourth-largest historic home in the nation!
Meadow Brook Hall is open for tours on select days and times. It's always at the top of my list of fun things to do in Michigan. So if you are on vacation near Detroit, be sure to book a tour.
You can also hold your wedding and business events at Meadowbrook Hall.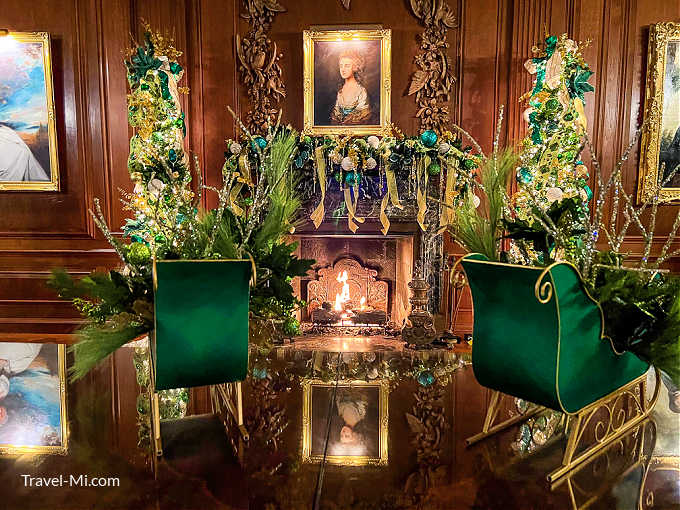 Chris and I visited Meadow Brook Hall twice in December during the Christmas season, so many of our photos have a holiday flair!
In December, Meadow Brook Halls' self guided Holiday Walk and Winter Wonder Lights is absolutely breathtaking well worth your time and money.
Meadow Brook Hall is a National Historic Landmark!
This incredible historic home was designated a National Historic Landmark in 2012 by the National Park Service and United States Department of the Interior.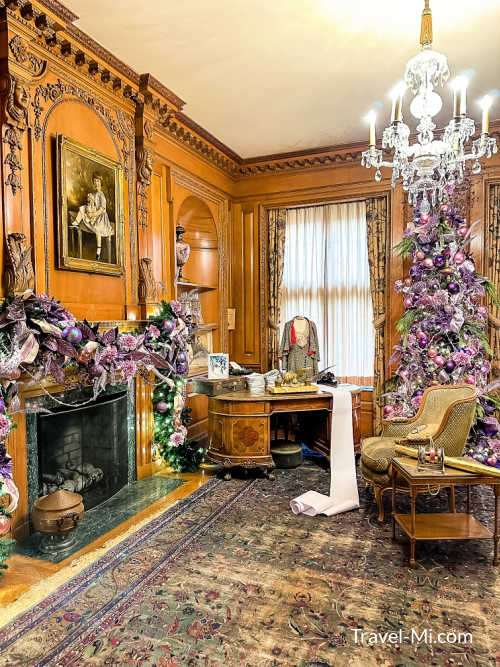 Where is Meadow Brook Hall?
Meadowbrook Hall is located in southeast Michigan.
Address: 350 Estate Dr, Rochester, MI 48309
Distance to Detroit: 33 miles (about 40 minutes)
Distance to Grand Rapids: 150 miles (2 hours, 20 minutes)
Distance to Lansing: 93 miles (1 hour, 25 minutes)
Distance to Traverse City:

229 miles, (3 hours, 40 minutes)
Meadow Brook Hall Has a Fantastic
and Famous

History

This incredible mansion was the home of Alfred G. and Matilda Dodge Wilson. Matilda was a widow of John Dodge….you know, like the vehicles!
As a side note, (because I was interested), John Dodge (co-founder of Dodge Brothers Motor Car Company) passed away January 14, 1920 of pneumonia in New York where he and Horace Dodge were attending an Auto Show. Per the Detroit Historical Society, John Dodge was inducted into the Automotive Hall of Fame in 1997 and buried in the Dodge mausoleum at Woodlawn Cemetery in Detroit.
Upon John Dodge's passing, Matilda found herself to be one of the world's wealthiest women. She supported many Detroit charities and organizations, and founded Oakland University.
She then married lumber broker Alfred Wilson, her second husband.
Alfred and Matilda's vast home was built in 1926-1929 at Rochester. William E. Kapp of Smith, Hinchman and Grylls designed the lovely hall. It was a nice 43rd birthday for Matilda in 1926!
The building costs nearly $4 million!
The Hall was built using ONLY American materials and craftsman. I find this very impressive and noble. Between the years of 1915 – 1947, the estate became one of the most elaborate in the United States and we can see why!
This famous couple had four children, Frances and Danny Dodge, and Richard and Barbara Wilson.
It is one of the best and finest examples of Tudo revival style architecture in America!!
The Hall was opened to the public in 1971.
Related Stories
Tour Meadow Brook Hall During Christmas!
Best Museums and Things to Do in Nearby Detroit!
Alfred and Matilda's Honeymoon Inspiration!
Alfred and Matilda toured several stunning homes in England while on their honeymoon. They fell in love with the style of these upscale homes and no doubt took lots of notes! Inspired, the newly married couple quickly went to work designing their new home from their honeymoon influence!
Matilda Dodge Wilson Loved Home Design!
Oh, and Matilda didn't just sit back, she was involved in every detail including choosing everything from the switch plate covers to the types of wood she preferred. Matilda loved art and design, so she was actively involved in decorating her home.
Meadow Brook Hall Architecture and Interior Details
While touring Meadow Brook Hall, you will see why it is famous for fine craftsmanship, incredible architectural detailing and massive size! The exterior of the Hall utilizes American materials of brick, sandstone, wood timbers and a roof of clay shine tile.
Did you know Meadow Brook has 39 uniquely designed brick chimneys?
You will be surprised to know the home provided the Wilson family with every modern amenity available in the late 1920s. Their home was fully electric with a central heating system, two elevators, three kitchens and a home theatre!
As was popular during the 1920's if you were wealthy, couples had their own bedrooms and dressing rooms. You will see this is true in their home too.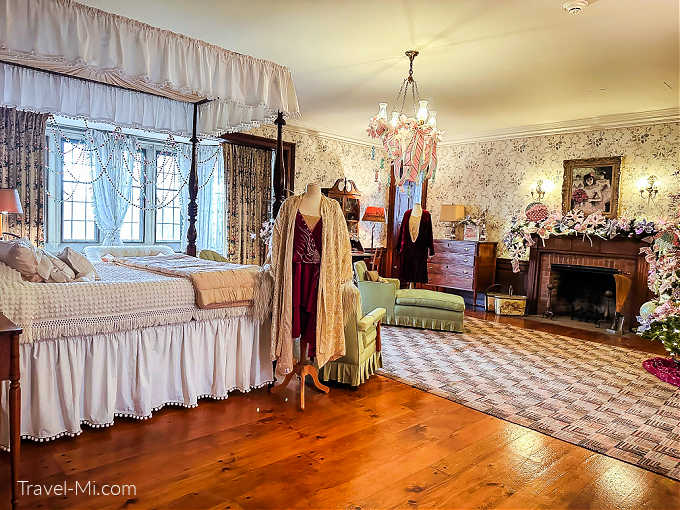 How is Oakland University Connected to Meadow Brook Hall?
Meadow Brook Hall (and its 1400 acre estate) was deeded to Michigan State University in 1957 by Alfred G. and Matilda Doge Wilson. It was given to fund Oakland University. The Hall is now a conference center and cultural center of Oakland University.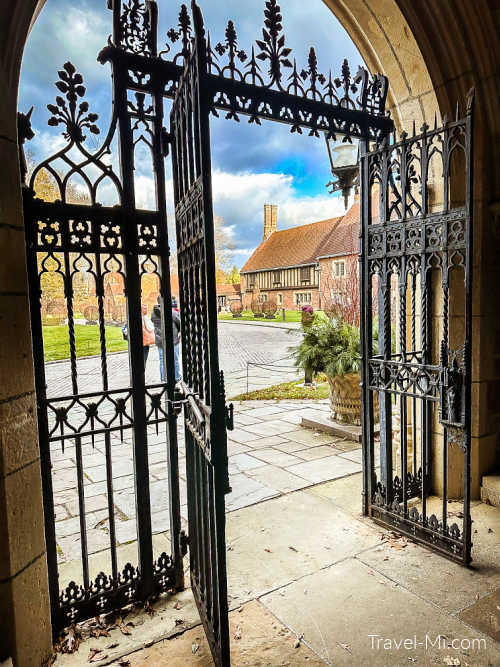 Touring Meadow Brook Hall
Touring Meadow Brook Hall is absolutely breathtaking! You will see original family furnishings and art as you wander the 110-room mansion. Be sure to look up at the ceilings to see fascinating trim and ornate plaster ceilings.
There is elaborate carved wood and stone throughout the home. I particularly love the Tiffany stained glass and ornate furniture and fine art.
One of my favorite times to visit Meadow Brook Hall is during Christmas in December! Meadow Brook Hall's self-guided Holiday Walk and Winter Wonder Lights is just breathtaking! It's a great time to appreciate the grand scale of this home and it's incredible architectural detailing. Get your admission tickets early this holiday season!
Call the Doctor!
During the 1920's medical doctors frequently visited the homes of weathy sick patients. Meadow Brook Hall has a separate medical room just for this purpose!
Embedded Instagram Post
YouTube Video Below