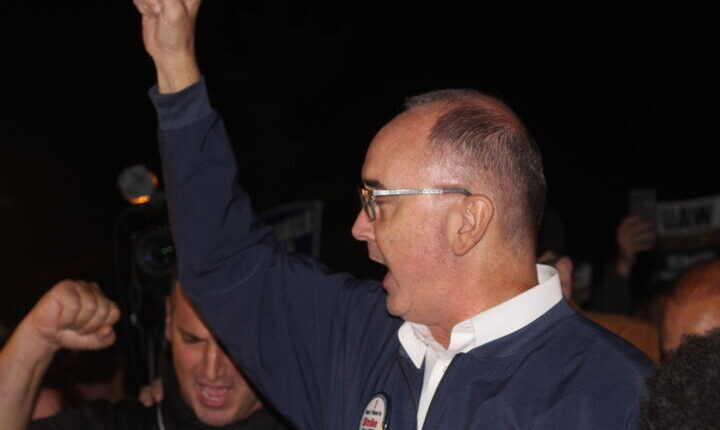 UAW leader Fain on tentative deal with Ford: 'I see power' 
The UAW strike begins and UAW President Shawn Fain talks to picketing workers at Ford-owned Michigan Assembly Plant in Wayne, Michigan the night of September 14, 2023. (photo: Anna Liz Nichols)
UAW President Shawn Fain on Sunday outlined his union's tentative contract settlement with Ford Motor Co. during a 25-minute Facebook live address. He was joined by Chuck Browning, the union's vice president who headed negotiations with Ford. 
"There was a time when it was hard to wear this wheel," said Fain as he pointed to the UAW logo on his shirt and referring to past corruption that tarnished the 88-year-old organization. "And like many of you, I walked a lonely path. What we have accomplished has turned this wheel around. When I see that wheel, I no longer see a union on defense, in decline or under threat. When I see that wheel, I see power." 
The union on Sept. 15 launched a strike against the Detroit Three automakers, Ford, GM and Stellantis.
The Ford tentative agreement, which was announced on Wednesday, includes a 25% wage increase over 4.5 years, starting with an initial pay hike of 11%. 
UAW leadership is recommending members approve the deal.
The tentative deal, which must be ratified by members, includes $8.1 billion in manufacturing investments and could give workers up to $70,000 in extra pay over the 4.5 years life of the proposed contract. It also eliminates all lower wage tier plants. Moreover, temporary workers will more than double their pay. Permanent workers could see top wage rates rise by more than 30% to $42.60 per hour by 2028, including estimated cost of living allowances.
The company will have the opportunity to offer an unlimited number of $50,000 buyouts to older workers earning the top rate. As it stands today, Ford can replace them with younger hires who will earn less than the top wage for three years. 
More details are posted online. 
Fain also indicated that the Detroit Three strike is the beginning of a new UAW push to organize other automakers.
"One of our biggest goals coming out of this historic contract victory is to organize like we've never organized before," Fain said. "When we return to the bargaining table in 2028, it won't just be with the Big Three. It will be the Big Five or Big Six."
On Saturday, the UAW announced that it also has reached a tentative agreement to end the 44-day strike against Stellantis. 
The union has not reached a deal with General Motors, the third automaker of the Detroit Three. GM made new offers late this week that match a 25% raise included in Ford's tentative agreement that would expire in April 2028.
On Saturday, the UAW called up GM Spring Hill Manufacturing, which is south of Nashville, to join the strike. 
GET THE MORNING HEADLINES DELIVERED TO YOUR INBOX
SUBSCRIBE
The post UAW leader Fain on tentative deal with Ford: 'I see power'  appeared first on .


authored by Ken Coleman
First published at https%3A%2F%2Fmichiganadvance.com%2F2023%2F10%2F30%2Fuaw-leader-fain-on-tentative-deal-with-ford-i-see-power%2F