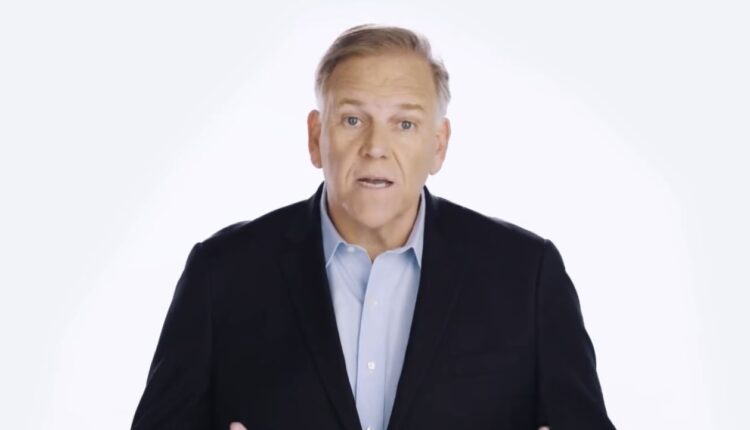 Republican Mike Rogers slams DOJ prosecution of Trump ⋆
Former U.S. Rep. Mike Rogers is doubling down on his bid to pick up far-right supporters as he seeks the Republican nomination for Michigan's open U.S. Senate seat.
The 60-year-old Rogers is a former FBI agent who represented mid-Michigan in the U.S. House for seven terms from 2001 to 2015, and also served as chair of the powerful House Intelligence Committee. He then retired from politics, moving to Florida and becoming a defense lobbyist. He now says his home is again in Michigan.
In a video posted Saturday to his X social media platform, Rogers, who is considered the moderate Republican choice in the GOP field, essentially endorsed the position of former President Donald Trump that his prosecution on 91 state and federal felony charges in four jurisdictions is a purposeful political persecution and not based on the rule of law.
"I don't recognize this justice system," said Rogers. "Look, I'm for holding everyone accountable if they've broken the law, no matter who they are. But what we are seeing right now is a politically motivated DOJ waging war against the leading Republican presidential candidate on behalf of President [Joe] Biden. This is a dangerous precedent and it needs to be stopped."
Stabenow announces she won't run again in 2024, sets off speculation on possible successors
The video drew a disappointed response from a former GOP colleague.
"This is not the mike [sic] Rogers i [sic] knew," posted former Illinois U.S. Rep. Adam Kinzinger, a frequent Trump critic and lieutenant colonel in the Air National Guard who was one of only two Republicans to serve on the House committee investigating the Jan. 6, 2021, attack on the U.S. Capitol.. "How did you fall so far mike [sic]?  Truly hurts to see this."
Rogers' video message blasting alleged politicalization in the Department of Justice came just a day after the same department indicted Senator Robert Menendez (D-N.J.), charging him with conspiracy to commit bribery and related offenses. 
The prosecution could complicate efforts by Democrats to retain control of the Senate, where they currently have a slim 51-49 majority. That math is also precisely why Michigan's open Senate seat is critical to both parties' plans for 2024. 
Other Michigan Republican candidates seeking the nomination include state Board of Education member Nikki Snyder; attorney Alexandria Taylor, who has represented Michigan GOP Chair Kristina Karamo; former Berrien County Commissioner Ezra Scott; and Michael Hoover, who used to work for Dow Chemical Co. Former Rep. Peter Meijer (R-Grand Rapids) who lost his primary last year after he voted to impeach Trump following the Jan. 6 riot, is also considering a run and has formed an exploratory committee. Former Detroit Police Chief James Craig, who failed to make the GOP gubernatorial ballot last year, also is weighing a bid.
On the Democratic side, candidates are Michigan Board of Education President Pamela Pugh, former state Rep. Leslie Love (D-Detroit), actor Hill Harper, businessman Nasser Beydoun, attorney Zack Burns and U.S. Rep. Elissa Slotkin (D-Holly), who currently represents most of the same district that Rogers did when he was in Congress.
Rogers, whose tenure predated Trump's presidency, has been trying to appeal to the former president's supporters since he announced his intentions earlier this month to seek the GOP U.S. Senate nomination. But his background both in the FBI and overseeing the intelligence community has been criticized by some fellow Republicans.
"Can't imagine a worse or more dangerous "Republican" candidate for Senate than Mike Rogers," wrote Caroline Wren,  a senior adviser to Arizona Republican Kari Lake who attended the Michigan GOP conference, on the X social media platform a day after the announcement. "He's the epitome of Deep State-former FBI agent turned Congressman turned lobbyist & CNN commentator who spent his career pushing for endless wars & mass govt spying on US citizens."
"I haven't decided my first choice, but I know my last choice," wrote longtime Republican consultant John Yob on Sept. 16. He then posted to X a screenshot indicating he had unsubscribed to Rogers' campaign emails.
A request for comment to Rogers' campaign has not been returned.
The Democratic Senatorial Campaign Committee (DSCC) took the opportunity of the weekend gathering of the Mackinac Republican Leadership Conference on Mackinac Island to fly a plane overhead with a banner that read, "Mike Rogers (R-Deep State)," in an effort to highlight Rogers' troubles with Trump loyalists. 
"Michigan Republicans' chaotic infighting is on full display on Mackinac Island, and whichever Senate candidate emerges from their party infighting will be badly damaged and out of step with the voters that decide Michigan's general election," said DSCC spokesperson Maeve Coyle.


authored by Jon King
First published at https%3A%2F%2Fmichiganadvance.com%2F2023%2F09%2F25%2Frepublican-mike-rogers-slams-doj-prosecution-of-trump%2F