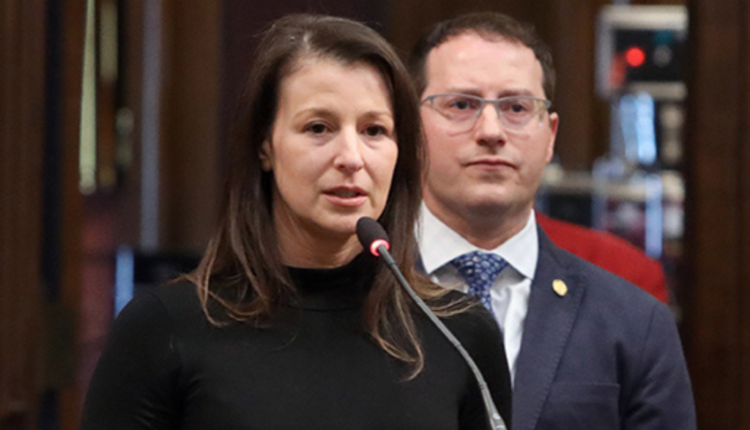 Rep. Steckloff laments House GOP resolution on Israel as 'insensitive' ⋆
State Rep. Samantha Steckloff (D-Farmington Hills) has been in daily contact with the three other people in the Michigan House of Representatives who understand how she's been feeling since the militant group Hamas attacked Israel on Oct. 7 — her Jewish and Muslim colleagues. 
Reps. Noah Arbit (D-West Bloomfield), Abraham Aiyash (D-Hamtramck) and Alabas Farhat (D-Dearborn) have been Steckloff's confidantes for the past 10 days, but she said the four of them are also united by feelings of exclusion by their colleagues who are currently championing a proposed resolution voicing the state's support for Israel. 
Steckloff said in an emotional Tuesday press conference that she and Arbit, the only two Jewish house members, were only minimally consulted by the resolution's sponsor, Rep. Bill G. Schuette (R-Midland), before it was introduced. She later found out that Aiyash and Farhat, who are both Muslim, were similarly excluded from the process of formulating what some members hoped would be Michigan's official statement on the conflict in Israel and Gaza. 
Michigan Jewish leaders mourn, but remain determined, after Hamas attacks in Israel
"All four of us are working together to see what we can do for the betterment of our communities here in Michigan, and the four of us were not provided an opportunity to really talk about this resolution," Steckloff said. "And that is why it's been so difficult."
The resolution failed to receive a floor vote last week and has been shuffled to the House Government Operations Committee, where unpopular bills often languish. Schuette slammed members of the Democratic majority in an Oct. 11 statement for not supporting the resolution.
"There can be no equivocation here," Schuette said. "Broad and watered-down statements do not suffice. To not speak on this issue is an abdication of our moral responsibility."
The House GOP caucus has scheduled a media conference for Wednesday morning to again press for the chamber to take up the pro-Israel resolution and "Stand With Israel."
Steckloff said that by the time Israel launched rocket strikes into the Gaza Strip and cut off the city's fuel and water supply, the resolution became "insensitive and mean." She said that had the resolution passed the day after the attacks, it would have been valid, but passing it now would fly in the faces of Michiganders affected by the ongoing humanitarian crisis in Gaza. 
The United Nations said last week that it was "impossible" to evacuate Gaza's civilians from an area smaller than Detroit before further attacks by the Israeli Defense Force (IDF). 
Steckloff said that she didn't feel represented as a Jewish person by the Republican members who supported the resolution. 
"They do not speak for the Jews," Steckloff said."There's a member that signed onto this resolution that has ties to the Nazi Party and David Duke. There are numerous people who signed on to this that refuse to even vote to have our highest holidays recognized as a state. So I don't know how the argument can be that these people are speaking for the Jews." 
Steckloff noted Southeast Michigan's significant Jewish and Muslim populations as possible targets for hate crimes and ethnic intimidation in the wake of violence in the Middle East. She said Farmington Hills police have been stationed outside her home, as well as the city's mosques and synagogues after online threats poured in. 
"We're living in the real world," Steckloff said. "I'm the one that has to talk to my Jewish friends who are nervous to send their kids to school. [Aiyash and Farhat] are on the phone with their Muslim friends asking if they should be sending their kids to school."
Emotions have been running high since the attacks, Steckloff said. She's personally mourning the loss of two of her former University of Michigan students who moved to the region for humanitarian work and were killed by Hamas. Facing online threats, she deactivated her Twitter account last week. 
Palestinian citizens inspect their home destroyed during Israeli raids in the southern Gaza Strip on October 16, 2023 in Khan Yunis, Gaza. | Ahmad Hasaballah/Getty Images
Steckloff said it made her angry to see the handful of people who were experiencing the effects of the conflict firsthand excluded from discussions on how the state should respond.
"There are four people in the House," Steckloff said. "Four people that are dealing with this in real time, that are dealing with ethnic intimidation." 
In spite of what she said were attempts to divide the Democratic caucus on the issue of the Israel-Hamas war, Steckloff said she feels proud of her colleagues and supported by Democratic leadership, including House Speaker Joe Tate (D-Detroit). 
"Speaker Tate has made sure that he will support us in the way we need to be supported," Steckloff said. "And that's why you see him not pushing something that so many people are uncomfortable with."
As for future action the Legislature could take, Steckloff said she and her colleagues are "looking into" possible ways to acknowledge the humanitarian side of the conflict and to protect constituents from islamophobia and antisemitism. Going forward, she said she hopes she, Arbit, Aiyash and Farhat are consulted on legislation pertaining to Israel or Palestine. 
"I know we were all completely shocked that someone would crack this resolution over the Jewish members," Steckloff said.
GET THE MORNING HEADLINES DELIVERED TO YOUR INBOX
SUBSCRIBE


authored by Lily Guiney
First published at https%3A%2F%2Fmichiganadvance.com%2F2023%2F10%2F18%2Fthey-do-not-speak-for-us-rep-steckloff-laments-house-gop-resolution-on-israel-as-insensitive%2F