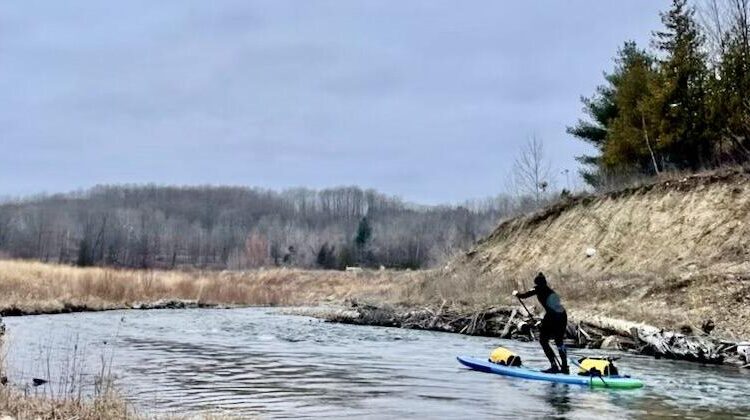 Out 'n' About: Weird winter calls for something new with my pal, Jon | GO
This winter has been weird. super weird
And while I do my best not to whine about the weather, it's sometimes hard.
Lucky for me, I have friends like Jon.
Jon is a Ventura, California native who moved to Traverse City in 2015 with his family for his final deployment with the Coast Guard. I met Jon on a bike ride that year, and we became good friends. He's a generous dude with a gigantic smile.
Last week, Jon invited me to try something new, to paddle a portion of the middle Boardman river with him. On a stand up paddleboard. In the winter.
I wanted to say yes right away, but like not being a complainy-pants about the weather, being open to new things is sometimes easier said than done. It took some encouragement.
Why did I need a friendly nudge to try it? Because in the winter, I get stuck in my routines. I run the same loops, bike the same trails, and walk the same neighborhoods. It's easy, comfortable, and familiar to me. It's also a great way not to explore all the things Traverse City has to offer outside.
One of those things has been the middle Boardman river — the part from Brown Bridge to Boardman Lake. I ride my mountain bike next to parts of this section often but have never paddled it. And especially never in the winter.
With this weird weather requiring a change in attitude and something new, I decided to give it a go, thanks to Jon's invitation and encouragement.
I'm not going to lie; I was a little nervous. Luckily, Jon is a professional. As a retired Coast Guard helicopter rescue swimmer, he is very comfortable in the water and takes safety seriously. Jon is also an expert paddler who caught the stand-up paddle bug while stationed in Kodiak, Alaska.
"I enjoy paddling boards because you're not stuck sitting on your butt.
One of the first things I got when I moved here was paddle boards. We have some great rivers," Jon told me.
Jon explores rivers with friends. Friends like Eli Brown, Kyler Bradley, Eric Render, and Quinn Morris.
And now it was my turn.
We started by stashing our boards, paddles, and gear at Beitner Park. We then drove to Medalie Park on the south end of Boardman Lake and hopped on our mountain bikes. We rode the Boardman river trail back to Beitner, stopping at a few spots to scout the river and rapids.
Jon had everything I needed to be safe and have fun — a 7mm modern wetsuit, booties and gloves, a first aid kit, a GPS beacon, food and water, and a wide inflatable board.
Once back to Beitner, we locked up our bikes, grabbed our boards, and started paddling north.
We tackled the Keystone rapids first and then made our way to Jack's Landing and the Grand Traverse Natural Education Reserve. From there, we paddled the Sabin rapids before the river began to widen and slow down as it entered the slack waters above Boardman Lake.
Did I fall in several times on the rapids? I sure did. Did I stay warm and cozy in my wetsuit? you betcha
To me, being next to the middle Boardman river always feels special. Peaceful. rejuvenating. healing Being on it during the winter, it felt even more so.
It reminded me of Thoreau's, "Who hears the rippling of rivers will not utterly despair of anything."
After 6 miles of paddling, we arrived back at Medalie.
"It sounds cheezy, but it's addicting to spread the outdoor love and help create special moments for people. There's nothing cooler than getting someone to try something new," Jon said as we drove back to Beitner to get the bikes.
What an adventure. I'm still smiling.
Thank you for the invitation, Jon. And the encouragement to try something new this weird winter.