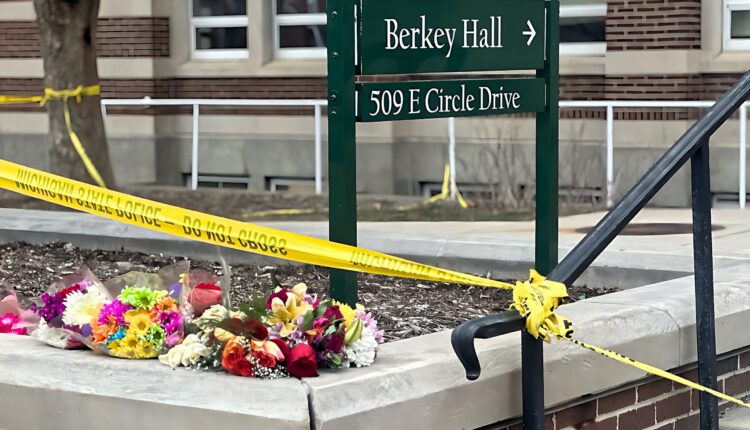 MSU to begin reopening Berkey Hall this fall, plans shooting remembrance event  ⋆
A half-year after three students were killed in a Feb. 13 mass shooting at Michigan State University, the school's interim president announced MSU is this fall planning to begin reopening Berkey Hall, where two students were fatally shot, and cancel classes on the one-year anniversary of the event.
The shooting prompted widespread protests over gun violence and preceded Michigan's Democratic-led Legislature passing a series of gun safety bills that Gov. Gretchen Whitmer signed into law.
MSU interim President Teresa Woodruff announced in a Tuesday email to the school community that classes will not meet on Feb. 13, 2024; instead, the university will hold what Woodruff called a "remembrance event." The MSU students who died on Feb. 13, 2023, were Arielle Anderson, Brian Fraser and Alexandria Verner.
Michigan State University Interim President Teresa Woodruff speaks at the university's undergraduate commencement ceremony on May 5, 2023.  (Andrew Roth/)
"The university is planning a remembrance event for this day that will incorporate input and feedback from the Spartan community, including those who were most directly impacted," Woodruff wrote. "While classes will not meet, the university will remain open on this day to support students and our community."
In the same email, Woodruff said the school will make Berkey Hall "available for faculty, academic staff, graduate students, and support staff with existing offices starting this fall."
"Importantly, students and employees who do not want to reenter the space are not required to do so and may seek out alternative options for the fall through their academic college or unit," Woodruff wrote of Berkey Hall, which has remained closed following February's mass shooting. "Individual colleges will share more information directly with faculty, staff and graduate students who use this space. As we shared previously, we intend to resume classes in Berkey Hall starting in the spring, following some renovations to the building."
The MSU interim president also wrote that the university is forming a group of students, faculty, staff, and community members to lead efforts around establishing a memorial being planned "in honor and remembrance of those we lost and those who have been affected by the tragedy."
"The group will define an inclusive process for gathering input through the fall semester, and more information will be shared in the coming months about ways to engage and provide feedback," Woodruff wrote. 
The mass shooting at Michigan State was the country's 67th mass shooting in 2023, according to the Gun Violence Archive. As of Aug. 1, there have been 421 mass shootings in the United States. The MSU shooting came a little more than one year after a Nov. 30, 2021 mass shooting killed four students at Oxford High School. The Oxford students who died were Hana St. Juliana, Tate Myre, Madisyn Baldwin and Justin Shilling.
Following February's deadly shooting at MSU, students, parents, and anti-gun violence advocates held widespread protests that drew people from across the state and country who called for lawmakers to pass the gun safety laws that many Michiganders had been championing for years. In April, Whitmer signed into law bills requiring the safe storage of firearms and ammunition and universal background checks for all firearm sales. The following month, she signed legislation allowing a court to order the temporary removal of guns from someone who may be a danger to themselves or others.
Students and community members attend a candlelight vigil at Michigan State University on Feb. 15, 2023, following the mass shooting on campus earlier in the week. (Andrew Roth/)
Throughout the months following the shootings at both MSU and Oxford, students and their families have spoken of the life-changing trauma they continue to experience. Teachers have talked about leaving the jobs they once loved because of trauma, parents have woven a narrative of the depression and anxiety students and their families face, and students have described feeling a deep anger over Republican lawmakers refusing to enact gun safety legislation before the mass shooting at Michigan State.
Now, Woodruff said she and the MSU community are focused on healing, in whatever form that may come.
"Spartans are defined by their commitment to support and look out for one another in service of the common good," Woodruff said, concluding her email. "I am grateful to be part of such a special and caring community and, together, we will continue our journey toward an environment that is safe, welcoming and supportive for all."
GET THE MORNING HEADLINES DELIVERED TO YOUR INBOX
SUBSCRIBE


authored by Anna Gustafson
First published at https%3A%2F%2Fmichiganadvance.com%2F2023%2F08%2F01%2Fmsu-to-begin-reopening-berkey-hall-this-fall-plans-shooting-remembrance-event%2F