Lengthy-lived, nonprofit Ann Arbor is once again focusing its efforts on reforming the youth justice system in Michigan
The Michigan Center for Youth Justice, an Ann Arbor-based advocacy group, may have changed its name in 2020, but it's hardly the new kid on the block.
For over 60 years, the nonprofit, formerly known as the Michigan Council on Crime and Delinquency, has been a leader in working with communities on crime prevention strategies, promoting fair and equitable access to justice, expanding community-based alternatives to incarceration, and the Improving outcomes through safe and effective treatment.
"In the past, we have always focused on the political issues facing both the criminal and juvenile justice systems here in Michigan," said Jason Smith, a longtime associate who became MCYJ's general manager in January. "In the last decade there have been more advocacy organizations that take the lead in adulthood and do a really good job. But there really wasn't a nationwide organization that focused solely on young people."
MCYJ Managing Director Jason Smith.
Even before the official rebranding, one of the organization's most recent initiatives was the "Raise the Age" campaign, which aimed to successfully change the age of the juvenile justice system from 17 to 18 years in order to keep juveniles away from adult courts. And it was successfully pushed for a law to improve the protection of the confidentiality of youth files. And Smith, like many of his co-workers, has a background as a social worker providing direct service to youth involved in the justice system. The name and direction of the organization felt natural – and necessary.
Because Michigan's juvenile justice system is administered at the county level, there is no nationwide data source to refer to when pushing for law changes. How many children are in the system at any given time?
"There's an estimate we can give, but it's hard to know a really exact number. And from these kids, what is the breakdown of the crime? Are they for violent crime or things like truancy?" Asks Smith. "We have successfully advanced our political priorities with very little data over the past few years, but it is becoming increasingly difficult."
Lobbying for the creation of a nationwide data collection system is one of MCYJ's ongoing initiatives.
The decentralization of the juvenile justice system also means that districts individually dictate important decisions on issues such as resource allocation, programming, and philosophy related to community-based care or detention.
"We call it 'justice through geography,' which means that a child's experience in the justice system can really vary based on where they live," says Smith.
Fines and fees are also at the discretion of the districts. The current MCYJ campaign for debt-free justice aims to standardize these costs.
"If we want a justice system, it should be predictable across the state," says Husain Haidri, MCYJ's community outreach and engagement manager. "But families affected by this should also be able to leave with a child who can reintegrate without being in debt. Our goal is to get rid of these fines and fees."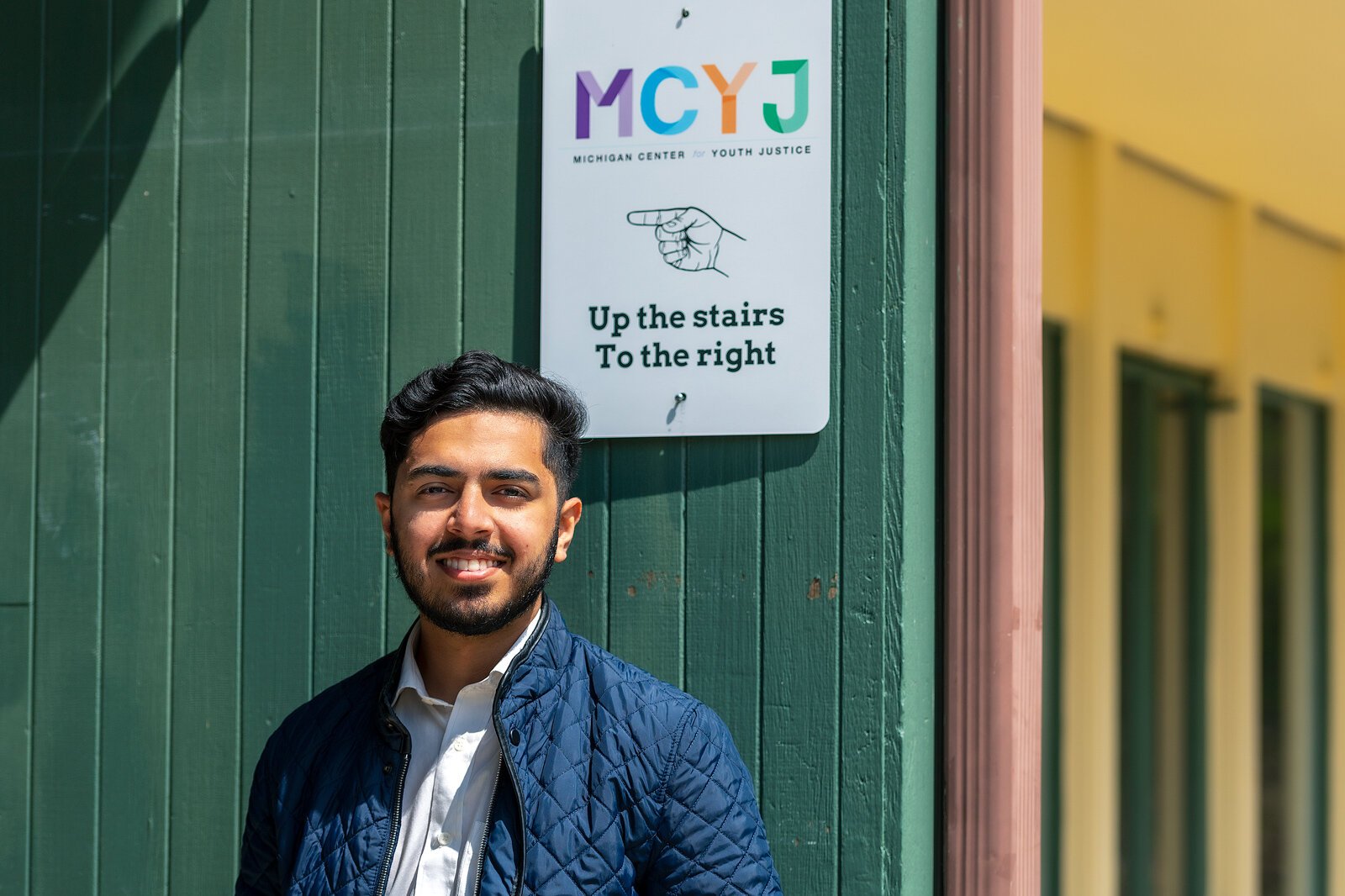 Husain Haidri, Public Relations and Engagement Manager at MCYJ.
According to Haidri, every community in the state of Michigan – ethnically, racially, and socioeconomically – is affected by youth justice. And yet, he says, it's an invisible problem.
"There's a lot of confidentiality in these cases, which is a good thing, but it's difficult for people to see the structural problems with juvenile justice because these stories are not public," says Haidri.
He works to find families of affected young people who are willing to share their experiences.
"We can teach them how to effectively share their story. Then we can hold public education and coffee-making sessions with lawmakers to raise awareness of this important issue," he says.
MCYJ has also launched a new, two-pronged volunteer initiative. The Advocates program invites people to delve into all aspects of MCYJ's work, whether it be fundraising, helping with a campaign, or creating graphics.
"I'm really excited to hire local artists who can present these issues in a creative way," says Haidri, who volunteered with MCYJ while working on the Raise the Age campaign.
The Ambassador program is a longer term commitment that trains volunteers to share MCYJ's history with their work, university, and faith communities. Ultimately, ambassadors will create advocacy hubs across the state that can activate citizens to stand up for their lawmakers.
"What really excites me is that people from different backgrounds find common ground in youth justice – a topic that does not get that much attention – and make it possible," says Haidri.
Smith notes that MCYJ is changing gears at the same time, as is the juvenile justice system.
"It is moving away from the era of hard crime and politics that reigned in the 80s and 90s to the realization that young people who get into trouble are still children," he says. "They must acknowledge that, in order to help them successfully address any problems or needs that have brought them to justice or law enforcement in the first place."
As the courts shift towards therapeutic, rehabilitative relationships with young people and increase engagement with family members, MCYJ advocates best practice.
"Like any other helping profession, the juvenile justice system is an evolving system," says Smith. "They are always finding better ways to serve children without harming them and instead to help them. Our goal is to continue this development."
For more information on MCYJ, see the organization's website.
Jeanne Hodesh is a freelance writer based out of Ann Arbor specializing in small business, food, and culture. She has an MFA from Hunter College. Her essays and articles have been published in Lenny Letter, The Hairpin, and Time Out New York, among others.
All photos by Doug Coombe.