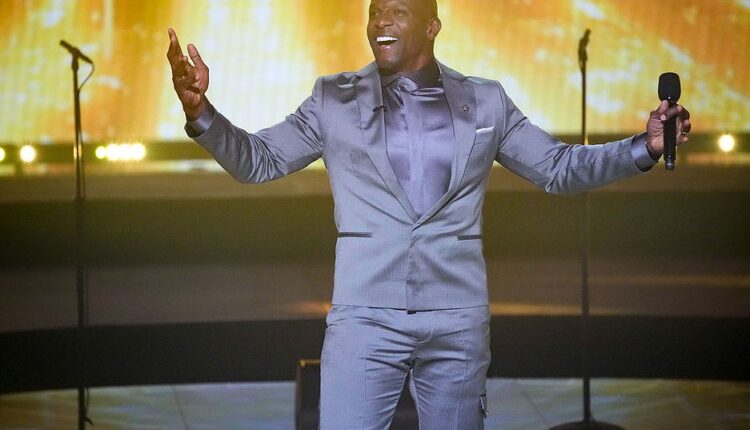 Detroit Youth Choir, Aidan Bryant Get Redemption Moment
Monday night's episode of America's Got Talent: All-Stars was all about redemption.
The newest episode of the America's Got Talent extension series saw another 10 all-stars — music act Divyansh and Manuraj (India's Got Talent winner 2022), singer Sara James (AGT season 17), dance group Malevo (AGT season 11), singer Tone the Chief (AGT season 8), magician Dustin Tavella (AGT season 16 winner), aerialist Aidan Bryant (AGT season 16 runner-up), ventriloquist Jamie Leahey (BGT 2022), comedian Jackie Fabulous (AGT season 14), choir Detroit Youth Choir (AGT season 14 runner-up) and ballerina Vitoria Bueno (Das Supertalent 2021) — take the stage in their quest for the winner's title.
However, for two particular acts, the chance to perform again meant redeeming themselves after falling short in their respective AGT seasons finales. One of those acts was season 14 fan favorites Detroit Youth Choir (DYC), who earned Terry Crews' Golden Buzzer in June 2019.
Led by artistic director/president Anthony White, the group of talented kids, ranging from ages 8 to 18, came back with a renewed sense of determination after coming in second place to singer Kodi Lee.
Following their powerful performance to Imagine Dragons' "Thunder" on Monday night, Crews pressed his Golden Buzzer, yet again, for the choir.
Terry Crews.
Casey Durkin/NBC
Speaking to PEOPLE about why he used his coveted buzzer on the choir once again, the 54-year-old host says it was a no-brainer for various reasons.
"As good as they were the first time, I was floored at the fact THEY GOT EVEN BETTER!" he explains via email. "Their skill, aptitude and confidence was through the roof, and they once again proved to the world that they belong on that stage among the best of the best!"
"Every time I see the Detroit Youth Choir, I see myself. We are from the same place and circumstances, and every one of those kids have the same dream I did, and I continue to be emotionally moved, EVERY TIME," Crews adds . "I personally feel that each Golden Buzzer is a chance to invest in someone for whatever talent they bring to the world, and I want to see Mr. Anthony White and each and every one of those young men and women know that they can do it ! They belong amongst the greatest talent in the world, and they are capable of doing ANYTHING they set their minds to do!"
His support means more than words could describe, choir director White tells PEOPLE.
"He is a big supporter of what we do and he's one of the best judges, or hosts, that AGT ever had if you asked me," White says. "We just love him so much."
"We call him Uncle Terry," he notes. "He has a place in our hearts … the way he said he has somebody like Mr. White in his life to give him inspiration and to give him pats on the back and tell him that he can do it — and that's what I do with my young people. We don't have 100% of the best singers in our city, but I do a lot of willing, and I will our students to believe that they are great. So that's pretty much our secret — and he knows what our secret is, so we share that mindset."
Detroit Youth Choir.
Trae Patton/NBC
With 16 of the choir members returning to AGT, White says they were determined to leave their mark this time around.
"We wanted to really make a statement," he explains. "We just want people to know that DYC is here and that we're present. And pretty much we will never be going anywhere, no time soon."
"Just the fact that we represent the city of Detroit, and we represent the state of Michigan and now we represent America," he adds. "It's always refreshing to have these young people from the City of Detroit to experience something this global and this amazing."
Win or lose, White also hopes the exposure on AGT will inspire viewers to support them. "We still are a nonprofit, so it takes grant money to sustain us. I think that's our biggest problem as an organization. We are not receiving the proper grant funding that we should. So we're working on that as an organization right now … we have to reinvest it so we can stay going."
Another big redemption moment on Monday night centered around self-taught aeralist Aidan Bryant, who lost to magician Dustin Tavella in season 16.
Aidan Bryant.
Trae Patton/NBC
Aidan was clear about his intentions from the start, admitting in his intro package: "I'm nervous that I have to go up against [Dustin] again."
He later recalled, "To make it to the finals [in season 16] what such a big deal to me. Everybody in the audience was screaming my name. I was like, 'Oh, I got this.' And then they called Dustin's name, I was crushed."
Despite that heartbreaking moment, the 18-year-old didn't let it keep him down. "When I heard about All-Stars, I knew I had to take the chance," he said. "I cannot lose to him again."
Aidan Bryant.
Trae Patton/NBC
And as it turned out, Aidan's determination resonated with viewers. He nabbed the superfan vote at the end of the episode, sending him straight into the finale.
Aidan and Detroit Youth Choir now join dance group Light Balance Kids and hand balancing act the Bello Sisters as four of 11 finalists competing to win it all in the finale.
Never miss a story — sign up for PEOPLE's free daily newsletter to stay up-to-date on the best of what PEOPLE has to offer, from juicy celebrity news to compelling human interest stories
America's Got Talent: All-Stars airs Mondays at 8 pm ET on NBC.