Detroit community leaders and academic experts meet to tackle future issues
This article is a three-part story about understanding and mitigating environmental health risks threatening Michigan and its residents as identified in the recently released Tackling Environmental Health Threats report. It is made possible with funding from the University Research Corridor.
Last June, many residents of Detroit faced massive structural, economic, and health issues when flooding caused by heavy rainfall overwhelmed many of the city's aging and unrepaired storm and wastewater systems—particularly in East Side neighborhoods such as Jefferson Chalmers.
Researchers say that a combination of inadequate local infrastructure and global climate change meant that neither the storm nor the damage should have come as too much of a surprise.
"There have been several news articles out there saying 'Well, we're having 500-year events every year,'" says Wayne State University (WSU) Civil and Environmental Engineering Department Chair William Shuster. "But really it's off the scale, and there's no way to really characterize these rainfall events."
In fact, many residents have been facing similar struggles for years. A collaborative study by WSU, the University of Michigan, Eastside Community Networkand several other local organizations found that over 40% of Detroit households surveyed between 2012 and 2020 reported household flooding.
"This is something that everybody's been struggling with around the country, around the world," says Dr. Shuster. "If you've got a city, you're struggling with stormwater or wastewater."
In April, Shuster joined several other researchers for a roundtable discussion at the Wayne State campus on Detroit's recent flooding and infrastructure issues. The conversation was a part of the University Research Corridor's (URC) Hidden Health Threats tour that brought together researchers, policymakers, and other community leaders to discuss some of the most pressing environmental issues facing Michigan communities. Other events in the series included a conversation about the danger of PFAS in Grand Rapids and a conversation on microplastics in Traverse City.
In addition to Schuester, others attending the Detroit event at the Wayne State University Integrated Biosciences Center (IBio) were University of Michigan environmental epidemiologists Carina Gronlund, Eastside Community Network Climate Equity Coordinator Bethany J. Howard, and State Rep. Joe Tate.
Together, they discussed the aftermath of the summer's flooding, the ways in which the damage could have been avoided, and the importance of addressing these issues before another disaster occurs.
"We've seen the heartbreak of thousands of Detroiters and Southeast Michigan residents who have repeatedly experienced hardships and health threats from the rising waters," said Britany Affolter-Caine, URC executive director. "Researchers at URC universities are laser-focused on solving these challenges and on sharing what they know with lawmakers, community leaders, and the public."
In April, the University Research Corridor brought researchers and lawmakers together on Wayne State's campus to discuss Detroit's recent flooding and infrastructure issues.
The conversation began with a presentation by Rep. Tate, who shared a photo of a manhole cover in use in an area of ​​his own Eastside District. The metal cover bore the seal of the Village of Fairview – a municipality that was annexed into the city in 1907.
"I think there's no doubt about it that our water infrastructure systems – especially in our cities – have served us well, but they're getting old," says Rep. Tate. "That, coupled with these heavier rain events due to climate change, creates several challenges for caring for communities in particular with flooding. The system just can't keep up."
Shuster agrees. "I like to say 'water always wins,'" he says. "It has the time and energy behind it to find the paths of least resistance. We're increasingly on the losing side of this game. So how do we play a better game here?" His answer: "Work with water and give it different options other than endangering health, property, and welfare."
In addition to lobbying for the grant money needed to update basic infrastructure such as the city's pump stations and 1920s-era clay sewer laterals, Shuster and colleagues at Wayne State are currently working to develop a watershed management plan for the city's east side – something currently missing altogether.
"A watershed management plan, when it's approved and implemented, allows communities in a certain watershed or sewer shed access to federal funding to make improvements," Shuster says.
Gronlund spoke on the many short- and long-term health impacts of flooding.
"The damage from flooding touches people's lives in so many ways," she says. "You have the immediate health impacts: flooding increases your risk of drowning if you have to go down there and clean up the water. It also causes electrocution and skin infections […] Even if the water looks clean it can have harmful bacteria and virus chemicals in it, and exposure to mold exacerbates asthma and other respiratory problems."
The long-term effects, she adds, can be similarly devastating.
"Damage to your home, whether it's flooding or wind – it's stress," she says. "You have to take days off work or out of your schedule to deal with it. The financial losses are substantial for many households, and we know that kind of distress can lead to dementia and heart disease."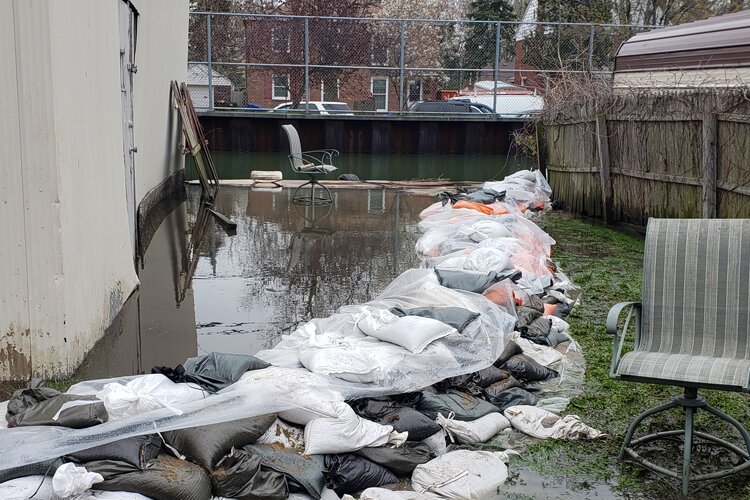 Jefferson Chalmers experienced heavy flooding in 2020 & 2021 after record high water levels.
Both Shuster and Gronlund agree that marginalized groups also are disproportionately affected by flooding in a number of ways. Homes with older sewer hookups are in considerably more danger of both increased flooding damage and of flooding occurring in the first place because the sewer systems can't keep up with the floodwaters. Many of these homes are owned by people who may not be able to afford repairs.
Both Howard and her colleague, ECN Climate Equity Program Manager Erin Stanley, emphasize the importance of equity when discussing ECN's ongoing efforts to help East Side residents recover from last summer's floods.
Stanley, who was not able to speak at the event after coming down with COVID-19, says it is crucial for researchers and policymakers alike to hear directly from residents who face financial, racial, and other forms of marginalization.
"Everyone knows flooding is a problem," she confirms. "Everyone's having flooding town halls and events and webinars, and there's just so much information. No one is in disagreement that this is an issue, but there is a lot of confusion about the best solutions. We're trying to build power and build voice around what East Side residents want to see as solutions so that we can establish advocacy strategies toward achieving those strategies."
While experts like Gronlund and Shuster have provided a foundation of infrastructural and epidemiological research that can be used to develop immediate solutions, both agree that a combination of additional research and community action could help lawmakers address the issue more comprehensively.
"There is research that needs to go along simultaneously with action," says Gronlund. "We already know that weatherizing homes provides enormous benefit in terms of climate mitigation, but also in terms of protecting people's health. We currently have funding from the National Institute of Environmental Health Sciences to look at and quantify the health benefits of weatherization so that we can better understand how dollars spent on weatherizing homes can better protect the health and wellbeing of individual individuals and potentially even offset health care spending."
While Shuster believes environmental engineering is already clear on many of the infrastructural improvements needed, he also believes in the necessity of gathering more field data about flooding and the way that localized subsurface groundwater movements can come into play.
"These research activities serve several purposes. Importantly, these projects show residents that there is an investment in making these communities better through gathering data that is unique to the community," says Shuster. "This is what I call 'data equity,' a concept that I've been working on. The data then represents the community in a very tangible way, and can be used to develop and inform engineered designs (to source flooding in its various forms) that are […] specific to the community."
Stanley, Shuster, Gronlund, and Rep. Tate all agree that conversations such as the flooding roundtable are crucial for developing more informed and effective long-term solutions to many of Michigan's growing environmental crises.
"The problems that we face in this world, especially in the context of climate change and this pandemic, are just really, really complex," says Stanley. "We have had a very siled system for years both in academia in terms of research, as well as in spaces like community development and government."
"Getting a broad comprehensive suite of solutions and having it backed up by research was something that helped me to understand the scope of the problem," says Rep. Tate. "I think it's going to take all our groups to come together to be able to find solutions around this."