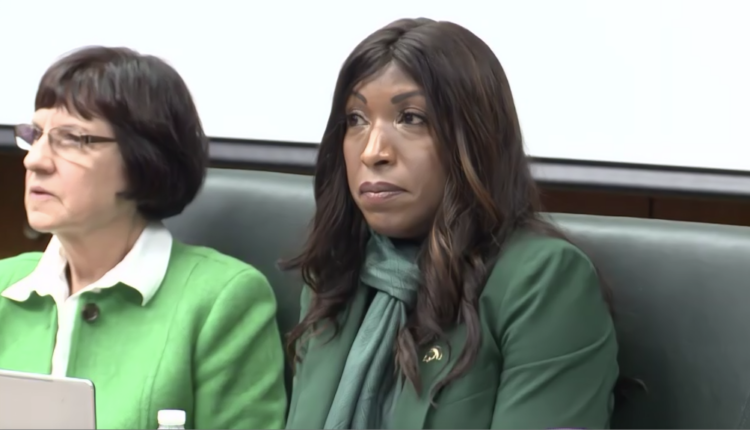 Public commenters want accountability, transparency and action from embattled MSU board ⋆
Following contradicting statements on board member conduct released earlier this week, the Michigan State University Board of Trustees held its October meeting on Friday, hearing comments from students, alums, concerned citizens and survivors of sexual violence as the university faces a slew of public concerns and controversies.
Earlier in the week, MSU Trustee Brianna Scott released a letter calling on board Chair Rema Vassar to resign, accusing her of violating the board's code of conduct, ethics and conflict of interest alongside bullying colleagues and acting outside of her authority on a number of issues faced by the university. 
Among the accusations were that Vassar failed to cooperate with an investigation into who leaked sexual violence advocate Brenda Tracy's name to the media, forcing Tracy to speak publicly on the investigation into MSU Head Football Coach Mel Tucker for sexual harassment and unwanted sexual advances made toward Tracy. 
Scott's letter also alleged that Vassar told Michigan Attorney General Dana Nessel she had the votes to release more than 6,000 documents related to former MSU doctor Larry Nassar without prior discussion or authority from the board. 
Scott also criticized Vassar for appearing in an advertisement alongside former Trustee Brian Mosallam and accused Vassar of traveling on an MSU donor's private jet on at least two occasions.
Michigan State University Interim President Teresa Woodruff and Board of Trustees Chair Rema Vassar at the board's October 2023 meeting. | Screenshot
Vassar responded to Scott's accusations calling them "fabrications, misstatements, innuendo, and untruths." She does not intend to resign. 
During the meeting, sexual violence survivors, students, alumni and members of the public called on the board to release the Nassar documents.
"MSU has repeatedly inflicted institutional betrayal and trauma. By not releasing the records the betrayal and trauma continue," said Danielle Moore, a professor and Nassar survivor. 
"I sincerely do not want the records released for malice or revenge. They need to be released for healing, transparency and so others can learn how to stop this type of atrocity from happening again at MSU or elsewhere," Moore said.
While Trustee Dennis Denno attempted to make a motion to release the Nassar documents, the motion was shut down, with some members seated at the board arguing Denno cannot make a motion that was not on the agenda for the meeting.
Board Vice Chair Dan Kelly said he would be open to a special meeting to bring the matter before the board "properly."
"I'm open to a special meeting. We don't have to wait till January or December or whenever else, but let's do it per our bylaws, and let's not ambush board members, let's do it per our bylaws," Kelly said.
Denno later apologized to Kelly and the rest of the board. 
"My intent was never to ambush anybody. My intent was for, what I think, to do the right thing and try to move it forward. So I apologize to anyone who feels they were ambushed and hopefully we can work together to get it done right," Denno said.
Trustees Dennis Denno and Renee Knake Jefferson at an Oct. 27, 2023 meeting of the Michigan State University Board of Trustees. | Screenshot
Following the meeting, survivor advocate Amanda Thomashow called Denno's attempted motion to release the documents brave, and they said the university could use more brave trustees. 
Valerie von Frank, an advocate for sexual violence survivors, criticized the university for its failure to support students who have faced sexual abuse and lack of institutional change. 
"This institution is corrupt. It has not done what it needs to do. It doesn't respect the vulnerable. It doesn't respect minorities. You have racism on campus that you have not addressed. You have a picture of Hitler in your stadium and what are you doing about it," von Frank said, referencing an incident on Oct. 21 in which a photo of Adolf Hitler was shown on Spartan Stadium video boards as the answer to a trivia question prior to the university's football game against the University of Michigan. 
Alongside calling on the board students and advocates called on the board to do more work to address equity on campus, including addressing antisemitism, anti-Black discrimination, the erasure of Arab students and a lack of support for Palestinian students amid the ongoing conflict in Gaza.  
"I came here to speak about how my community is lacking equity. But I noticed that basically every single minority group on campus is lacking that same equity," said Saba Saed, while calling on the administration to provide better support and engagement with Palestinian students. 
"We don't want another letter sent by our assistants saying we're working on it. No more conversations. Conversations are just meant to stall. … From what I'm seeing today is MSU yet again, trying to find a scapegoat to hide from all the things going on in the media addressing them," Saed said. 
Devin Woodruff, an MSU student, proposed board members work with the MSU Black Students' Alliance to create a no hate crime, no violence accountability on campus ordinance.
"The objective of this ordinance is simple but profound, to ensure every member of our community feels safe, respected and free from any form of hatred and prejudice," Woodruff said.
The ordinance would implement a clear reporting mechanism for discrimination — which Woodruff said the university currently lacks — alongside transparent investigation and fair repercussions to send a message that hate has no place at the university, Woodruff said. 
Vassar later said she would support the ordinance. 
Many of the board's student and faculty liaisons also expressed concerns with turmoil on the board, with some requesting the release of the Nassar documents. 
MSU Student Body President Emily Hoyumpa said it was hard for students to take pride in the university when it feels like the school is always in a new scandal. 
"I'd list every scandal since my first year, but it's not even worth it because there's always something new and it is quite exhausting to keep up with. If you want Spartans to be proud of the school, we have to address the history and move forward rather than continue to hide from it," Hoyumpa said, calling on the board to release the Nassar documents. 
Hoyumpa also said the problems of the university's board should not bring harm to the university.
"Before you try and fix everything on campus and actually do your job, make an effort to fix your own problems please," Hoyumpa said.
Earlier this week, Gov. Gretchen Whitmer sent a letter calling for "total candor, full transparency, and complete cooperation" in regards to the allegations against Vassar. 
Kelly said the board is moving forward with third-party investigation into the allegations against Vassar, as well as any other allegations of ethics violations by board members.
Michigan State University Faculty Senate Chair Jack Lipton at a meeting of the MSU Board of Trustees on Oct. 27, 2023. | Screenshot
The MSU Faculty Senate passed a resolution Thursday night calling on Vassar to resign, or for the Board to remove her, citing concerns that Vassar's alleged behavior violated the Higher Learning Commission, which provides accreditation to the university. 
 The Faculty Senate also called on the board to make changes to its ethics and conflict of interest policies. 
"As we mentioned to the board, many of us have concerns about choosing a president in the midst of the board chaos that we have observed here and in the media. We even discussed suspension of the presidential search,"  MSU Faculty Senate Chair Jack Lipton said. "We advise the board as we did one month ago that drastic wholesale changes to their ethics and conflicts of interest policies are desperately needed."
"I respect Dr. Vassar's desire to do great things at this university. I know she wants to fight for students. But she can also, occasionally, not necessarily meet the high ethical standards that we expect from the chair of the board. Both things can be true," Lipton said.
While offering comments at the end of the meeting, Vassar further addressed Scott's allegations.
"One thing I know is that I must be doing something right if folks are coming this stridently for me. Unfortunately, I do not expect these attacks to stop," Vassar said. 
Vassar said she was looking forward to the review of her conduct and that she was not aware of any policies she had violated. 
Vassar also called for ongoing professional development within the board to ensure the board was in line with governing recommendations from the Association of Governing Boards of Universities and Colleges.
She also called for a clear policy to inform board member's decisions surrounding private transportation, including private flights.
"I do know that several people on this board have been on private flights. I did not know that that was a clear conflict of interest," Vassar said. 
When offering her account of some of the allegations in Scott's letter, Trustee Renee Knake Jefferson said Vassar was told she should not have taken the trips during a recent board work session, while Jefferson acknowledged the board does not have clear policies on the matter.
Vassar also called for clear guidelines on board members appearing in advertisements.
"If it's a problem, we need to identify the problem and come up with guidelines and then apply them consistently," Vassar said.
As the university searches for a new president, the the board needs to shape up, Trustee Dianne Byrum said, calling for the full investigation of the allegations in Scott's letter. 
Byrum said she brought forward a resolution to remove Vassar prior to Friday's meeting, but that it did not get the three votes needed to be placed before the board. 
Nessel calls for new MSU board to turn over Nassar documents
"I also had a conversation with [Vassar] that I think, in the best interest of the university, you should step aside in this interim. That was my request and that decision lies with Dr. Vassar," Byrum said.
In her comments, Scott spoke out against criticisms she faced for issuing her letter against Vassar, saying she had been called anti-Black, and faced bullying and threats of violence.
"I put this letter out here so that what is going to happen, would happen. And that is so we could have an investigation, because unfortunately nobody felt that they could do anything because they don't want to be called racist," Scott said, referencing alleged threats from Vassar that "speaking out against her decisions would result in her turning the Black community against [her.]" 
Scott and Vassar are the only Black members of the eight-person board.
"People can't talk because they're afraid, and we say we want transparency? If you want transparency, then you let this investigation go through and you hold your comments till you see what the facts say, because I didn't put one damn lie in that letter," Scott said.
Former Trustee Joel Ferguson, who served four terms on the board, also called for Vassar's removal, according to a report from the State News.
Ferguson and Scott share 50% ownership of a business; however, Scott said the deal does not constitute a conflict of interest. 
"I actually went to our General Counsel and talked to my board about whether anybody thought it was a conflict before I ever did. That's being forthcoming, that is being transparent," Scott said.
Pieces of paper reading #NotASpartan and a sign in support of Palestinian students hang by the elevators near the meeting room for the MSU Board of Trustees. | Kyle Davidson
GET THE MORNING HEADLINES DELIVERED TO YOUR INBOX
SUBSCRIBE


authored by Kyle Davidson
First published at https%3A%2F%2Fmichiganadvance.com%2F2023%2F10%2F27%2Fpublic-commenters-want-accountability-transparency-and-action-from-embattled-msu-board%2F